Toronto's Two Film Festival Solitudes
Caribbean Tales In The North. TIFF Owns The South
When it comes to the downtown Toronto International Film Festival (TIFF) and the College Street Caribbean Tales Film Festival, (CTFF) it is the Two Solitudes of the movie world. TIFF has the Big Names, the Big Movies and a Big Army of volunteers to make sure that the ticket holders stay off the red carpets and out of the VIP parties. At CTFF, the actors, actresses, directors and crew are in-your-face minglers and if there was a red carpet they would be dragging movie fans onside to whine with them!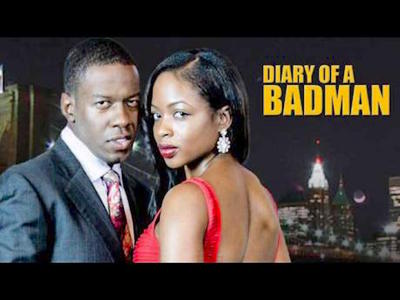 Case in point. Last Thursday the CTFF kicked off with a beer and pizza gala at the Cafe Diplomatico (aka the Dip) on College Street just steps from the Royal Theatre (festival home).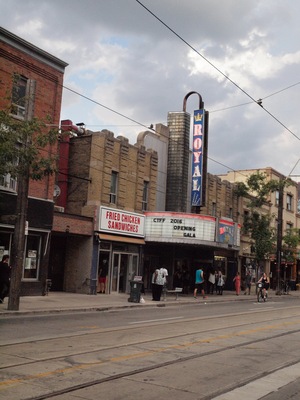 Actors and actresses who are household names to Trinidadians and Jamaicans but unknown in Canada, were so willing to pose with fans, the Caribbean Media, and one lone CBC reporter, the selfie sessions spilled out onto College stopping street cars literally in their tracks.
Jacinth Sutphin outside the Dip - Caribbean Tales Film Festival Gala
At TIFF it was a similar but different scene. There were no streetcars on King Street to stop because the city has closed the road in front of TIFF headquarters for the duration of the festival. Movie fans jammed the new movie mall hoping to grab pics of the stars, but had to settle with selfies in front of the TIFF building (no fools, the Stars come into the theatre via the parking garage).
TIFF is a well-run machine. Line-ups are orderly. Speeches are timed to the second. Everything starts on time. At the CTFF launch, the delays were endless, speeches took longer than the running time of the movie, and the theatre was oversold, causing organizers to offer free passes-for-life to anyone willing to give up their seats.
The African American/Jamaican movie Diary of A Badman (DOAB) opened the Caribbean Tales Film Festival. Winner of the 2015 Jamaica Film Festival, DOAB was getting its Canadian premiere. An unknown low budget movie to most, at the end of the 104-minute long police drama, the audience cheers could be heard out on the street.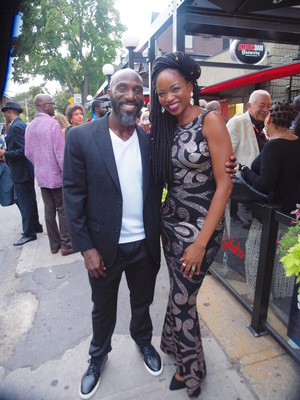 Jacinth Sutphin and filmmaker Diemiruaye Deniran
American filmmaker Diemiruaye Deniran made Diary of A Badman on what many directors showing at TIFF would consider pin money. What made the audience so supportive was that underneath this bang-bang shoot 'em-up film was a story that dealt with issues that resonant in a Black Live Matters America.
This is how Deniran describes his movie:
"We are still fighting for freedom in this country. You overstand?" How far would you go for your career and to get the job done? Lady Detective, Simone Williams (played by actress/producer Jacinth Sutphin), a Jamaican immigrant to the U.S., dreams of working undercover on a high profile case. She finally gets her chance to go undercover to catch a notorious drug dealer, Winston Bailey aka Bucky. She falls victim to his charming personality; compromising her assignment. Lines begin to blur, as she gets in deeper. Over time, Williams develops a close bond with Bailey, and their loyalties are put to the ultimate test."
Jacinth Sutphin, according to Deniran, is about to make that move from the CTFF to the next downtown TIFF: "She is very driven, compassionate, outgoing, ambitious, spontaneous, and has this aura that lights up any room she enters. Jacinth hopes to one day be known as a very successful, inspiring, and influential award winning actress who represents her Jamaican origin very well on a mainstream platform."
"It was such a rush to go back to Jamaica. I was born and raised in St Mary's," she told me prior to the movie. " It meant everyone got see where I have taken (my talents). It was a lot of fun to take the movie to Cayman as well!"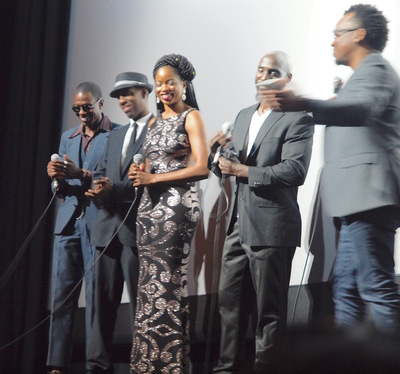 After the movie Director Deniran was on stage with the cast, talking about what comes next! " I brought the script for the sequel with me, and was working on it in the plane here."
Deniran made DOAB with no Hollywood faces, and no investors. With the sequel, he says it is going to be different and he and Sutphin are going to be filming in Jamaica later this year). They are well aware that TIFF attracts not just the Big Stars but the Big Investors too. Script in hand they plan to head downtown this week and bridge the gulf between Toronto's Two Film Festival Solitudes.

DOAB will next be screened in New York City, one night only, at the "Ocktober Film Festivall" October 8, 2016, Symphony Space Theater.
Follow HuffPost Canada Blogs on Facebook
Follow Stephen Weir on Twitter: www.twitter.com/sweirsweir