Step Off The See-Saw Of Guilt-Inducing New Year's Resolutions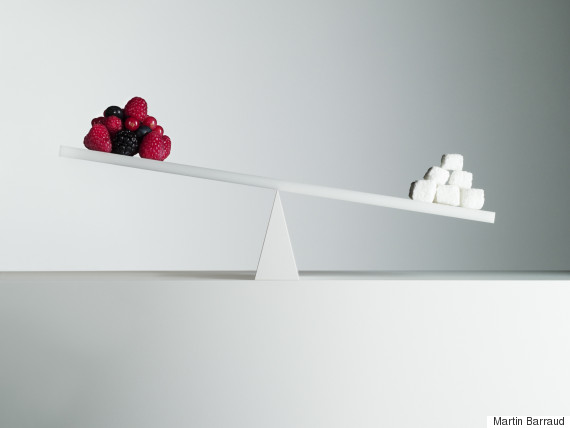 Written by Annie Hoang, a registered dietitian with the Sunnybrook Academic Family Health Team
It is that time of year again -- when many of us have resolved to start doing what we have been meaning to do. The eggnog is gone, the sugar cookies have been eaten, and you're feeling about as bloated and stuffed as that turkey you had three servings of. It's no surprise that new year's resolutions often include goals like weight loss, "clean eating" or cutting out sugar or alcohol.
But there's a downside to these types of lofty resolutions -- they simply don't work. These goals are often drastic and leave little room for compromise. They are often all-or-nothing plans that set people up for failure, and once you fall off the wagon, so to speak, you can't help but feel discouraged.
They simply don't work.
This year, I propose we scrap the new year's resolution mentality. Instead of making a brand-spanking new plan that calls for a major change, how about we try small changes? Baby steps?
Deprivation versus guilt
When we create all-or-nothing plans to change our diets, here is what usually happens. Evelyn Tribole, a dietitian and expert in intuitive eating describes this see-saw:
As we start our new diet plans, we create some sort of deprivation -- cutting out sweets, caffeine, alcohol, sugars, carbohydrates, fats, or [insert any new trendy diet]. The more we stick to the deprivation, the better we feel about ourselves for following the rules. Eventually though, we break that rule, because life happens.
Maybe you didn't have much choice at a restaurant, at your friend's house, or you just craved that food. And so the deprivation side falls, and you no longer feel good, but instead that feeling is replaced with guilt. When the guilt rises high enough, we deal with it by getting back on the deprivation side again. And so the see-saw continues up and down.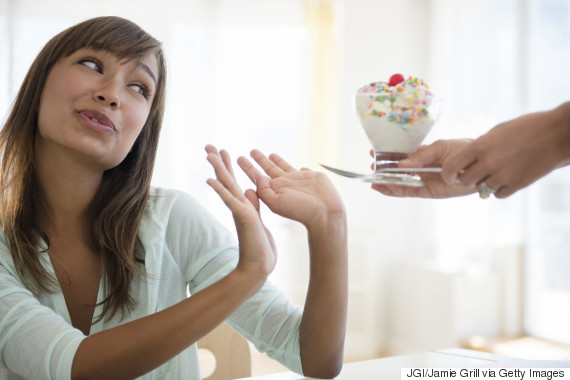 How do we stop the see-saw? Get off of it altogether?
We need to get rid of this idea of deprivation. Banish the all-or-nothing thinking style. Without deprivation, we will also reduce the guilt associated with eating. Instead of setting major diet plans that require cutting something out, start making small changes that you can likely actually sustain for the long term. In other words, set yourself up for success, not for failure.
| | |
| --- | --- |
| Unrealistic Goals | Realistic Goals |
| Major change to lifestyle | Gradual adjustments |
| Short term results | Long lasting results |
| Quick results | Slow change |
| Feel guilty with failure | Motivated by each small success |
Try creating a SMART goal instead.
Specific
Measurable
Actionable
Realistic
Timely
Specific
When creating your SMART goal, ask yourself What will I do? When will I do it? How often? The more detail that goes into your plan, the more likely it is you will follow through.
Measurable
Choose an action plan that is measurable, it will be a way to track your success. For example, if you are planning to increase your fruit intake, instead of planning to eat "more," plan to have two fruits each day.
Actionable
The best goals are ones based on actions, not results. All too often, people set goals to feel better, or to lose weight. These are examples of results. Think about what you want to do, and what behaviour you will change in order to achieve the desired results.
Realistic
In order to set ourselves up for success, it is important to be realistic in what you do. If you have not exercised in a long time, now is not the time to start training for a 10k. Start with increasing your physical activity in a way that will be achievable and enjoyable, like adding a walk at lunch, or taking a dance class.
Timely
Having an end point in mind can be motivating. Set your goal within a short period of time so you can look back and reflect on how you did. You can take that opportunity to evaluate if the goal was easy and you can continue it, or if it was too challenging and you may need to revise your next SMART goal.
Compare these goals:
"I will try to get more sleep in 2016."
"I will be in bed by 11:00 p.m. three nights per week for the next month."
The first statement is vague and not measurable. The second statement is specific, measurable, action-oriented, realistic, and can be re-evaluated after one month. You can use a journal or calendar to track the days you have completed your goal. Telling somebody else about your goal, or writing it down can even further increase your commitment.
Setting SMART goals has been proven to be more effective than making a drastic change cold turkey.
Above all, your SMART goal should be something you want to do. Find something you are truly motivated to do, and you will be more successful. Extrinsic motivation does not go very far. There have been research studies that tried motivating people to exercise by paying them. It worked only for the short term, but if you truly did not enjoy the exercise, you would not likely continue. We all crave personal growth and good health, and setting SMART goals has been proven to be more effective than making a drastic change cold turkey.
Dr. Mike Evans has a great video about new year's resolutions. People who make them tend to be more ready for change and end up more successful at maintaining their change after six months. He also recommends making small changes at a time. Remember, building a healthier lifestyle is like a marathon, not a sprint.
You are in it for the long run, so choose behaviours that are enjoyable and sustainable.
Check out the video by Dr. Mike Evans:
Happy New Year!
Find more healthy living advice from Sunnybrook experts at health.sunnybrook.ca
Follow HuffPost Canada Blogs on Facebook
Also on HuffPost:
11 New Year's Resolution Ideas
Take the time at the beginning of the year to go through your mailing lists and unsubscribe from all but the essentials, Lisa Gasson of New York suggests. It's a good way to clear out inbox clutter, and also to reduce shopping temptation from constant emails from merchants. Try using Unroll.me to unsubscribe easily and keep things manageable going forward.

Take some of the time you spend mindlessly poking around on the internet and spend it with an actual book, says Megan Hamilton of Ontario. That's her resolution for the coming year, and she's solicited suggestions from friends for recent favourites to add her her library list.

After a couple of tough years for the her own health and that of her family, Carol-Ann Cole of Newfoundland and Labrador decided to cut out the little things she couldn't control, including those to do with the lives of other people. "I try now to not gossip -- well, maybe just a little juicy stuff, ha ha -- and just live each day happy and healthy," Cole says. "So far it's working and I feel so much happier and contented."

Dry skin getting you down? That's worth a small resolution all on its own, especially during Canada's dry winters. "After making big, thought-out resolutions -- and then feeling stress and guilt about not keeping them -- about 15 years ago, I resolved to put lotion on everyday after showering," says Erika Serviss-Low of the Yukon. "Easy to do, no guilt, and -- after scratching my skin raw and frantically searching for lotion by mid-day -- life changing."

Jenny Hinko Polischuk of Alberta picks a theme for her family for each year and focuses on that instead of a specific resolution. "Our theme was to 'CHOOSE HAPPY'!," she says of their 2015 theme. "I got it printed in vinyl and put it up on a wall in our kitchen. I also found a great print on Etsy and framed it. To kick it off we brainstormed as a family situations where we consciously have to choose happiness. We put that up in our mud room about 3 feet high so my little women could see it."

Instead of picking a resolution that restricts or removes something, pick something that adds joy to your life. "I do ones that make me feel good, not that are challenges," Julia Cain of New Jersey says of her resolutions. "'Say yes to travel,' for example, which will be a continuing resolution this year, or 'snuggle with babies as much as possible.'"

If you do want to make a list of things to accomplish this year, break it all into a very specific itemized list—maybe 101 items for the year, or a number that makes sense for you. "those worked really well because they were incremental and accumulative," says Lisa Schmeiser of California of her itemized lists for the year, "so by the end of the year, I had momentum and completed tasks on my side."

"One of my students gave me great advice: Make three tiers of resolutions," says Vanessa Vakharia of Ontario. Make the first tier something easy to immediately implement, like wearing eyeshadow or flossing daily. Get a bit higher-concept for tier two: a promise to run regularly, for example. And then think big for the third, like finishing your degree or planning a major trip. "I think it's a good way to level goals out so that you can get instant gratification, which motivates you to work towards those higher level goals," she says.

"I don't know if they're resolutions, but every year I go back and assess how I'm doing as far as becoming the person I want to be," says Carolyne Whelan. Think about how you respond to strangers, your friends and family, how you treat yourself, and the way you move about in the world. "Obviously there is a lot of tweaking, but since it's all a learning process with a wide curve, every year just presents the opportunity to be closer to the person I want to spend all my time with," she says.

What's something you enjoy, that is easy to do and adds a bit of light to your day? Pick something, then do more of it! "A few years ago, my only resolution -- after years of the same 'lose ten pounds, learn Spanish, write a novel' flailed if not failed -- was 'sing more,'" says Paige Conner Totaro of Virginia. "I did and it felt great. The next year it was 'dance more.'"

Is there something you need to do, even want to do, that you keep finding a way to get around or avoid or not actually work on? Stop doing that, and just do the work—every day, over and over, says Jennifer Polk of Ontario. You'll get a lot more done if you put the energy you spend worrying, procrastinating, avoiding, and over-planning into just doing. "Everything's better when you do the work," she says.
Follow Sunnybrook Health Sciences Centre on Twitter: www.twitter.com/Sunnybrook