When a Spouse Dies Mid-Divorce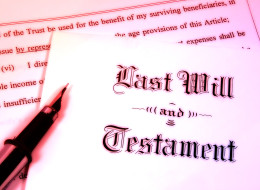 Estate law's frequent intersections with family, real estate and corporate law can result in complex estate plans and complicated litigation proceedings (sometimes the latter a result of the former).
One scenario commonly encountered is the situation in which an individual dies while negotiating a separation agreement with their spouse, or in the midst of divorce proceedings. While a divorce order will void specific bequests to a spouse, merely initiating negotiations or proceedings may not.
Under these circumstances, most lawyers will advise their clients to draft a new will and will inquire into whether title to the matrimonial home (the home the couple resided in during their marriage) is held as joint tenants, as tenants in common or individually. The distinction is highly important.
When more than one person owns the same property, they can hold title as joint tenants or as tenants in common. The main difference between the two is that when a joint tenant dies, title passes to the other owner or owners by right of survivorship. By contrast, when a tenant in common dies, their share in the property passes to their heirs. The advantage of holding property as joint tenants is that the asset will pass outside of the estate, and therefore will not be subjected to probate fees. It is for this reason that couples often hold the matrimonial home as joint tenants.
Because assets held jointly do not pass through the estate, however, this also means that executing a new will which excludes one's spouse will not disentitle them to their right of survivorship over property held jointly. To effect such a disinheritance, it is necessary to sever the joint tenancy.
There are three main ways to sever a joint tenancy. First, it may be severed by mutual agreement of the parties. Second, one party may take unilateral action in the form of transferring or selling their interest in the property to themselves, or to another party. Third, and by far the most complicated, a joint tenancy may be severed by the parties' course of conduct. If the parties have effectively treated their interests in the property as tenants in common, then a court may consider the joint tenancy severed. Whether or not a course of conduct has been sufficient to sever a joint tenancy is an inherently fact-specific determination and can lead to costly court proceedings.
Another complicated estate planning scenario is the situation in which an individual holds shares in a company or companies. That individual may wish to divide their shares in these companies between several different beneficiaries. The downside to such a distribution is that shares in a company are often worth more as a whole than they are when they are divided up. Companies held by many different persons may be seen to operate less efficiently and their shares are consequently less valuable.
Under these circumstances, it is often advantageous to keep ownership of the company in the Estate. The shares are then managed by the Estate Trustee, who must not only manage those shares in the best interests of the beneficiaries, but must also ensure that they manage the shares in accordance with corporate law. This intersection between corporate law, estate law, and fiduciary law can lead to exceedingly complex and expensive litigation.
The possible intersections between real estate law, family law and corporate law with estate law underscore the importance of planning one's estate carefully.
*Ian Hull and Suzana Popovic-Montag are partners at Hull & Hull LLP, an innovative law firm that practices exclusively in estate, trust and capacity litigation. To watch more Hull & Hull TV episodes, please visit our Hull & Hull TV page.
ALSO ON HUFFPOST:
Talking To Your Parents About Estate Planning
Discussing personal finances is often considered a taboo, but many barriers can be knocked down if you approach the conversation openly, lay out your goals, and check them off.

Or any other crisis -- to talk to your parents about their estate plans. If you feel disingenuous using some ice-breaking strategy then just be upfront about acknowledging how uncomfortable the topic makes you feel. That in itself is an ice breaker.

Ensure your parents feel loved and in control of the situation. Don't forget the discussion is about them and how they want you to fit in. Listen to their ideas to get a strong understanding of what they want. If you have suggestions then offer them, but don't expect that they'll immediately accept them, if at all. It's about people skills and open communication. If you know that will be a hurdle from the start, then perhaps a visit to a third party such as an estate lawyer or financial planner can help take the edge off.

Assets, wills, and how your parents want to share their legacy; be prepared with specific questions about all those topics. Beyond that, you'll need to talk to your parents about plans about their income, retirement investment plans, and health care. Some professionals suggest commonly cited questions including: should your parents have a living will? Does the Power of Attorney cover off what your parents want addressed? Does your parents' will and estate plan clearly lay out the transfer process to beneficiaries or deal with tax issues?

After figuring out exactly what your parents want in their estate plan there must be clear guidance on where those plans will be kept. Experts in the industry stress the importance of knowing where to easily find phone numbers and contact names, details, and documents including wills, investments, and personal information such as birth certificates.
Follow Suzana Popovic-Montag on Twitter: www.twitter.com/spopovic