Andrew Potter's Resignation A Sad Day For Free Speech In Canada
A few days ago, the (usually) brilliant writer Andrew Potter resigned as the director of the McGill Institute for the Study of Canada, which he called "a dream job of a lifetime," amid scrutiny over an ill-received March 20 article in Maclean's. As such, many in the journalistic community are left horrified about the state of free speech in Canada -- as they ought to be.
In case you've missed it, Potter's now-infamous Maclean's piece speculated that the "public crisis" in Montreal, which occurred when 300 cars were left stranded overnight on highway 13 in a snowstorm, revealed an "essential malaise eating away at the foundations of Quebec society."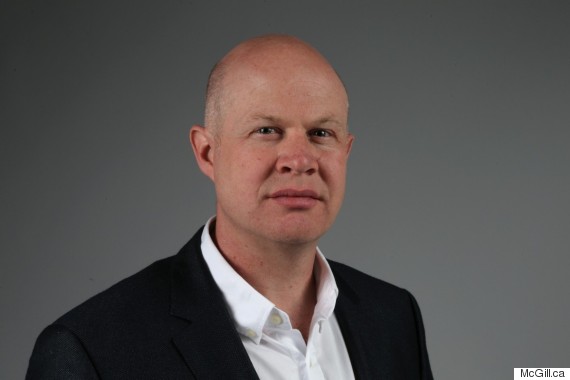 (Photo: McGill.ca)
Potter described this broken society with a colourful -- maybe too colourful -- mélange of statistics and anecdotes. He cited the province as having a "pathologically alienated and low-trust society;" noted how the Montreal "police don't wear proper uniforms" but "clownish camo pants;" and how "some restaurants offer you two bills: One for if you are paying cash;" and honed in on the fact that "28 per cent of Quebecers over the age of 75 report having no close friends."
This did not culminate in the most elegant argument about Quebec's fissures. Nevertheless, as a Montrealer, I was hardly offended by the piece -- even if others may have been.
Actually, the tone of Potter's grievances echoed in a familiar Montreal-specific cadence. Come to think of it, he sounded a heck of a lot like my mother-in-law after she'd endured another grueling winter. Or like anyone I know in the city whose car has just collided with yet-another pothole.
We all still love Montreal though. Otherwise we wouldn't be here.
In any case, after the backlash, Potter suddenly resigned as the director of the MISC. Whether this was motivated from the top-down McGill politics, from an angry mob below, or instigated by Potter himself, I cannot speculate.
The views expressed by @JAndrewPotter in the @MacleansMag article do not represent those of #McGill.

— McGill University (@mcgillu) March 21, 2017
However, I will wave my fist about the implications his departure has on free speech in Canada.
I will also roar about how this incident may impact our future sense of Canadian identity.
Because as the director of the MISC, Potter was inspiring important conversations about what it means to be Canadian -- a topic that does not generally garner that much excitement in this country, let alone in Montreal.
Meanwhile, at the February 2017 MISC conference -- "Canadian Exceptionalism: Are we good or are we lucky?" -- Kathleen Weil, Bob Rae and others held stirring conversations about Canada's attitude towards multiculturalism among intellectuals, journalists and students.
As the former editor the Ottawa Citizen and a columnist for Maclean's, Potter was (and still is) also something of a cultural studies hero, and was the ideal person to inspire such participation.
That McGill staff had the genius to hire Potter as the director of the MISC was a promising sign.
In 2004, Potter and Joseph Heath co-wrote the popular book The Rebel Sell: Why The Culture Can't Be Jammed, about how consuming certain beverages or wearing counter-culture clothing doesn't lead to political change, even if these actions feel like they might. Rather, what we buy was a reflection of our human yearnings.
The book provided a clear-cut Veblen-esque rational understanding of consumer culture and behaviour, and offered a much-needed response to Douglas Coupland's Generation X with its twenty-somethings lost to "McJobs," and to Naomi Klein's No Logo where society's sacred poetry was gobbled up by advertising agencies.
That McGill staff had the genius to hire Potter as the director of the MISC was a promising sign. Not only would Potter instigate cultural conversations about Canada through lectures and conferences, he would also best motivate today's students to explore these often overlooked core issues as well. (After his resignation, Potter will remain an associate professor at McGill.)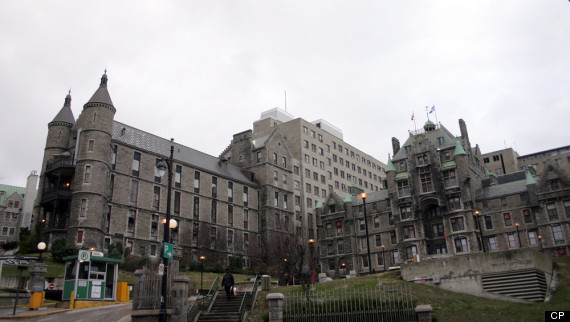 (Photo: CP)
The Canadian sense of identity has long been considered vague.
Unlike the National Mall in Washington, D.C., Canadians don't have monuments that reveal themselves as clearly and obviously as Americans do.
Rather, our reflections of Canadian-ness are demonstrated through humble statues and memorials, and thoughtfully curated historical museums.
We also have our institutions, including current frenemies the CBC and the TD Bank. We have Tim Hortons and Roots.
We also have poutine, Kraft Dinner and maple syrup.
We have hockey and the Trudeaus.
But Potter's search for what it is to be a Canadian dug deeper than this without plunging into esotericism.
Free Speech! Multiculturalism! Canada vs USA! Come hear @allisonrharell hit all the hot buttons tomorrow. https://t.co/9XgDl4vNOZ

— Andrew Potter (@jandrewpotter) March 20, 2017
As the director of the MISC, Potter was the ideal candidate to stitch together our various national threads of contemporary Canadian-ness into a semi-coherent narrative.
Unfortunately, in Potter's recent Maclean's polemic, his arguments weren't woven together as carefully as usual. Many reacted.
Shortly after its publication, Potter apologized in a Facebook post profusely about the article's "errors and exaggeration" -- another quintessential Canadian move.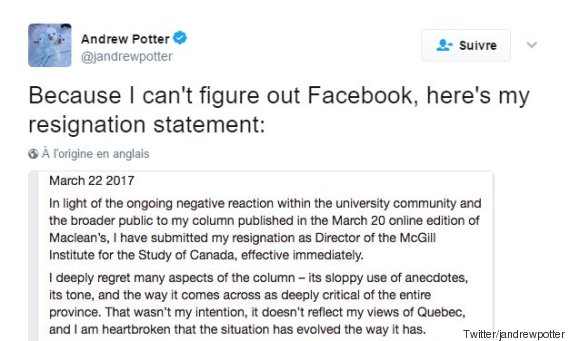 (Photo: Jandrewpotter/Twitter)
Then Potter resigned.
Ever since, it has been a sad week for Canada.
How are we going to get through the outspoken Trump years, confront the threats of global warming and embrace the next influx of refugees with this kind acquiescence to hyper-sensitivity?
As a culture, we need to know how to deal with polemics from others, and learn how to engage in impassioned debates amongst ourselves.
We need to protect the freedom of speech, along with the freedom for people to eff up every once in a while.
A well-practiced tendency towards politeness and peacekeeping may be good for the heart, but it can also leave many feeling muzzled, not just journalists.
If Canada wants to be known as a country that is truly great, truly kind and truly peaceful, let alone truly "happy" -- and not simply pathologically well-liked and tolerant of opinions providing the level of conversation is kept at ginger beer and Ryan Gosling -- we need to protect the freedom of speech, along with the freedom for people to eff up every once in a while.
Otherwise as hyper-tolerant Canadians, repressed anger may one day be revealed as our nation's hubris, running far deeper than just potholes.
Follow HuffPost Canada Blogs on Facebook
Also on HuffPost:
Censored: Top Ten Pics Too Hot for Campus
Perhaps out of determination to sap as much fun out of one of the nation's oldest sporting rivalries as possible, Harvard shot down the Yale Freshman Class Council's (FCC's) approved design for the T-shirts honoring the storied annual football game between the rival schools. For the 2011 game, the FCC selected this design poking fun at Harvard's famous dropouts, parodying Bill Gates, Matt Damon, and Mark Zuckerberg as "liking" the design. In a somewhat surreal decision, Yale's licensing office told the FCC that it had to run the design past Harvard's licensing office -- which in turn killed the design, stating that it would not "permit the use of Harvard's trademarks with third-party trademarks or celebrity names." In other words, Yale required its students get permission from the target of its satire before satirizing them, giving the butt of the joke veto power over the joke. The FCC removed the names from the final design (and Harvard trounced Yale, 45-7).

In 2002, Harvard Business School (HBS) wildly overreacted to a cartoon that appeared in the school's student newspaper, The Harbus. The cartoon criticized the school's Career Services office for a computer meltdown surrounding the business school's interview week -- understandably labeled by some in the school as "hell week." The cartoon prompted administrators to call the The Harbus' editor-in-chief, Nick Will, into a meeting to warn him that he potentially violated Harvard's "community standards" for publishing the cartoon and would be held responsible for future objectionable content in The Harbus. He was instructed that The Harbus should provide more "positive" coverage to HBS and steer clear of "questionable content" in the future. Rather than accept these demands, Will chose to resign two days after the meeting. After the dean of the business school sent a warning to all students, the Foundation for Individual Rights in Education (FIRE, where I work) sent a letter to Harvard administrators, reminding them of Harvard's extensive promises of free speech. Soon after, the dean announced that charges would not be forthcoming, promising instead to reaffirm the school's commitment to freedom of expression.

Sinclair Community College, in Dayton, Ohio, rightfully earns its place on this list for its treatment of the protesters at a June 2012 "Stand Up For Religious Freedom" rally in protest of new health coverage mandates. Police were photographed and recorded ordering attendees at the rally to put down their signs, saying that SCC policy prohibited their use. Remarkably, as an article in SCC's own student newspaper pointed out, SCC officials freely admitted to having this across-the-board prohibition on signs in place since 1990. That's more than 20 years of censorship...and that was their best excuse! Worse still, SCC doesn't actually publish this sign ban in any of their materials, choosing instead to expansively interpret the Campus Access Policy to fit its needs. SCC hasn't been shy in enforcing the ban, either, using it to suppress peaceful protest of members of a GLBT rights group at a recent on-campus event—ironically, one hosted by the same group that staged the religious freedom rally in June. SCC now finds itself the subject of a First Amendment lawsuit and, if the record of college speech policies being challenged in court is any indication, its chances of prevailing are very slim.

At Tufts University's Spring Fling this year, members of the Tufts men's crew team were spotted wearing this T-shirt — a reference to the team's coxswain with an obvious innuendo mixed in. However, someone reported the T-shirt to the administration using the school's "bias incident" reporting system, claiming that the shirts promoted violence against women. Tufts' director of rowing — possibly after getting a nudge from the Tufts administration — suspended the crew team for an upcoming race, relieved two senior captains of their positions, and forced team members to write individual letters of apology. Fortunately, the team was reinstated by Tufts' president following a torrent of well-deserved criticism.

Of all the cases involving the censorship or punishment of students or faculty for cartoons (and there are many), this 2004 case at Southern Missouri State University (now Missouri State University) remains the most puzzling to me. This cartoon led to an investigation of the student newspaper that published it and the forced resignation of the paper's faculty advisor. I have looked at this cartoon over and over again throughout the years and I still cannot figure out what's so offensive about it. Sure, it could be funnier, but the First Amendment even protects jokes that don't land.

In the fall of 2011, James Miller, a drama professor at the University of Wisconsin-Stout, discovered one of my most beloved science-fiction shows of all time, Joss Whedon's short-lived space western, Firefly. He was so impressed with the dialogue that he put this poster on his door, but it was quickly torn down by the campus chief of police, who informed Miller in an email that "it is unacceptable to have postings such as this that refer to killing." Shocked by this response, Miller responded by email, "Respect liberty and respect my first amendment rights." But the chief of police refused, instead claiming that the poster could be interpreted as a threat to others and threatening Miller with criminal charges: "If you choose to repost the article or something similar to it, it will be removed and you could face charges of disorderly conduct." I covered this case extensively in The Huffington Post and you can read about it here and here. Meanwhile, be sure to check out what happened next in the following slide.

And even if you believe that the previous image from the case last fall at the University of Wisconsin-Stout could understandably be misinterpreted as some kind of threat — and again, I don't think a plain reading of the quote allows for that — there can be no mistaking the message of Professor Miller's follow-up post. After being warned of punishment by the chief of police for his Firefly poster, Professor Miller put up this poster to mock the university for acting like a bunch of, well, fascists. Amazingly, the university willfully misinterpreted this and claimed that the obvious critique of the administration was actually essentially a pro-fascist and pro-violent statement. I mocked this on The Huffington Post last year, but it was only due to the help of people like Nathan Fillion, Adam Baldwin, and, perhaps most importantly, Neil Gaiman, that the university backed down. In fact, we made a video about the case featuring Gaiman that you can see here.

In a classic FIRE case, University of New Hampshire (UNH) student Tim Garneau was found guilty of disorderly conduct, violating the university's affirmative action policy, and harassment for placing this flyer in his dorm. (Here's a re-creation of the image above.) Because of this flyer, Tim was sentenced to two years probation and mandatory psychological counseling, kicked out of the dormitories and forced to live in his car for weeks, and required to write a university-approved apology, even though he'd already apologized on his own well before. Tim's case is also particularly notable because, as I mention in Unlearning Liberty, "The Daily Show" actually played a role. We wrote the University of New Hampshire and explained that its treatment of Tim was unconstitutional and we even took the case public in a press release when we were ignored, but the university only backed down after receiving a call from "The Daily Show," which was interested in covering the case. Apparently, UNH was willing to fight the Constitution, but didn't want to be mocked on Comedy Central.

In the second position, we have a case of a college literally judging a book by its cover. As Indiana University-Purdue University at Indianapolis (IUPUI) student Keith John Sampson worked his way through his degree in 2008, he had a habit of reading books during his lunch. When a co-worker saw him reading this book — which celebrates the defeat of the Klan in a 1924 street fight with Notre Dame students — Sampson was reported to the administration and subsequently found guilty of racial harassment without even so much as a hearing. It took the combined efforts of FIRE, the ACLU, and The Wall Street Journal to get IUPUI to back down. You can read more about this astounding case in my Huffington Post articles about it over the years and in Unlearning Liberty.

And for our number one spot, the infamous Facebook collage that got one environmentalist student kicked out of Valdosta State University in Georgia. Those of you who have read my columns over the years, or those of you who read Unlearning Liberty, know well the harrowing story of Hayden Barnes. This collage was used as an excuse for expelling the decorated EMT student. And while he has won at every stage of litigation, his legal saga, which began in 2007, is still ongoing. Note: This is a precise re-creation of Hayden's original Facebook collage. The existing copy of the old one is pretty beat up, so we put together this facsimile to better illustrate just how ridiculous the university's overreaction was.
Follow Suzanne Wexler on Twitter: www.twitter.com/suzwexler