My Puppy Has Taught Me More About Life Than Some Humans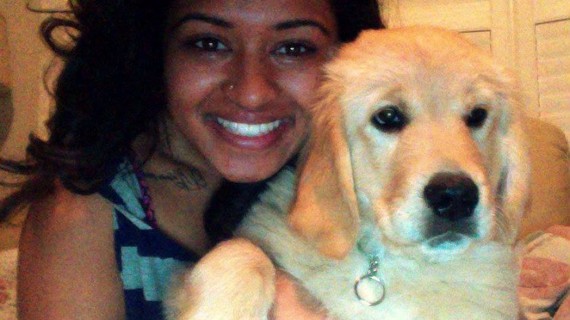 Recently, a white friend of mine expressed his surprise at the fact that brown people own dogs here in Canada. He even stated "you guys are so scared of them." I was confused. Countries like India and Sri Lanka have dogs everywhere and people are usually not fearful of them. So, I thought I'd share some of my experiences with my puppy as a way to let people know that there are brown people out there who do own, and love, dogs.
I was blessed to finally get a Golden Retriever (I named him Bheema) back in January. This fat, fluffy puppy, who was 11 weeks old, came waddling into my life.
Everyone in my life knows about him by now. There's no way they could miss it -- not a day goes by without me talking about him or posting a picture of him on social media. Even now, as I type this article, I'm smiling, thinking of how he was sad that I left for school in Waterloo on Sunday. Sappy stuff aside, here are some real-life lessons that I have learned from my puppy Bheema:
1. Be curious about life and just get out there!
Wherever I go with my puppy, he is always fascinated; be it the tree that is a metre away from the current tree he is sniffing, or even another person who is walking by. He gets so happy and just wants to be happy. With this, he taught me that I should greet everything with a smile and always have an open mind, even when things seem scary.
Bheema used to run away from the vacuum, now he chases it around.
Also, get out there! Meet new people and try new things. Life is all about your experiences and my puppy sure taught me that. He is always up for making new puppy friends. Humans, too.
2. Respect others' boundaries
My puppy does not know what personal space is at all. I could be reading a book, or studying, and he'd come stick his face in mine or lick my cheeks to just say "Hey, what's up."
His behaviour taught me that I should probably respect other people's boundaries. I used to be a person who would hug everyone and be overly affectionate in general. I've backed off, learned to read their body language and have given them space. Some people need more space, some people need less space. Either way, it's important to gauge and respect their boundaries.
3. Follow your gut
Dogs just seem to know who to trust, and who not to trust. Bheema often barks when he feels a stranger come near me who doesn't feel safe, and he gets into a protective mode around me.
The same applies for humans too! Follow your instincts about that guy who took you on a date -- does he seem sketchy? Avoid him! Or maybe it's that troubling multiple choice exam question, usually your gut knows. When in doubt, don't just pick C, trust your instincts.
4. Love life
Show your love to everyone on the daily. My motto: #KeepSmiling. Of course, we all have grumpy days, but that doesn't mean you should rain on someone else's parade! Make sure to smile and show little tokens of appreciation to those around you. I for one sometimes write notes to people around me or send them loving snapchats to make sure they smile.
Bheema doesn't need help in this department. He will use any opportunity he can get to sit on my lap or kiss my face or use me as a pillow.
His love was an excellent healing tool for my parents when my father lost his mother abruptly this past April. I don't know what it was, but Bheema knew that everyone was sad in the house and at times never left our side during those tough months. He has been a blessing for sure.
Dogs just know.
5. Embrace unconditional love
I don't know about you guys, but whenever I come home he's the one that goes buck wild running around kissing my face. He doesn't stop for a good 30 minutes. Does any other human or toddler even do that? Everyone has these moods and grudges when upset and they don't show happiness or love when it's needed. My dog would get in trouble for ripping up a shoe, and five minutes later, he'd be giving me puppy eyes to just be petted.
That love he has shown me has taught me to always treasure those near and dear to me. Treasure them because you never know when they may no longer be in your life. This is something I really learned with the recent passing of my grandma.
This puppy has brought so much joy to my life, and even if a dog is termed a "man's best friend," he is definitely this girl's best friend.
Do you have a pet? Do you agree with the above thoughts I shared? Let me know by commenting below!

This blog post was originally published on TamilCulture.com by Kaavia K. -- article link.
Follow HuffPost Canada Blogs on Facebook
MORE ON HUFFPOST:
This basic command is the starting point for many of the tricks that follow. The experts at Doggie Buddy suggest using a clicker and a good treat to make this trick stick. Once your dog naturally lays down, click and give him a treat. Continue this pattern and he will come to expect the treat every time he lays down. After a few rounds, give the command 'down' when you click. Eventually you will be able to stop clicking and your dog should respond solely to the down command. Via Imgur.

Once your dog has mastered the down command, take it one step further by getting him or her to roll over. Starting in the down position, hold a treat by your dog's nose and slowly move it down towards the dog's shoulder. If your dog has turned his head to follow the treat, continue moving it around until your dog fully rolls over to follow the treat. Once your dog has completed the trick, reward him or her with the treat. Practice often, using praise instead of treats to get the dog to follow the command over time. Via Tumblr.

One of the most basic tricks is teaching your dog to fetch. To do this, use a ball or toy that your dog loves. Starting with your dog beside you, toss the item so he chases after it. Once your dog has the item in his mouth, call him back while showing him a treat. As soon as the dog starts moving towards you, praise him, but do not give him the treat until he brings the toy back to you. Via Imgur.

To get your dog to jump through a hoop, leave it on the floor in front of them so they can get acquainted with it. Once your dog is comfortable with the hoop, lure him through it by holding a treat in one hand and guiding your dog with the treat while giving the command 'leap'. If your dog follows your hand, give him the treat. Once your dog is comfortable with this trick, try raising the hoop a little higher. Via Tumblr.

Okay, not quite like this, but you know what we mean. To get your dog to chase his tail, start in the standing position. Place a treat near the dog's nose and move it towards the side of the dog's body while giving the command 'spin'. The dog should follow the treat in a complete circle before you reward him or her. Practice multiple times a day for at least five minutes. Via Tumblr.

Training your pup to give a high five is a lot like teaching them to shake hands. Start with your dog in the sitting position. Place a treat in one hand and repeat the command 'high five' while tapping your dog's paw. When your dog lifts his paw to reach for the hand with the treat, immediately tap it with your free hand and give the dog the treat with a lot of praise. To get your dog to lift his or her foot higher, gently tickle the bottom of his or her paw. Via The Pet Corner.

To get your dog to shake hands, you'll need to practice two to three times a day for at least five minutes. Start by telling your dog to sit. Once the dog is seated, place a treat in one hand and close your fist. Command the dog to 'shake' while placing the closed fist near his nose. Your dog will start by smelling your hand and eventually will use his paw to free the treat from your hand. Once this is done, open your hand and give the dog the treat. Via Tumblr.

Since your dog already knows how to lay down and roll over, getting him or her to play dead should be simple. Start with the dog in the down position, give the command 'bang' and use a treat held close to the dog's nose to get them to roll onto their side. Once the dog is on his side, reward him with the treat. Practice often and delay the reward to get your dog to hold the position for a longer period of time. Via Tumblr.

Get your dog to mimic your actions with this simple trick. Start with your dog in the down position and ask for his paw. If your dog is already used to this command, slowly move your hand to the dog's other paw. If he offers you his other paw, do not take it. Wait until he moves the original paw on top of the other one, then give him a treat. If your dog does not understand the 'paw' command, simply reach out and move his paw on top of the other while giving the command. Over time you can pull back your hands and use your feet to give the dog the same signal. Via Giphy.

When they're excited, many dogs naturally shower their owners with kisses, but you can also train your pup to give a kiss on command. Start by placing a little peanut butter or cream cheese on your cheek or wherever you want the dog to kiss. Command your dog to 'give kisses' and lean in towards them. Once they lick off the treat, give them praise. After practicing this command a few times a day, your dog will be eager to give you kisses, with or without the treats. Via Tumblr .

It's a rom-com staple — a cute dog covers his eyes while a couple kisses (or does, you know, more). Teach your dog this trick in time for Valentine's Day by getting the dog to lay on his side, then moving his paw on to his nose and saying 'shy'. Your dog won't want to hold this position for long, so praise him and give him treats to get him to hold it. Practice multiple times a day and be sure to stay patient. Via Giphy.

Start with your dog in a standing position, then toss a soft ball that is bigger than your dog's mouth in the air towards him. Use a treat to keep the dog standing. If he catches the ball, reward him with treats and praise. If the dog does not catch the ball, keep tossing it towards him Via Tumblr.

The key to getting your dog to play soccer is to start with a ball bigger than its mouth. Leaving your dog to investigate the ball on his own is the best way to let him feel comfortable. Once the dog begins pushing the ball praise him, but only give him treats when he performs a task, like knocking over these cups. Via Imgur.

This balancing command is really just an extension of the stay command and is taught in the same way. Start by holding a treat in front of your dog and make him sit. Say 'stay' and walk a few steps away while still facing him. If he stays, praise him and give him the treat when you go back to him. Via Tumblr.

Once your dog learns the basics, he or she will be able to advance to tricks like this parkour flip in no time! Via Tumblr.
Follow TamilCulture on Twitter: www.twitter.com/TamilCulture