Trump Win Proves You Can't Be 'Your Own Kind' Of Feminist
"Be your own kind of feminist!"
This too-common phrase is one reason I don't identify with the F-word despite immense respect for those who suffered and sacrificed for me, and for those who give time and money to fight issues plaguing women in the 21st century.
After the U.S. election, I wanted to call myself a feminist. Especially as friends wept about the uncertain (and certain) future of a Trump America and strangers shared accounts of being physically attacked and threatened in their schools and communities. Still, I can't. Because feminism is hiding too many racists and bigots. People who hear "Be your own kind of feminist" and place emphasis on "your own kind."
Women were expected to vote overwhelmingly for Hillary Clinton over Donald Trump -- a man who wants to punish women for abortions. Even pro-life Republicans would surely vote against a man promising to deport women to countries where their gender is life-threatening, right? Wrong.
Everyone is a feminist these days. People announce support of women's rights as quickly as they assure you they're not racist.
Clinton received the popular vote, while 52 per cent of white women voted for Trump, four per cent of Americans voted third party, and 46 per cent percent of people didn't bother to vote at all. So where were all the Feminists?
Everyone is a feminist these days. People announce support of women's rights as quickly as they assure you they're not racist. Not just women, but men wearing "This Is What a Feminist Looks Like" T-shirts while happily, and silently, earning more than their female contemporaries. Feminism isn't just hip, it's required. Be one or be shunned!
Amy Schumer, today's feminist saviour, recently said, "anyone who isn't a feminist is an insane person." Funnily, Schumer is feminism's problem. She proves anyone can become a Girl Power icon. She did so by styling herself as a raunchy, one-night-stand Olympian with a drinking problem as if it were aspirational. She proudly proclaimed she could "catch a d**k" despite her (completely exaggerated) gigantic-ness, as if being an acceptable place for a penis is a feminist objective.
Schumer's insightful Inside Amy Schumer sketch about Bill Cosby and celebrity rape culture is neutralized by her joke about raping a teenage boy. Her feminist credibility is shattered by claiming to advocate for sexual assault victims in the same interview she justifies friendship with ISA writer, Kurt Metzger despite his deplorable rape "jokes" and commentary. Why? His valuable straight, white POV! Her allegiance to women struggling with body image ended with her taking offence at Glamour magazine's inclusion of her in a plus-sized issue, as if she hadn't branded herself that way.
Schumer insists she's not racist after joking that Latina women are Gone Girl-crazy and Latino men are rapists (like Donald Trump). "It is a joke and it is funny," she says. She knows "because people laugh." And we all know racists never laugh. Ask yourself if she's grown as you watch her and Goldie Hawn blonde it out in a recreation of the music video for Beyonce's "Formation" -- a power anthem for long-ignored, degraded and abused black women.

Schumer's predecessor, Lena Dunham, was crowned for timely comments about what white women care about most -- (the outside of) their bodies. Recently, her plus-sized racial blind spot grew when she told fans the reason black NFL player Odell Beckham Jr. didn't objectify (or speak to) her at the Met Gala was that he'd deemed her an unf*ckable "dog."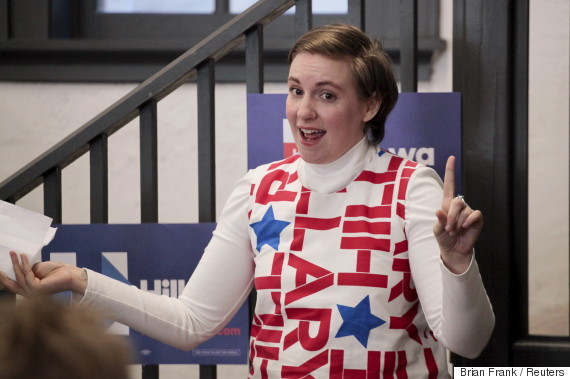 Actress and screenwriter Lena Dunham campaigns for U.S. Democratic presidential candidate Hillary Clinton at Eight Seven Central screen printers in Des Moines, Iowa, Jan. 9, 2016. (Photo: REUTERS/Brian C. Frank)
In her memoir, Not That Kind of Girl, she calls herself a "sexual predator," outlining her exploitation and abuse of her younger sister. Thanks to fans and feminists who defended her with the same arguments that protect child molesters and rapists, the wrong Dunham became the victim. Who cares that if any man, woman of colour, or LGBTQ person had shared the same anecdotes, they would see the end of their career and find police at their door?
These women repeatedly prove their feminism extends only to their egos and bank accounts, followed by people who look like them, followed by those who share specific, arguably superficial burdens. Society ignores their double standards about sex crimes and empty promises to be less racist and, in turn, they teach that it's OK to ignore the plight of others to get ahead in life. This is reflected in the voter breakdown.
I don't accuse Schumer or Dunham of belonging to a secret feminist white supremacist group called White After Labour Day or of voting for Trump. I accuse feminism of letting celebrities turn it into a (dying) brand, ignoring that their own kind of feminism is White Feminism. Their. Own. Kind.
It must denounce celebrity posers... who think feminism is achieved in 140 characters while ignoring anyone who doesn't look like you.
Schumer and Dunham will be followed by another rich, white woman anointed the next feminist messiah. She will preach on issues minorities don't care about while their sons are buried and daughters physically assaulted over their hijabs. She will teach women that saying "I'm a feminist" makes you one. Justification by faith alone.
She won't teach the need for writing letters, protesting or listening to women of colour, LGBTQ people and those of us with disabilities. And everyone but minorities will be surprised when her fans don't try to improve these women's lives unless it helps their own.
For feminism to survive, to be effective, it must denounce celebrity posers and deprogram people who think feminism is achieved in 140 characters while ignoring anyone who doesn't look like you. Instead of being mean girls to women who don't identify as feminists, it needs to listen to our reasons why. It's needs to encourage white women to have uncomfortable conversations with themselves. It needs to hold the women it makes rich accountable when they claim to speak to and for us. It needs to stop teaching that feminism is individual.
You can't be your own kind of feminist any more than you can be your own kind of racist. Perpetuating such a notion is the reason white women blew through the intersection of racism and feminism on election night without a thought to the potential body count.
Tara K. Reed is the Toronto-born author of interactive novel Love Him Not. She uses her experience battling multiple debilitating illnesses to advocate for disability rights. www.Doorflower.com.
Follow HuffPost Canada Blogs on Facebook
Also on HuffPost:
Powerful Photos Of Black And White Feminist Solidarity
Members of the National Women's Political Caucus tell a Washington news conference on July 12, 1971 one of their goals is that women comprise half of the delegates to the 1972 presidential conventions. Seated from left: Gloria Steinem, member of the Democratic National Policy Council; Rep. Shirley Chisholm, D-N.Y.; and Betty Friedan, women's rights advocate. Standing is Rep. Bella Abzug, D-N.Y.

Six women, protesting the scheduled eviction of a black family from the Parkchester housing development of the Metropolitan Life Insurance Co. in the Bronx, sit chained to chairs in a sit-down demonstration in the skyscraper office of Frank Lowe, Metropolitan Life Vice President in charge of Housing, in New York, May 20, 1953. Sophie Decatur, second from right, her husband Michael and their two children obtained a Parkchester apartment on a sub-lease. The company?s refusal to renew the lease was upheld in court. Left to right are: Florence Davis, Theresa Chayes, Shirley Shepard, Anne Palma, Mrs. Decatur and Bernice D?Antonio, all of the Bronx.

Activist, journalist and leader of the feminist movement Gloria Steinem attends a fundraiser and rally for California State Senate candidate Catherine O'Neill at actor Lorne Greene's house on October 15, 1972 in Los Angeles, California.

'Bluebird Five' present statement at news conference Tuesday The feminists are, from left, Lori Bradford, Bobbe Ross, Judy Barlow, Pandoura Carpenter and Crystal Arp on January 18, 1978.

Civil Rights March on Washington, DC. August 28, 1963. More than 200,000 attend in a peaceful demonstration. At this event, Dr. Martin Luther King Jr. gave his famous "I Have A Dream" speech.

A woman at a rally in support of the Black Panthers, holding copies of The Black Panther newspaper, New Haven, CT, November, 1969

View of the large crowd, some of whom are holding up handmade signs and banners, participating in a gay and lesbian pride parade in the Back Bay neighborhood of Boston, 1970.

Demonstrators and protesters rally in support of the Connecticut Black Panthers, and Martin Ramirez Sostre, New Haven, May 1970.

Abortion advocates rally outside the U.S. Supreme Court on June 26, 1989.

V-Day Founder and "The Vagina Monologues" playwright Eve Ensler (C) with Katrina Warriors Superlove Council Cultural Outreach Coordinator Barbara Lacen-Keller (R) marching in the "Jumpin' in the Pink - For V to the Tenth" second-line parade on March 8, 2008 in New Orleans, Louisiana. "Jumpin' in the Pink - For V to the Tenth" celebrates the efforts of the women of New Orleans and the Gulf South who are working to rebuild their lives and their communities, and launches the Katrina Warriors Network Community Festival leading up to 'V To The Tenth' which runs from Friday through Saturday, April 11-12 in the New Orleans Arena and Louisiana Superdome. V-Day, the global movement to end violence against women, will celebrate its 10th anniversary with ''V To The Tenth'' throughout the world.

Actresses Cameran Mannheim, Cybil Shepard and Whoopi Goldberg lead thousands of marchers through the streets of Washington, DC during the 2004 March for Women's Lives held on April 25, 2004.

Vanessa Kerry, left, daughter of democratic presidential candidate John Kerry speaks to Jehmu Greene,31, center, president of Rock The Vote, and Jenn Heather, 26, also of Rock The Vote. The group talkedbehind the mainstage before the 2004 March for Women's Lives began on April 25, 2004 in Washington, DC.

Maya Angelou and Gloria Steinem on their way to the March on Washington on August 27, 1983 in Washington, DC.

Members of the New York women's Liberation Army demonstrate on a street corner to demand abortion rights, circa 1972.

Whoopi Goldberg (R) shares a laugh with Christine Lahti (L) as they join tens of thousands of women 25 April 2004 in Washington, DC. marching in support of abortion rights and opposition to the Bush administration's policies on family planning.

Thousands of demonstrators gather 09 April 1995 in Washington protesting policies of the 104th US Congress regarding poor women, abortion and violence against women. Coming at the end of the first 100 days of the new GOP-led Congress, the rally focused on the conservative agenda of Republican House Speaker Newt Gingrich and fears that Congress would end abortion rights, curtail spending on welfare programs and cut funding to prevent domestic violence.

Tens of thousands of women march 25 April 2004 in Washington, DC, in support of abortion rights and opposition to the Bush administration's policies on family planning.

Thousands of pro-choice supporters take part in the March For Women's Lives April 25, 2004 in Washington, DC. Hundreds of thousands of activist demonstrated for abortion rights and opposition to the Bush Administration's policies on reproductive health issues.

Demonstrators protest outside the Hilton Hotel where New Jersey Governor Chris Christie was attending a fundraiser for Illinois Republican gubernatorial candidate Bruce Rauner on July 25, 2014 in Chicago, Illinois. About 100 demonstrators opposed to Christie and Rauner's stances on gun control, teacher and other public employee pensions and other issues chanted and made speeches outside the hotel during the fundraiser.

Nardyne Jefferies (C) of Washington DC, whose 16 year-old daughter Brishell Jones was shot and killed on March 30, 2010, is comforted by Lori Hass (L), whose daughter was shot and injured in the 2007 Virginia Tech massacre, and Christian Heyne (R) of Thousand Oaks, California, whose parents were shot (and his mother killed) in Thousand Oaks, during a gun control rally outside the National Shooting Sports Foundation's annual Congressional Fly-In fundraising dinner April 2, 2014, in Washington, DC. Demonstrators protested against what they call the corporate gun lobby's obstruction of sensible gun laws such as expanded background checks.

Demonstrators take part in a rally against gun violence on March 21, 2013 in the Harlem neighborhood of the Manhattan borough of New York City. The group Moms Demand Action for Gun Sense In America as well as gun violence victims, youth organizations, healthcare workers, unions, elected officials, faith leaders and artists demonstrated to promote New York Gov. Mark Cuomo's NY SAFE Act as a national model for federal gun control legislation.

Police arrest more than 50 demonstrators who blocked traffic on Interstate 70 outside of Ferguson to mark the one-year anniversary of the shooting of Michael Brown on August 10, 2015 near Earth City, Missouri. Last night violence erupted at a demonstration in Ferguson leaving one man shot and seriously wounded by police. Brown was shot and killed by a Ferguson police officer on August 9, 2014. His death sparked months of sometimes violent protests in Ferguson and drew nationwide focus on police treatment of black suspects.

A flower is handed out as people with the Black Lives Matter movement pass the Emanuel African Methodist Episcopal Church during a walk to commemorate the lives lost in the shooting on June 20, 2015 in Charleston, South Carolina. Dylann Roof, 21 years old, has been charged with killing nine people during a prayer meeting in the church on June 17.

Protesters rally in front of to City Hall in support of the decision to bring charges against the six police officers who arrested Freddie Gray on May 2, 2015 in Baltimore, Maryland. Gray was arrested on April 12, 2015 and later died in custody; the Maryland state attorney announced yesterday that charges would be brought against the six police officers who arrested Gray.

First Lady Hillary Rodham Clinton (2ndR) walks with Maryland state Lt. Governor Kathleen Kennedy Townsend (R) and other women during the "Million Mom March" 14 May 2000 in Washington, DC. Townsend is a daughter of the late US Senator Robert F. Kennedy, who was assassinated during a presidential campaign appearance in 1968.

First Lady Hillary Rodham Clinton (C) leads the "Million Mom March" 14 May 2000 in Washington, DC. Mothers, grandmothers and others gathered in the nation's capital and 60 other US cities demanding stronger gun safety measures to protect their children from gun violence.

Gloria Steinem and Dorothy Pitman Hughes attend the Ms. Foundation Women Of Vision Gala 2014 on May 1, 2014 in New York City.
Follow Tara K. Reed on Twitter: www.twitter.com/DoorflowerCo