For All Those Who Feel Hopeless, It Gets Better

By: Braelyn Bjornson
Like many of you, I have spent the last week in tears. I have felt an array of emotions - shock, confusion, heartbreak, anger, and guilt. Where does the guilt come in? I feel unworthy of my emotions, because unlike others I did not recently lose a little sister, a daughter, or a best friend.
But then I had the "aha" moment -- the one that has led me to writing this message, and sharing it with all of you. Mental illness -- specifically depression and anxiety are two things that hit close to home for me. So close -- that I take a funny looking red pill every morning to remind me. I am not unique in this sense, as there are many who struggle just like me and just like she did.
Suicide accounts for 24 per cent of all deaths among 15-24 year olds (Canadian Mental Health Association, 2016). I have chosen to publicly share my thoughts regarding mental health, only because someone who is thinking about joining that 24 per cent might read this and think otherwise. That right there is enough to keep me writing, and sharing my journey despite all my insecurities and discomfort.
The mind is so incredibly powerful -- it can eat you alive. I mean that literally. I remember when the number that I saw on a scale or the calories that I didn't eat determined the content of my day. I remember waking up in tears, refusing to leave my bed, and having no idea why. I remember crying in the bathroom stalls before walking into class, screaming into my pillow before bed, and shutting out every single person who tried to help me.
I am writing this as someone who has come out from the other side, and I promise you -- it does get easier, it does get better.
I remember feeling like it was only getting harder, and that it would never get easier. I remember thinking to myself that leaving this world might be my only solution. Fortunately for me, that thought was not powerful enough and I was able to work my way through it.
Why was I able to and not others? That is a question that I ask myself every day. I don't know why some suffer more than others -- but I do know that I have an opportunity to share my journey with the hopes of inspiring someone else.
I used the word remember frequently because these are feelings that I remember, they are not feelings that I am currently feeling on a daily basis. Those used to be the only feelings that I knew, and they prevented me from participating in the thing we call "life." I am writing this as someone who has experienced the depths of sadness, the darkness and the isolation. I am writing this as someone who has come out from the other side, and I promise you -- it does get easier, it does get better.
I decided to share this post, not because I want your attention, or pity, but simply because I can write it. I am here today -- I am struggling, fighting -- but I am living. I am writing this post for the one person that reads this and goes "OK, maybe I am not the only one -- maybe it will get better."
I am writing this because I am heartbroken for the lives that could not be saved. I think we underestimate the power of our words, and our ability to lift people up and bring people down. Let's use these crazy smart phones we spend way too much time on as a force for good. Let's lift people up, and give others hope that they cannot find on their own.
These thoughts are not with you forever. I know they are excruciatingly painful, but they do pass. I promise you they pass. I promise you are worthy, and that you are not alone. You are loved. You are strong.
The little things do matter, and you can make a difference. Go and tell the people you love that you love them.
Mental health is often stigmatized -- it is this awkward and uncomfortable secret we all don't want to talk about, or we are trying to avoid. "Oh they are just doing that for attention," or "I saw her last week at school, she looked totally fine." The way we look, and behave is not a representation of how we feel.
More often than not, those who 'look' happiest are struggling the most. I am guilty of it myself. Let's be part of the change and start the conversation about mental health. This is not something to be ashamed of -- the more we sit in silence, the more power we give it and the more damage it does.
If there is someone reading this who is in that dark place of having a plan -- a plan of how they want to exit this life and when they want to exit it. Please wait and listen to me when I tell you that these thoughts are not with you forever. I know they are excruciatingly painful, but they do pass. I promise you they pass. I promise you are worthy, and that you are not alone. You are loved. You are strong. You are beautiful. You are brave.
Love,
Braelyn Bjornson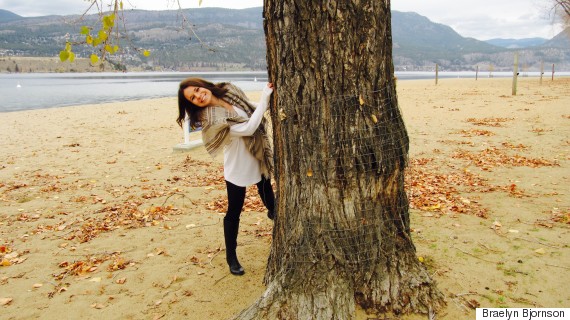 Frame Of Mind is a blog series inspired by The Maddie Project that focuses on teens and mental health. The series will aim to raise awareness and spark a conversation by speaking directly to teens who are going through a tough time, as well as their families, teachers and community leaders. We want to ensure that teens who are struggling with mental illness get the help, support and compassion they need. If you would like to contribute a blog to this series, please email cablogteam@huffingtonpost.com
********
The Maddie Project is a community effort in support of youth struggling with depression and other mental health related concerns. Driven by community collaboration and events, the project's goals are to raise awareness by sparking conversations about youth depression and mental health concerns as well as to help provide uninhibited access to support for youth and their families.
The Maddie Project was founded in April 2015 in memory of Madeline Grace German Coulter. To date the project has engaged 100s of thousands in active conversations around youth mental health and has raised over $1 million dollars in partnership with North York General Hospital Foundation towards the development of Maddie's Healing Garden and support of other child and adolescent mental health services at North York General Hospital.
To learn how you can get involved or contribute visit themaddieproject.ca or follow us on Twitter or Facebook
ALSO ON HUFFPOST:
Frame of Mind: Youth Mental Health Issues And Suicide In Canada
One in five Canadians will experience mental illness in their lifetime Source: Canadian Mental Health Association

Nearly half of those who feel they have suffered from depression or anxiety have never gone to see a doctor about this problem. Source: CMHA

Latest studies showed more than 1.3 million young Canadians have a mood disorder or addiction. Two-thirds had symptoms before the age of 15. Source: Statistics Canada, Government of Canada

Suicide is among the leading causes of death in 15- to 24-year-old Canadians, second only to accidents. In 2012, 261 Canadian kids and teens took their own lives. Source: CMHA, Statistics Canada

LGBTQ youth face about 14 times the risk of suicide and substance abuse than their heterosexual peers Source: CMHA Ontario

First Nations youth are at a higher risk. The suicide rate among First Nations youth is roughly five to seven times higher than that of the general population. Source: Parliament of Canada study, 2014

People with mental illness and addictions are more likely to die prematurely than those without. Mental illness can cut 10 to 20 years from a person's life expectancy. Source: Centre for Addiction and Mental Health

Contending with her bipolar disorder brought Yashi Brown to poetry, and with it, she's trying to end the stigma of mental illness.

If you need help, visit ementalhealth.ca to search for services in your area. Or call the Kids' Help Phone at 1-800-668-6868, it's Canada's only free phone counselling service for youth under 20.
More From Frame Of Mind:
Follow The Maddie Project on Twitter: www.twitter.com/maddie_project