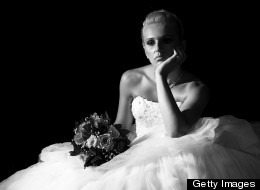 On a mid-summer's night, as I was leaving work, I saw my boyfriend standing outside in front of a limo with flowers in his hand. He looked nervous and sweaty. Bewildered, I greeted him with just as much nervousness. Later that evening he proposed, and suddenly I was a fiancée.
Being from an Italian background, and him Portuguese, we had been "living in sin" together for a year. Our parents were very vocal about their distaste for us not being married.
My grandparents' voices still haunt me: "Christina, you getting more older, you needa keep a nice boy (keep in mind here I'm 26). When you married Christina?"
My grandfather, who was 83 years old at the time, had said to me, "I wanna you make famiglia proud." He had such a despairing look in his eyes, with his hands raised up in the air.
You see, both my mom and my aunt were victims of the 'hush hush rush to city hall' to be married, as both of them had buns in the oven. All the pressure for a legit BIG FAT Italian wedding was all on me. How could I disappoint?
So, my vision of a long engagement and travel turned out to be a 'let's get to it' event. Planning my family's wedding, turned into a full-time job, signed, sealed and almost delivered in a mere eight months.
The plans for the wedding didn't feel warm, exciting or anything like ME. I remember standing in my chiffon, taffeta, satin (it's all the same to me) cupcake wedding dress. Of course it was off-white! I obviously wasn't a virgin, and only virgins could wear white with a tiara bigger than Princess Di's. I stood there looking at myself, crying, not because I thought, "I'm so beautiful, this is so perfect," but because I was so horrified that this fluffy sparkly monster I was looking at was ME!
I had lost sight of what I was doing, and who I was doing it for. In fact, at month six of Wedding Boot Camp, I wasn't even sure I wanted to marry my boyfriend.
From the tacky wood-panelled hall, that of course every family member had been married in; to the moth ball smelling church that, yup that's right, every family member had been married in; to the 300 strangers I knew I would have to kiss -- all of it was just not me, and the whole thing had to stop.
We had been having problems in our relationship throughout this whole process, and even before the engagement. I have to wonder if his proposal, aside from family pressure, was also an attempt to keep us from drifting apart.
I thought that things would change between us if I accepted his proposal. I didn't know that there would be so much pressure attached to it. All the stress of the wedding didn't bring us closer; it pushed us even further apart.
Two weeks prior to D-day, I had gone out of town for a friend's wedding. The whole time I felt full of anxiety, inner turmoil and conflict. It was a good break to leave the city, turn off my phone for the weekend, and reflect.
I called my fiancée on the Sunday I was to return home to tell him I was about to head back to the city. As I was talking to him, there seemed to be a sense of disconnect between us. There was something off.
I burst out crying and then it just came out, "I don't want to marry you!!!" I said.
Instantly, I felt relieved. What I had realized being away from it all was that we were pushed into getting married, and neither of us was ready, nor wanted to marry one another.
We had been so caught up in making everyone around us content and proud that we lost sight of what made us happy. In the end, the mutual feeling was that we didn't make each other happy; we just weren't meant to be together. So we both contacted our families and called the whole thing off.
We continued living together for four months after the break-up. We didn't sleep in the same bed, nor did we talk. We didn't fight, as it seemed to be a decision we made together. I was just the first one to say it out loud.
I made a promise to myself back then that I was going to live my life for me. So, I put all of my belongings into storage; I moved out, and started to travel the world, just like I had always wanted.
We lost contact a year after I left because he said he still loved me, and it was too hard to be friends. He was my best friend, and I still have a deep love for him. I just knew he wasn't the one. I never looked back.
I constantly remind myself to only make choices based on what I want, and how I feel. I also tattooed a heart on my wedding finger. I love my life, and I often look down at my hand and feel the warm reminder that life is too short to live for others. My heart tattoo is the symbol of that courage.
By Christina Lee O'Brien
The Purple Fig is a community where women share personal and relatable stories; no ego, no shame. We're about life, love and all of the stuff that makes us yearn, squirm, and giggle. These stories make up the authentic and intriguing journey of a woman.
Sign up for The Purple Fig newsletter coming out every Monday.
Visit The Purple Fig
On Facebook
On Twitter
A) Jennifer Lopez B) Christina Aguilera C) Kelly Rowland D) Aretha Franklin

Just 20 days after singer Aretha Franklin announced that she planned to marry friend William "Willie" Wilkerson, she called the entire thing off. Franklin, who got engaged in January 2012, released a statement a couple of weeks later: "Will and I have decided we were moving a little too fast, and there were a number of things that had not been thought through thoroughly. There will be no wedding at this time."

A) Gwyneth Paltrow B) Drew Barrymore C) Julia Roberts D) Jennifer Lopez

Believe it or not, actress Julia Roberts was once engaged to actor Kiefer Sutherland -- but only briefly. Roberts, who was 23-years-old at the time, backed out of the engagement just three days before the lavish June 1991 wedding. The actress was later seen in Dublin, Ireland, with actor Jason Patric -- with no engagement ring in sight.

A) Scarlett Johansson B) Gwyneth Paltrow C) Jennifer Aniston D) Jennifer Garner

Before Brad Pitt and Angelina Jolie became Brangelina, there was Gwyneth Paltrow. Pitt and Paltrow dated for two-and-a-half years and were engaged for six months before the actress decided that she wasn't ready for marriage in 1997, according to Glamour.

A) Linda Hogan B) Kaley Cuoco C) Reese Witherspoon D) Jessica Simpson

In March 2012, The Big Bang Theory star Kaley Cuoco casually announced that she had would not be marrying Josh 'Lazie' Resnik, just months after she broke the news of her engagement in October 2011. The actress told Entertainment Tonight: "I'm not engaged anymore," but did not elaborate.
Follow The Purple Fig on Twitter: www.twitter.com/thepurplefigmag