A Day in the Life of a Mom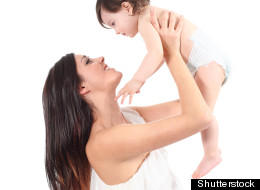 Get up. Get yourself up because if you roll over it will be far more painful to get up later and you won't have gotten a work-out in. Get up. Whatever you do, remember the passport forms today.
Drive. Push it push it, spin, spin, spin. Do you want to waste away in your seventies? Look flabby in that "hot" one-piecer you just picked up? Then push it.
Drive home. Have you sent those thank you cards? I wonder how my friends are. How long has it been since I talked to Jen? Later.
Coffee, coffee, thank the Good Lord for coffee.
Kids in the house. Warm, sleepy, hugs. Delicious.
"Sorry, no yogurt today."
"I know you eat yogurt each and every day, but there's none today, and there's no toast either. There are some perfectly good Cheerios. Yes I am a failure as a mother, thank you very much."
Laundry, laundry, there's always laundry.
Exactly six more minutes until they need to be in school. If there's no food in their stomachs by then I'm a bad mother.
"EAT!!!! I DON'T CARE, PUDDING, CHICKEN LEGS, JUST GET SOME FOOD IN!" Was that the demon me?
"What is on your feet?" Still too cold for sandals, but sandals it is, what will her teacher say? Two minutes left. "Get those sandals on your feet. Where is your homework? WHERE IS YOUR HOMEWORK!?" Bad mother. Socks might help. No time for socks. Aren't I capable than more than these thoughts? But I love them. I love them to the ends of the earth, and I'm their mother, and that's the truth.
Work, work. Perpetually behind. What on earth did I do with my time before? Are my kid's feet freezing? Was it my turn for snack? What's on for the weekend? Birthday party. Present, card, dinner. Google recipes. Healthy, of course, and fabulous. List. I need a hot grocery list.
Imagine he had to do a monstrosity like Christmas? There's my fun thought for the day.
Present, done. Too much money, but fit the time window, all good. Groceries. How in the hell did this just cost $130, when it will only last two days? And I know I missed something. I hereby resolve to use every leftover that exists in my fridge from this day forward. I throw out too much. Guilt. Starving children. But what to do when my kids don't EAT anything? I hereby resolve to force my kids to eat something.
Pick-up. Greatest smiles and reunion ever. "How was school?" Nothing. Does that mean something? What are those moms looking at? What exactly are those moms looking at?
Old. So old. Lines, wrinkles, folds. Botox? Gym. I need new clothes. I shouldn't care.
Wine, wine, thank the Good Lord for wine.
"Eat, eat, for the love of God will you eat? And if anyone on this earth loves me, let what you eat be green."
I clean up. And now...
"Get clean." When I so expeditiously signed up for this role, did I realize two kids would mean I would have to shampoo hair and brush teeth every day for eight years? And they still somehow get cavities. Bad mother.
Stories, I do love stories. I'm two lines ahead, so I can read two lines well.
Snuggles, I do love snuggles.
I love your warm little body, but not necessarily your wide, open eyes, at this moment specifically. Would you just. Please. Fall. Asleep.
Husband time. Really? Bed time. I had the biggest plans. I would have solved the world's problems if I could have made it past 11 pm. Written the best novel. Sold my house on Kijiji. But I failed. Shocker, because it happened yesterday too. The passport forms! The thank-you cards! Bad mother.
Can't sleep, although I'm exhausted. Today's worries: Should I be doing more? Contributing more to society? Volunteering? I watch The News. I can talk politics. I have a few degrees. How do people find the time? Damn, I didn't call Jen.
It's 12:30 am: I'm awake, I'm awake. Noises. Puking? Run, you can save it, run, run, dangle him, dangle him, well, at least you got half of it. Wash bed or wash him? Need help, but he has to work, I can zombie. He helps! Shower sleepy, sick boy, Febreeze the bed. Throw out the pillow? Food poisoning? Fever? Hospital? No fever of 104 so they'll politely tell me I'm an idiot. Sleep half-awake and monitor, that will do. I hope to God that will do. Is he okay?
Are they okay?
Until the day I die: Are. They. Okay?
Happy Mother's Day, Mom. I kind-of get it now. It's hard, but I wouldn't trade it for anything either.
By Ann Moore
Canadian designer Nicole Tarasick has created these airport code pillows, perfect for the frequent flyer or the expat. Airport Code Pillows by Nicole Tarasick, $65, available on Etsy.

Some of us have mothers who love their plate collections — so much so that she keeps them in glass cabinets as display items. This Mother's Day, she'll love you for adding these bright finds to her collection. La Med Melamine Dinner Plates, $60, available at Williams-Sonoma.

This is the perfect Mother's Day gift that YOU can benefit from as well. Fun fact: this ice cream maker also includes the largest ice cream bowl capacity in the industry. Kitchen Aid Ice Cream Maker, available at retailers across Canada.

Yes, flowers are the typical go-to Mother's Day gift, but this year check out these paper flower bouquets by Paper Portrayals. Paper Flower Bouquet, $65 (USD), available on Etsy.

Okay, just hear us out. Sometimes, our parents aren't always that organized. To help Mom keep track of her finances, give her this practical electric organizer. NeatReceipts, $180, available at Neat.com.

For anyone who has grown up with a mother who loves to bake fresh treats, surprise her with this spring-inspired cake stand. Floral Cake Stand, $50, available at Pier 1 Imports.

Sometimes, Mom just needs to get away. But if a tropical vacation isn't in the near future, Spa Finder lets you buy gift cards that can be used at 2,000 different Canadian spas. Check out how to get your own Spa Finder gift card.

Browse the Web, read a book or just watch funny viral videos. This tablet is decently priced and has a seven-inch display. Google Nexus 7, $240, available at Future Shop.

Face it, your mom loves your face. We know frames are simple and popular go-to gifts, but this year try adding an old photo of you and your mom. She'll appreciate it. I Love Mom Frame, $15, available at Indigo.

OK, if the last one was too cheesy for you, we also have these stunning semi-precious, hand-polished agate frames. RabLabs Obra Frames, $58, available at RabLabs.com.

Sick and tired of boring cards? Check out these fun and customized cards on Etsy. (No, seriously, there's a whole page.) You Da Bomb Diggity, $4 (USD), available on Etsy.

Simple, cute and fun. These tea cups will brighten up any kitchen. Dotto Mug, $12, available at Anthropologie.

Make Mother's Day special this year by getting your mom a stunning leather notebook. She can use it as an agenda or just write down her thoughts. Spring Blossom Journal, $18, available at Indigo.

Get your mom's mornings going with this colourful coffee and espresso maker. Nespresso U D50, $200, available at The Bay.

Cheers! Pop open a bottle of wine (we recommend this Chardonnay from Jackson-Triggs) and give a toast to thank your mom for everything she's done. Prices vary across the country.
The Purple Fig is a community where women share personal and relatable stories; no ego, no shame. We're about life, love and all of the stuff that makes us yearn, squirm, and giggle. These stories make up the authentic and intriguing journey of a woman.
Sign up for The Purple Fig newsletter coming out every Monday.
Follow The Purple Fig on Twitter: www.twitter.com/thepurplefigmag