Is Twitter Like Online Therapy for Teens?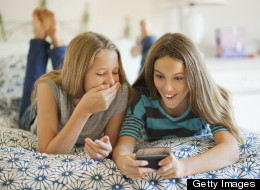 Twitter can be noisy. Silly. Crude. Mundane. Commercial. Self-promoting. Therapeutic. Wait, what was that last one?
I won't lie, the reason I got into Twitter had to do with the second-last descriptor. When I set my sights on publishing a novel for teen girls, I thought I should get to know my audience better. I had to build my 'author platform' and become capable of navigating the social media world. Although in the beginning I felt slightly creepy about doing it, I began to follow young adults, and as general Twitter courtesy dictates, many followed me back.
Most of what I've seen is light, or funny, or intended to get attention. But the surprising part of this Twitter experience for me has been that more often than you'd think, sandwiched between tweets like:
"Don't ever try to drink nutella it doesn't work"
Or
"Drop my phone on my face way too often"
I find tweets like these (legit, random, and from distinct people):
"You could have just said you hated me instead of having me figure it out on my own."
"You're ashamed of me"
I'm not sure why I'm shocked when I see them. I guess I come from a family and generation that doesn't share so openly. At first I found myself wondering what good it would do to share sensitive thoughts with hundreds or even thousands of strangers.
"All I ever wanted to do was make you proud"
"I hate crying myself to sleep, it's the worst. I just wanna be happy ☹"
Do they realize that these tweets won't go away? That they might read them later and remember? Relive?
"I know I said I would quit but I was upset and really needed a few hits."
"I don't think me and mums relationship will survive this operation"
"Dad most people say hi when I walk through the door but thanks for that"
"I hate everything about myself"
Some get reactions and replies. Validation. Support.
"I wish I can go a day without worrying about how fat I feel or how ugly I think I am."
5 retweets (followers who have passed the tweet to their own followers' timelines, likely in agreement)
Response: "That makes two of us"
Response: "1 you're not fat, 2 you're beautiful & 3 I love you the way that u are!"
"Hate people who let you down"
7 retweets, 1 favorite (star of approval)
Response: "What's up mate"
More than occasionally, tweets are even more serious. I've seen enough tweets about cutting and suicide that I wonder whether it's some kind of trend. Has it become cool to be risqué in this way? Are adults masquerading as troubled young people to get a reaction and increased Twitter prestige? The Manti Te'o story reminded us that people online are often not as they appear, and that for some reason, adding tragedy to the masquerade may be alluring.
"i need to shower and I may or may not cut okay bye"
"I'm about to just take all the Advil. I have a horrible headache. Maybe if I just take 80 Advil ill feel better. K"
"I'm f*cking gonna kill myself soon.."
I try not to be skeptical. Whenever I see a tweet that concerns me, I try to send a caring reply -- it's worth the risk of giving in to a false cry for attention. I suggest they get help. Quietly I worry that the tweets are real, and I wonder why they've turned to Twitter, and how it may or may not be helping.
And the risk that Twitter could actually make things worse is significant. Unsupportive comments are also a consideration for fragile youth exposing feelings to strangers protected by the anonymity of the online world. After a quick review of tweets by a person who has tweeted about suicide, I found this one, tweeted via ask.fm, which means the "asker" doesn't even have an avatar to hide behind:
"Go cut yourself, you failed abortion!"
She answered:
"Ok"
So cruel I have difficulty re-typing it. Could there actually be benefits in sharing over Twitter that might outweigh the risk?
Bridget Whitlow, a psychotherapist specializing in adolescents who is also active on Twitter, believes that there may be some therapeutic benefit to the immediacy, feedback, and networking the medium offers. "Anytime someone puts an idea or thought or commentary out there it is open for any comment back," she says. "This can happen in any public forum but the obvious difference is that on Twitter this happens instantaneously. While I am not aware of any data that can give information on supportive vs. unsupportive comments on Twitter, I do believe that the unlikely connections and information that is exchanged has potential for great positive impact. That said, Twitter is not a replacement for medical treatment or psychotherapy. Anyone that is posting distressing comments would benefit from connecting with a health professional that they trust in order to help determine what kind of support or treatment would be most helpful for them."
Blog continues after slideshow
Studies About Kids And Technology
Teens and Technology" width="52" height="52"/>

Source: Pew Research Center Gist: "Fully 95% of teens are online, a percentage that has been consistent since 2006. Yet, the nature of teens' internet use has transformed dramatically during that time ... Teens are just as likely to have a cell phone as they are to have a desktop or laptop computer. And increasingly these phones are affording teens always-on, mobile access to the internet — in some cases, serving as their primary point of access."

Preschoolers Can Learn Great Things From TV" width="52" height="52"/>

Source: Huffington Post (to read the actual study, visit Pediatrics -- subscription required) Gist: "New research out today by Dr Christakis finds that putting our time and energy into working to improve what our children watch, not just how much they watch, can have a positive impact on their behavior -- even for children as young as 3 years of age."

Media and Violence: An Analysis of Current Research " width="52" height="52"/>

Source: Common Sense Media Gist: "While longitudinal research does allow us to speak in terms of a 'causal' relationship, it is probably more accurate and useful to think about media violence as a 'risk factor' rather than a 'cause' of violence — one variable among many that increases the risk of violent behavior among some children."

Source: Reuters (to read the actual study, visit JAMA Pediatrics -- log-in required) Gist: "[R]esearchers said the new study backs up earlier findings showing too much screen time and not enough exercise may be separate issues that parents and schools need to address independently."

How Families Interact on Facebook " width="52" height="52"/>

Source: Facebook Gist: "We investigated anonymized and automatically processed posts and comments by people self-identified as parents and children to understand how conversation patterns with each other might be a bit different from those with their other friends."

Parents, Teens, and Online Privacy " width="52" height="52"/>

Source: Pew Research Center Gist: "Most parents of teenagers are concerned about what their teenage children do online and how their behavior could be monitored by others. Some parents are taking steps to observe, discuss, and check up on their children's digital footprints."

Public Supports Expanded Internet Safety Requirements to Protect Kids" width="52" height="52"/>

Source: C.S. Mott Children's Hospital National Poll on Children's Health Gist: "In this Poll, nearly two out of three adults expressed strong support for proposed COPPA updates, including requiring apps designed for kids to confirm that users are at least 13 and prohibiting apps from collecting personal information from users under age 13."

The Online Generation Gap" width="52" height="52"/>

Source: Family Online Safety Institute Gist: "These surveys indicate that teens' concerns about their online safety parallel parents' concerns more closely than parents realize and that many teens are taking steps to protect their privacy and personal information. Nonetheless, teens suggest that parents are not as informed about what their teens do online as parents think they are, and some teens are taking risks by providing personal information to strangers online."

Children, Teens, and Entertainment Media: The View From The Classroom" width="52" height="52"/>

Source: Common Sense Media Gist: "America's teachers -- whether they are long-time classroom veterans or young, tech-savvy ones, at wealthy schools or low-income schools, public or private, elementary or high school -- surface relatively consistent concerns: Students are having issues with their attention span, writing, and face-to-face communication, and, in the experience of teachers, children's media use is contributing to the problem. On the plus side, teachers find that young people's facility with media is helping them find information quickly and multitask more effectively."

How Teens Do Research in the Digital World" width="52" height="52"/>

Source: Pew Research Center Gist: "Three-quarters of AP [Advanced Placement] and NWP [National Writing Project] teachers say that the internet and digital search tools have had a 'mostly positive' impact on their students' research habits, but 87% say these technologies are creating an 'easily distracted generation with short attention spans' and 64% say today's digital technologies 'do more to distract students than to help them academically.'"

Social Media, Social Life: How Teens View Their Digital Lives" width="52" height="52"/>

Source: Common Sense Media Gist: "Three out of four teens have social networking sites, and half of all teens are on their sites on a daily basis. But despite our concerns about social media, in the vast majority of cases, these media do not appear to be causing great tumult in teenagers' lives."

Teens, Smartphones and Texting: Texting Volume Is Up While Frequency of Voice Calling Is Down" width="52" height="52"/>

Source: Pew Research Center Gist: "The volume of texting among teens has risen from 50 texts a day in 2009 to 60 texts for the median teen text user. The frequency of teens' phone chatter with friends - on cell phones and landlines - has fallen. But the heaviest texters are also the heaviest talkers with their friends."

Impact of an Active Video Game on Healthy Children's Physical Activity" width="52" height="52"/>

Source: Pediatrics Gist: "There was no evidence that children receiving the active video games were more active in general, or at anytime, than children receiving the inactive video games."

Teens, Kindness And Cruelty on Social Network Sites: How American Teens Navigate the New World of "Digital Citizenship"" width="52" height="52"/>

Source: Pew Research Center Gist: "As social media use has become pervasive in the lives of American teens, a new study finds that 69% of the teenagers who use social networking sites say their peers are mostly kind to one another on such sites. Still, 88% of these teens say they have witnessed people being mean and cruel to another person on the sites, and 15% report that they have been the target of mean or cruel behavior on social network sites."

Preschool-Aged Children's Television Viewing in Child Care Settings " width="52" height="52"/>

Source: Pediatrics Gist: "We found that children in as many as 70% of home-based child care settings and 36% of center-based child care settings watch television daily. More importantly, when television is viewed at all, infants and children spend 2 to 3 hours watching in home-based programs and ~1.5 hours watching in center-based programs."

Media Use by Children Younger Than 2 Years" width="52" height="52"/>

Source: Pediatrics Gist: "This updated policy statement provides further evidence that media—both foreground and background—have potentially negative effects and no known positive effects for children younger than 2 years. Thus, the AAP reaffirms its recommendation to discourage media use in this age group. This statement also discourages the use of background television intended for adults when a young child is in the room."

Zero to Eight: Children's Media Use in America" width="52" height="52"/>

Source: Common Sense Media Gist: "Nine-month-olds spend nearly an hour a day watching television or DVDs, 5-year-olds are begging to play with their parents' iPhones, and 7-year-olds are sitting down in front of a computer several times a week to play games, do homework, or check out how their avatars are doing in their favorite virtual worlds. Television is still as popular as ever, but reading may be beginning to trend downward. Having an accurate understanding of the role of media in children's lives is essential for all of those concerned about promoting healthy child development: parents, educators, pediatricians, public health advocates, and policymakers, to name just a few."

Cell Phone Study 'Misleading': Children May Still Be At Increased Cancer Risk, Experts Say " width="52" height="52"/>

Source: The Huffington Post Gist: "[E]xperts have some serious concerns regarding the methods and conclusions of the first study evaluating the connection between cell phone radiation and brain cancer in children and teens. Not only was the study flawed, they note, but it was also financially supported by the cell phone industry."

Children's Screen Viewing Is Related to Psychological Difficulties Irrespective of Physical Activity " width="52" height="52"/>

Source: Pediatrics Gist: "This study found that greater television and computer use was related to greater psychological difficulties, independent of gender, age, level of deprivation, pubertal status, and objectively measured physical activity and sedentary time."

Television and Video Game Exposure and the Development of Attention Problems" width="52" height="52"/>

Source: Pediatrics Gist: "Viewing television and playing video games each are associated with increased subsequent attention problems in childhood. It seems that a similar association among television, video games, and attention problems exists in late adolescence and early adulthood."

Teens, Cell Phones and Texting: Text Messaging Becomes Centerpiece Communication " width="52" height="52"/>

Source: Pew Research Center Gist: "Fully two-thirds of teen texters say they are more likely to use their cell phones to text their friends than talk to them to them by cell phone."

Generation M2: Media in the Lives of 8- to 18-Year-Olds" width="52" height="52"/>

Source: Kaiser Family Foundation Gist: "Today, 8-18 year-olds devote an average of 7 hours and 38 minutes (7:38) to using entertainment media across a typical day (more than 53 hours a week). And because they spend so much of that time 'media multitasking' (using more than one medium at a time), they actually manage to pack a total of 10 hours and 45 minutes (10:45) worth of media content into those 7½ hours."
Reassurance. Sympathy. Someone to "talk" to, as often as you wish and at all hours of day and night. Connections with those with common interests and common challenges. A form of public anonymity. Control over how you are perceived. A large virtual audience giving a sense of importance that may not exist in reality. All potential benefits of Twitter that may offer psychological comfort, but is the tradeoff of creating a public record of struggle and potential for damaging feedback worth it?
As I was contemplating Twitter as informal therapy for a younger generation, I scrolled across a tweet that made me smile with its wise advice.
"Go to the psychologist because Twitter won't solve your problems..."
2 retweets
15 favorites
And almost immediately afterward I saw this one that also made sense.
"Sometimes you just need someone to listen"
1763 retweets
333 favorites
By Ann Moore, author of Girl Reinvented
The Purple Fig is a community where women share personal and relatable stories; no ego, no shame. We're about life, love and all of the stuff that makes us yearn, squirm, and giggle. These stories make up the authentic and intriguing journey of a woman.
Sign up for The Purple Fig newsletter issued every Monday: http://eepurl.com/rXSh1
See more from The Purple Fig: http://thepurplefig.com
On Facebook: http://www.facebook.com/thepurplefigmag
On Twitter: http://twitter.com/thepurplefigmag


Follow The Purple Fig on Twitter: www.twitter.com/thepurplefigmag