Why Millennials Are Still Buying Vinyl
What's driving a new generation's fascination with the aging format?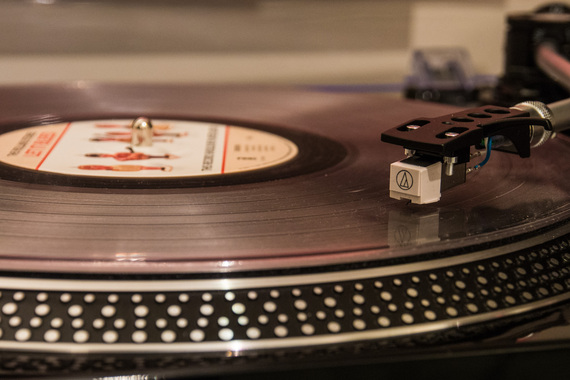 Vinyl record sales are up a staggering amount in recent years. Sales have increased year-over-year since 2008 and show no real signs of letting up. Spend 10 minutes reading up on the trends and you'll quickly begin to understand the only thing holding the industry back from even greater sales is the time-consuming record production process and the lack of modern machinery to press the actual LPs.
The Retro Fad Effect
What's also interesting about the move back to an audio format that was basically declared dead by the mainstream music consumer 25 years ago, is that it's been driven largely by a generation that grew up on CDs and digital audio files like MP3s. That said, vinyl still makes up a relatively tiny portion of music sales. Check that link -- in 2013, Nielsen SoundScan reported vinyl only accounted for a measly 2 per cent of album sales in the U.S., with about six-million units sold. By comparison, in 2013 CDs still accounted for 57 per cent of album sales with digital albums slotting in at 41 per cent. Still, that six-million mark vinyl hit is up from 4.55-million units in 2012, and it's expected to improve again in 2014. So even though it only makes up a small about of total music sales, vinyl actually gained marketshare in 2013 while the more popular formats took a step back.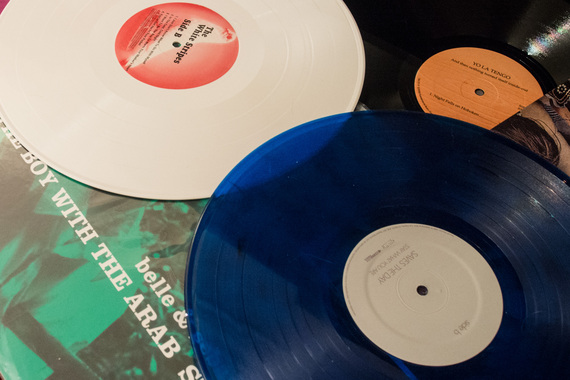 There's a hesitation to say this trend it will mark a permanent return to prominence for the format. After all, vinyl album sales are nowhere near what they once were, and retro is in. Urban Outfitters, a brand that caters to the young is the second largest vinyl retailer in the U.S. by volume, behind only Amazon. Will vinyl just be another fad that's gone as fast as it arrived? By all accounts, this resurgence doesn't appear to fit the mould.
For Millennials, It's About the Experience
Even dismissing that there has always remained a small but dedicated group of audiophiles that covet the format, record labels that press vinyl today know who's buying their LPs (millennials) and the other choices those consumers have in purchasing music. It's why when you buy a new LP today chances are it will come with a code to download a high-quality digital version of the album, because let's face it, it doesn't matter how good that record might sound, it can't offer the convenience of digital.
Still, packaging digital music codes with records isn't the only thing vinyl has going for it. Records offer something beyond the listening experience, something tangible. Records are prettier than CDs. They ditch the clear plastic jewel cases for beautifully printed sleeves, making them fun to display, and many have large inserts that make listening to an album an experience, not something you simply have playing in the background.
In a recent interview, Stephen Godfroy, director and co-owner of Rough Trade, told The Guardian the growth of record sales is driven by younger listeners looking for a physical product to complement their digital music collection.
Personally, there's an element beyond the tangible that attracts me to records. Call it nostalgia, or even longing, but I find vinyl comforting. One of my favourite memories of growing up was lying sprawled out on the floor in the loft above our garage with my brother, looking through boxes of my dad's records, with the Rolling Stones and Jackson Browne on the turntable.
So I have no doubts about why I feel connected to vinyl as a format. But like a growing number of millennials, I also choose to subscribe to music streaming service (Rdio) and I definitely take advantage of all the download codes I've accumulated after a few years of buying LPs. I love records, but most of the music I listen to is digital because I'm usually on the go.
Whether or not you buy into its staying power, vinyl offers a very different experience than buying digital. Whether it's the simple idea of owning a physical copy of your music, or the fun of going to a record store and rifling through row upon row of LPs, there is something much more involved with vinyl, and it drives a connection between listener and music that simply doesn't exist with other formats.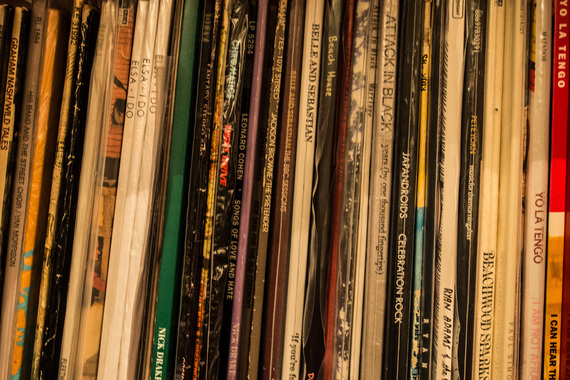 Getting Into the Vinyl Trend: Where to Start
Getting started listening to vinyl records doesn't need to be complicated. In fact, it's as simple as buying an entry-level turntable, an LP, and plugging it all in. Of course, it can get as complicated as you want it to, but for beginners, here's a great set up:
A simple all-in-one turntable like Crosley's Crusier is a great place to start if you're just getting into vinyl. It doesn't have the best sound, but it does have built-in speakers, so you won't need to buy extras. It comes with everything you need to get started -- just add a record. As a bonus, it's portable and it features RCA audio outputs (which means you can eventually add a better pair of speakers), a headphone jack so you can listen in peace, and even an aux-in jack for plugging in an iPod or other digital music player.
If you want create a more traditional turntable and speaker combination. Stereophile's entry-level blog series is a great place to start exploring which components you want to use. If you're interested in the setup I use in the video above, check out the description on YouTube for a breakdown of the components.
This post was originally published on The Reply.
ALSO ON HUFFPOST:
Music lovers dig vinyl. That's not a secret. They also love record players to match. ThinkGeek is offering music fans a pretty cool throwback looking gramophone that you can actually assemble yourself. The DIY Gramophone Kit is a piece of gear that's fun to make and use for years to come.

If you want your record player to come already assembled, the U-Turn Orbit Turntable is a very affordable, straightforward, sounds great and looks pretty darn cool.

Music fans love throwing parties and DJing. Now there's a device that allows them to do both at once. The JBL Pulse Bluetooth Speaker is a quality sound speaker with a built in light show that syncs up to the music being played. It's a pretty sweet toy.

Imagine having an amp the size of an Altoids case? It exists this holiday season. For music fans that want to carry an amp in their pockets for their guitar or bass, or have an extra small speaker for their iPhones or computers, Ampoids is the answer. Mints not included.

With the new GoPro Hero4 Black/Music, fans can now make their own music videos and record their live performances from the perspective of their guitars, basses or drums. A cool gift for rockers and aspiring filmmakers.

If that special person plays music, a great gift to help them record it is the NESSIE microphone by Blue Microphones. It's easy to set up and record great quality vocals, music parts and, of course, podcasts.

One of the best and most affordable portable Bluetooth speakers on the market today is the Jabra Solemate. It can connect anywhere with any modern smartphone or Bluetooth music playing device. It's small, easy-to-use, has incredible sound, charges quickly and is an all-around solid gift. It can be used inside the house, outside or on travel.

This high-end portable 2.1 wireless music system is small enough to bring with you almost anywhere -- or pump out tunes in a tiny room -- and reportedly runs for 12 hours its rechargable batteries.

Now rock and roll can warm your loved ones this Christmas. The Foo Fighters have released their new Ginger Metal Sweatshirt just in time for the holidays featuring an ironic black metal inspired gingerbread man cookie on a festive red top. Pretty badass and loveably tacky.

If an ironic music Xmas sweater would make your loved ones smile, here's the place to find some classics. Shredder has created ugly Xmas sweaters that fuse the holidays with the likes of Wu Tang Clan, A Tribe Called Quest and Morrissey.

If your loved ones dig memes, music and irony, now you can give them the gift of wearing all three things on their body at once. Memes On Clothes features stitched images of Miley Twerking, Pharrell in his Mountie hat, Nicki Minaj's "Annaconda" booty, Drake as Wheelchair Jimmy and so many more on crew necks, polos, bucket hats, etc. They're pretty fantastic.

Depeche Mode released a brand new concert album and DVD shot by legendary director Anton Corbijn just in time for the holidays. It should excite all of the bands long time fans and modern new wave fanatics.

Nobody can resist Taylor Swift. Whether it's a stocking stuffer or a little gift, pop fans will adore getting their hands on her latest #1 album '1989.'

If for some reason your music adoring loved one doesn't have Sam Smith's debut album 'In The Lonely Hour,' this is a no-brainer. Sam Smith's appeal is pretty much the equivalent of a male Adele. All music fans will love this LP and many see it as the album of the year.

If that special person loves their rock and roll, you can't go wrong with the brand new Foo Fighters album 'Sonic Highways.' It's full of Grohl-goodness that was recorded in classic recording studios all over the US.

For the young ladies, One Direction strategically released their new album 'Four' just in time for the holidays. Anything 1D should make young female music fans shriek with joy. It also comes in an 'Ultimate Yearbook Edition' for bonus screams

If you give a little Boss at the holidays, everyone is happy. This brand new Springsteen box set is made up of remastered editions of the first seven albums recorded and released by Bruce, plus a book of rare photos and other neat swag.

For music purists and classic rock fans, the Beatles back catalogue and rarities from 1963-1968 was recently re-released in a 180-gram vinyl box set in its purest audio form, mono. The epic set also comes with each album's original artwork and a hardbound 108-page book chronicling the biggest band in the world and their career during that timespan. It's pretty cool addition to anyone's Beetles collection.

Everybody's favourite flamboyant piano wizard Elton John's 'Goodbye Yellowbrick Road' 40th Anniversary Box Set is an awesome collectors item for music fans. The box comes with the LP, a covers album curated by Elton John, rare photos and his "Live at Hammersmith" 1973 DVD. Pretty sweet.

Music bios are always a great gift, and one of the most notorious rock bios to ever be written is Motley Crue's 'The Dirt.' The stories retold by Tommy Lee, Nikki Sixx and the boys are unbelievable and insanely entertaining. (And yes, you should probably give a bottle of Jack along with it.)

Rolling Stones guitarist Keith Richard's bio "Life" has been one of the most highly praised rock bios released in recent times. The story tells the tale of Richard's life of sex, drugs and rock and roll and is a must read for any Stones fan or music fan in general.

Earlier this year KISS frontman Paul Stanley released his bio called 'Face The Music: A Life Exposed.' The singer dishes the dirt on his life growing up with a physical deformity and going on to become one of the most well-known rock icons of all time. He also spills the truth on KISS' tumultuous band fighting over the years. It's an entertaining gift.

How much would that special music fan in your life love to have a fender strat as a bookshelf? Now they can this holiday season with the Fender Strat Bookend Set. They can get it in Telecaster form too.

If you need the perfect stocking stuffer or secret santa gift and you recognize that special person's hipster tendencies, try picking up some music jewelry from Leroy's Place. From Hall & Oates necklaces and Prince rings to Lil Wayne cufflinks and Ziggy Stardust earrings, this site makes them all.

For heavy metal music fans, a hot beverage by one of their favourite bands should help make holiday mornings extra great. Dark Matter Coffee is now selling an official Mastodon blend that allegedly mixes dark chocolate, oak…and unicorn blood.

For music fans, their favourite album covers are art. Especially vinyl. A cool gift idea comes from Records On Walls that sells a variety of easy to hang frames that allows music nuts to easily hang their vinyl like pictures, and not do any damage to the their covers or homes. And they can easily rotate the albums whenever they feel like it.

Aspiring producers or casual beat makers would love the MPK Mini Mk 2. It's small, portable, has a USB jack and lets users make music anywhere at any time. It's a pretty sweet little instrument.

Whether it's lounging on the couch or lying in a hammock, ukuleles are pretty much perfect. They're an increasingly hip instrument sold at most music stores and lots of fun to strum while passing the time. They're also relatively easy to play and can cost as little as $50.00. They're a great gift to give.

If that special person loves playing guitar as a hobby and travels a lot for work, a cool idea for a gift is the Traveler Guitar Ultra-Light Acoustic-Electric Travel Guitar. At less than 3 pounds, this fully functional guitar that is easy to travel with and storable anywhere.

That special person in your life may be an aspiring electro star that could be the next Calvin Harris. Or maybe they would just love to mess around with a synth. Although it's not the cheapest Xmas gift, this synth, sampler and sequencer just needs to be plugged into a computer and it's ready to go for music creation. It looks like a lot of fun.

Developed by Harmonix, the good folks behind Guitar Hero, Rock Band and Dance Central, the game acts as a spiritual sequel to the classic 1941 film. While there are a few familiar classical tunes most of the music is more modern, ranging from Jimi Hendrix and Elton John to Depeche Mode and Flaming Lips to Drake and Avicii. At its barest essence an orchestra conductor sim, but here your hands do much more, with each gesture helping bring the various worlds to visual life while also manipulating and remixing the music itself.

Canadian icon Bryan Adams is hitting the road for a cross-Canada tour to celebrate the 30th anniversary of his iconic album "Reckless." Starting in January, Adams is playing arena gigs in a Canadian city near you. His live show is sure to please parents and teens alike.

2014's biggest breakout star Sam Smith will be performing in arenas in Toronto, Montreal and Vancouver in January. If your loved ones live in Ontario, B.C. or Quebec, there's a good chance they would gladly to make the trek to hear that voice live if they receive tickets. You should go with them too.

Young Canadian jazz-pop singer Nikki Yanofsky is taking her catchy songs on the road for the month of January playing in a city near your loved ones. Nikki's live show is electrifying and music fans young and old would love a chance to watch one of our country's brightest young stars perform

If your music-obsessed loved one likes their tunes loud and raw, get them tickets to see Death From Above 1979. DFA is touring cities all over Western and Central Canada in the New Year. Their shows are always a sweaty, joyous dance party.

For Central and Western Canadian rock music fans, hard rockers Linkin Park are taking their live show across our nation for arena shows in February. Tickets should please any hard rock fan.

If your loved ones are Canadian indie rock fans from the east or west, Stars and "Hey Rosetta" are teaming up for a solid tour of our Nation in February that should be a crowd pleaser. Tickets to one of these shows are sure to bring some festive joy.

Yes, there are Nickelback fans out there and you can make their Christmas by giving the gift of Chad Kroeger. The band is touring all over our country in February and March for big arena shows and tickets are sure to make those fans real happy.
Follow The Reply on Twitter: www.twitter.com/reply_mag