Getting Fresh and Local in France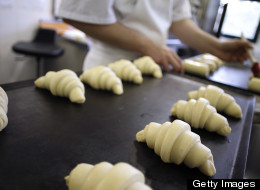 Fresh and local doesn't get any better than what I experienced last week in Marseille, France. By now we all know that we need to eat more fish, less meat and lots of veg but our Canadian culture and climate doesn't really support that process easily. And, even if you knew how and where to buy the freshest of fish, would you know how to cook it? Would you ask your fishmonger? Do you have one of those?
In Marseille, France the entire ancient city is built around the port as it has been for 2,600 years. This southern city has been an important Mediterranean transport and fishing gateway to the rest of Europe but it has also achieved the status of being the Cultural Capital this year. Quite a feat for a humble fishing village that happens to be the second largest city in France.
Every single day locals and local restaurateurs expect to see small boats unload today's catch from the boat onto the dock at the smack at the heart of town. There is no sign, no song and dance, this process has been happening here for thousands of years; everyone knows where it is. It is pure theatre to watch as bream, mullet, mackerel, sole and octopus are hauled, weighed, hawked and cleaned on the spot, in the moment for the patrons. The fish culture is so entrenched here that the Cultural Museum feels it necessary to stipulate no smoking, no pets and no fish are allowed in the centre. OK then.
This is the kind of place that you will find a tiny hole in the wall fish restaurant providing the most outstanding seafood meal imaginable. La Boite a Sardines sells fresh fish in its own stall but also makes outstanding meals out of shucked oysters, pan fried whole sardines, crawfish and "fish and chips" in a most cheerful, Provencal style. The chips turn out to be chickpea puree formed into potato shapes and fried and, when dipped in housemade aioli, you will think you have gone to heaven (where there is lots of garlic).
I'm convinced that it is never simply which foods are available that makes a people; it is their attitude toward the food. The cultural roots that support a style eating support a joie de vivre and a healthy body. Where we go awry isn't in our food choices, it is in our food attitude of filling the hole rather than feeding a soul and supporting local trades that go back as far as our ancestors.
Get the French Onion Soup recipe from Will Cook For Friends

Get the Nutella Banana Crepes recipe from Sweet and Savory Tooth

Get the Quick Cassoulet recipe from Dinner with Julie

Get the Gratin Dauphinois recipe from Beloved Green

Get the Profiteroles recipe from A Cozy Kitchen

Get the Tartiflette recipe from Ferdakost

Get Julia Child's Boeuf Bourgignon recipe Photo from Taekwonweirdo, Flickr.

Get the Croque Monsieur recipe from Verses from My Kitchen

Get the Sole Meuniere recipe from Bunky Cooks

Get the Coq au Vin recipe from No Recipes

Get the Bouillabaisse with Red Pepper Rouille recipe from What's For Lunch Honey?

Get the Creme Brulee recipe from 30 Pounds of Apples

Get the Chicken Provencal recipe

Get the Steak au Poivre with Red Wine Sauce recipe from Hungry Cravings

Get the Quiche Lorraine recipe from Simply Recipes

Get the Milk-Chocolate Pots de Crème recipe

Considered to be one of France's greatest singers, Edith Piaf was known for her ballads, her most famous one being La Vie en Rose.

Described as France's Frank Sinatra, Charles Aznavour is known for his unique tenor voice. La Boheme is his signature song.

Called the Elvis Presley of France, Johnny Hallyday began singing Rock and Roll in the 1960s, later transitioning into Blues. Je T'Aime, Je T'Aime, Je T'Aime is one if his earlier songs. Even though he announced his retirement in 2009, he had a few performances in 2012.

This 1960s song by singer actress Françoise Hardy was featured on the soundtrack for the 2012 film "Moonrise Kingdom."

Singer, songwriter and actor Jacques Dutronc's sound combines pop, rock and garage rock on the line with The Kinks and David Bowie. In the 1970s his song Et Moi, Et Moi, Et Moi was adapted into English for the UK group Mungo Jerry.

DJ and producer Dee Nasty is known for pioneering hip hop music in France. His breakout hit was Paname City Rappin', which was released in 1984.
Follow Theresa Albert on Twitter: www.twitter.com/theresaalbert