How to Fuel Yourself Before, During and After a Workout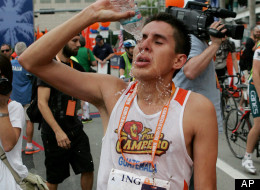 I ran my first 10 K, slightly reluctantly and ever so slowly but, you know what? I got hooked. It was a girls' weekend away and I really had no intention of doing anything more than walking a beautiful course in Bermuda while dreaming about the spa visit at The Fairmont Southampton in the afternoon. But, I got into that pack of people all pumped and excited and I caught their enthusiasm. Given that I am pretty fit and run about 5 K a few times per week at the gym (but on a treadmill rather than tropical hills!), I figured, this was doable even though I hadn't trained. So I took off, found inspiration from the people and the vistas and ran (well, jogged).
I know how crucial it is to support any exercise regime with the right food, and the older you get, the more important it is. Filling your tank well and ensuring that your exercise is actually doing you more good than harm can't be stressed enough. The day before and on run day (yoga day, spin day, zumba day, weight day, cardio day...), it is all about the fuel. The day after, it is also critical to nourish cell recovery with the right food. So what is that?
BLOG CONTINUES AFTER SLIDESHOW
Fitness Tips From the Experts
Avoid These Three Mistakes Are you making one of the three mistakes celebrity trainer Jackie Warner advises against? Setting goals that are too ambitious, shying away from resistance training and failing to incorporate superstar foods like grapefruit and oatmeal into your diet all can hinder your progress. Watch

Don't Skip Snacks Go for snacks that are calorie controlled -- 150 calories or less is a good rule of thumb. When your stomach is growling, try a piece of fruit like a banana or peach with a handful of nuts; a granola bar; or roasted edamame.Watch

Keep Moving Throughout The Day Sitting for extended periods at your desk during the work day raises the risk for developing heart disease. Interrupting long periods of sitting at your desk at work with two minute breaks of light or moderate-intensity activity such as walking and stretching can help curb risks of increased glucose and insulin levels.

Hold Yourself Accountable -- Publicly People who hold themselves accountable to their health and fitness goals publicly are more likely to follow through. Post your goals on Facebook, and let friends and family support you in your fitness journey.

Lift Weights To Keep Your Body Young As women age, relying on impact exercises alone is a mistake. Resistance training keeps your bones strong and stimulates muscle growth -- and the more muscle you have, the more fat you'll burn, even when you're not exercising. Watch

It's Never Too Late Making simple changes in your diet and lifestyle can help you start eating healthier, no matter what your age. Get rid of extra sugar: toss out the sugary cereals and snacks in your home. Switch to reduced- or no-fat dairy products and try incorporating a vegetable into each lunch and dinner. Add in a 20- to- 30-minute walk a day to start feeling better. Watch

Knock Out A Fitness Plateau If your workouts aren't having an effect on your body anymore, you might have reached a fitness plateau. This happens when your body gets used to its exercise routine and workouts become too easy. The secret to busting out of a plateau is switch up your workouts to keep your body guessing. Change your resistance, your speed or the amount of time you're doing to keep getting results. Watch

Eat A Fast And Healthy Breakfast Smoothies are an easy breakfast option when you're running late. Toss a frozen banana into a blender along with some milk or yogurt, a scoop of peanut or almond butter and your favorite fruit. You'll have a tasty, healthy meal whipped up in no time. Watch

Munch On Cottage Cheese Worried about belly fat? Try a bedtime snack that's full of protein, like cottage cheese, to help your muscles repair while you rest. Bonus: cottage cheese is a natural relaxant, which will help you fall asleep more quickly and keep cortisol at bay. Watch

Go Heavier On The Weights You've incorporated weight training into your workout -- great job! But routinely raising the amount of pounds you lift will reap even more benefits. As a general rule of thumb, once you can do 15 reps of an exercise without resting, you should increase the weights. Women, go up 5 to 10 pounds; men can increase by 15 to 20 pounds. Watch

Smoking And Exercise Share Feel-Good Chemicals Try hitting the gym instead of lighting up the next time you get a nicotine urge. Smoking releases serotonin and dopamine, chemicals in your brain that make you feel good -- exercise releases the same ones. So if you're worried about weight gain if you quit smoking, establishing a workout routine might be the answer. Watch

Stop Doing Crunches Big movements like squats and pushups are better at achieving a flatter belly than crunches because they work your core significantly. Do these in place of crunches for a more effective belly workout. Watch

Don't Go Hungry We make our worst eating decisions when we're starving. Eating something every few hours will keep you from getting famished and help you stay on track with making healthy food choices. Watch

Add Protein To Post-Workout Meals Include protein in meals after working up a sweat. It will help your body absorb carbohydrates better. A combination of the two will help your body replenish after working out. Watch

Make Small Changes For A Big Payoff Making a too-large fitness goal is overwhelming ("I'm going to the gym every single day until I lose 20 pounds"), and makes it easier to quit. Give yourself time to reach your goals, and institute small changes that you can maintain on a daily basis. Watch

Skip Gimmick Diets You can't undo a lifetime of eating habits and preferences overnight -- no, not even by eating cabbage soup three times a day or chugging maple syrup. Instead of going on a diet, focus on changing your lifestyle. Be conscious of what foods you're eating, cutting calories and adding in exercise. Watch

Get Moving With Music Feel like you're in a slump? Use music to get you moving. Choose a tune with a quick beat -- studies show that the faster the music is, the faster you'll crank out those reps.

Stay Motivated Trying to work out intensely seven days a week will lead to burnout. Instead, pick three days a week for an intense workout, and then do a low-key activity the rest of the week that you enjoy, like a yoga class, a long walk with the dog or a slower-paced workout video. Watch

Sleep More To Burn Belly Fat Fat burning and muscle repair happen at bedtime. If you're not getting enough sleep, your body isn't functioning as well as it can. Additionally, when you're sleep deprived, your body releases cortisol, a hormone that increases ab fat deposits -- yes, the dreaded lower belly fat. Watch

Drink More Water Keep hydrated with water or non-caloric beverages. Often when we feel hungry, our bodies are just thirsty. So when in doubt, drink up.
10 hours before exercise
Do:
Have a meal of low GI, easily digestible carbohydrate like lentils or beans will allow your muscles to take up as much glycogen as possible. The protein/carb balance of beans is perfect.
Don't:
Drink alcohol, it's dehydrating
Eat a heavy protein or fat laden meal, it will weigh you down and interrupt your sleep
"Carb Load" with spaghetti and bread, they will let you down too quickly
Two to four hours before
Do:
Eat Breakfast -- It is true that you will burn more fat if you exercise first thing in the morning on an empty stomach. But you will tire too quickly and may run the risk of burning the very muscle you are trying to build.
Magic Muesli
Oatmeal with milk
Whole grain cereal with banana and soy milk
Protein smoothie
Don't:
Have bacon and eggs
Skip Breakfast
Forget to hydrate with water or coconut water!
One hour before workout
Eat a high glucose, easily digestible snack like these power balls.
During:

:
Around the one hour point, your glucose and blood sugar levels will drop and you may become fatigued or light headed.
Do:
Drink four to five big gulps of water per hour
Consider coconut water over sports drinks
eat two pitted medjool dates
Dates are a fresh fruit high in the all important glucose with the added benefit of recovery minerals and anti-oxidants. They are just as easily digested and portable as a "power pack."
Don't:
Slurp a commercial energy gel which is a highly processed, often corn syrup-based packet. They don't contain the antioxidants or minerals of a real food that will support you in recovery.
Drink sports drinks unless you are exercising for more than 2-3 hours and coconut water isn't available
Recovery:
Do:
Drink lots of water.
Within an hour or two after exercise, your muscles will be calling for replenishment. Feed them the highest quality food you can find. (If you are going to "cheat" with a treat, now is the time, your body can use the extra calories quickly and efficiently).
Have a full meal with lots of vegetables, lean protein, preferably fish, and a good whole grain carb (like brown rice or quinoa or whole grain bread).
Don't:
Drink alcohol before you eat. Since your muscles are primed for more fuel, and they can't use the calories from booze to do so, those calories will be converted to fat. Give your body the kind of calories it needs to recover and then have a drink if you are going to. Remember, alcohol is also further dehydrating. Water up.
Follow Theresa Albert on Twitter: www.twitter.com/theresaalbert