World's Coolest Airports Prove Travel Really Is About The Journey
There is that familiar saying that goes "It's about the journey, not the destination." Unfortunately, this isn't always the case: flights mean frisky security, long layovers and unexpected delays, which can sometimes make for unpleasant travel experiences. Still, your airport journey doesn't always have to be terrible. Here are some cool airports that will make you forget about all your travel baggage:
1. Hamad International Airport, Qatar
This $16-billion airport screams luxury. It features a 25-metre-long swimming pool. The airport is also equipped with quiet rooms, ideal for passengers seeking a pre-flight snooze. Did I mention they also have a giant dinosaur robot and a 23-foot-tall Urs Fischer sculpture of a yellow teddy bear? Sounds like the perfect opportunity for a brag-worthy Instagram pic. Hashtag, love Qatar.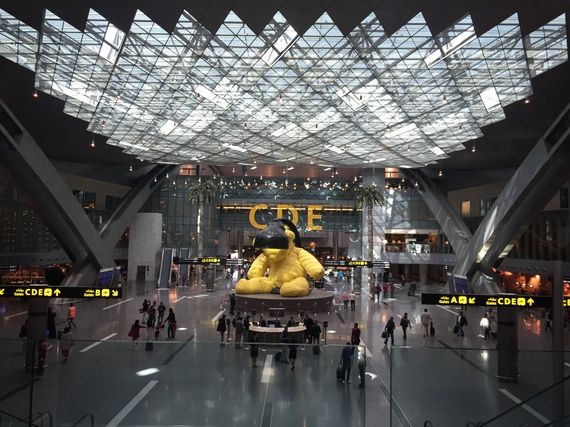 23-foot Teddy bear at Hamad International Airport. Photo by gnoparus / Shutterstock
2. Changi Airport, Singapore
If you didn't get enough shopping done during your trip, then Changi Airport is the perfect place for you. There are over 300 retail stores available and two movies theatres -- free of charge -- for you to take advantage of. There's also a fascinating butterfly garden (yes, a butterfly garden) in Terminal 3. Here, you can find a rainforest-themed garden with about 1,000 butterflies surrounded by flowering plants and a six-metre grotto waterfall. Three-hour layover? Can I extend that to six?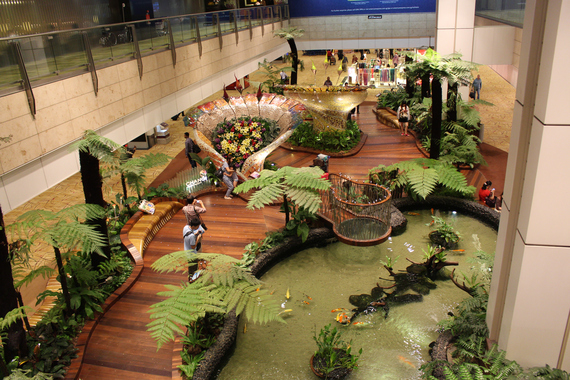 Indoor garden and ponds at Changi Airport. Flickr photo by Firesock
3. Hong Kong International Airport, Hong Kong
Have you ever wondered what it's like to fly a plane? If you have (assuming you're not a pilot or something), then head over to the Aviation Discovery Centre and hop on the plane cabin simulator. This ride allows passengers to see what it's like to actually fly a plane. Pretty cool if you're about to board a real flight in a couple of hours. This airport is also home to an IMAX theatre and an indoor, multimedia golf course.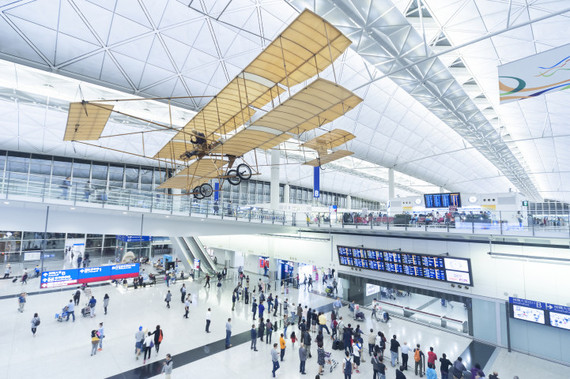 Hong Kong International Airport. Photo from Shutterstock
4. Helsinki Airport, Finland
If you have an appreciation for art, then you'll love your layover in Helsinki. It's the MoMa of airports, complete with a 24-hour art gallery and aviation museum. There are paintings and art installations all over the building, making for a truly gorgeous stopover. Passengers can also relax between flights in a sleeping pod, an ergonomic seat/bed complete with a pull-up cover to keep out light and noise, storage for your carry-on under the seat, and a power outlet for your phone or laptop. Hyvaa yota! (If you didn't know, that's "good night" in Finnish.)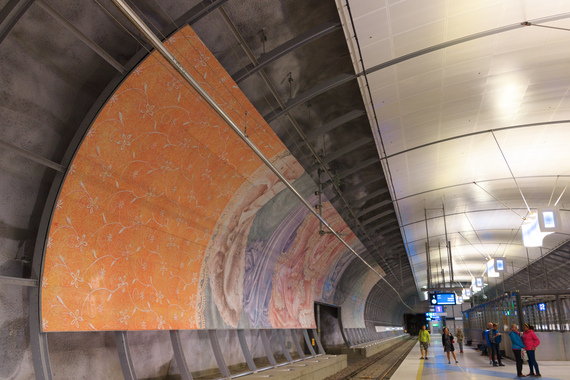 Railway station at Helsinki Airport. Flickr photo by Oona Räisänen
5. Dubai International Airport, Dubai
You know you're in Dubai International Airport when you come across a $6,000 bottle of French brandy. The United Arab Emirates, as a country, is luxe, extravagant, and over-the-top, so it comes as no surprise that their airport is a perfect representation of the Dubai lifestyle. Fully equipped with a swimming pool, gym, sauna and shower facilities, this airport will help you to literally wash your stress away. They also have zen gardens available for passengers who wish to escape airport chaos to a more peaceful and quiet space.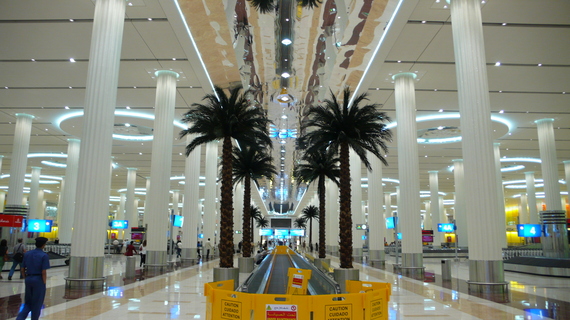 Baggage claim at Dubai International Airport. Flickr photo by Christopher
6. Madrid-Barajas Airport, Spain
If you're looking for a calming airport experience (if there's such a thing), then go to Madrid. This airport was carefully designed to minimize passenger stress through natural lighting. The ceiling consists of several domes that allow natural light to pass through the roof. With a gorgeous ceiling and architectural design to look at, the thought of crowded airports and long lineups doesn't seem so bad anymore.

Beautiful architecture at Madrid Barajas Airport. Flickr photo by Jean-Pierre Dalbéra
7. Wellington Airport, New Zealand
Some of you may not know this, but The Lord of the Rings was filmed in New Zealand, so it's only fitting that they have a giant sculpture of Gollum in one of their terminals. Passengers can also spend their time waiting in a not-so-typical airport lounge called The Rock. The bold design looks like its straight out of a sci-fi movie. The roof has rugged steel beams and glass fixtures, making it look like, well, a rock. The lounge is meant to represent Wellington's history and culture.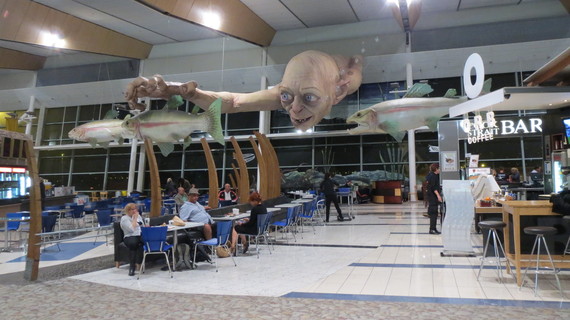 The Gollum sculpture inside a Wellington Airport terminal. Flickr photo by Sheila Thomson
Follow HuffPost Canada Blogs on Facebook
MORE ON HUFFPOST:
Unique Airports In The World
The main airport on the Caribbean island of Saint Martin, this airport's runway is situated in close proximity to Maho beach.

The main international airport in Maldives, this airport is also known as Malé International Airport. It has been constructed at an elevation of 2 metres above mean sea level. Adjacent to the aiport is a waterdrome that has four water runways for seaplane operations.

This is reputed to be the most dangerous airport in the world with a sloped runway that is 527 m long, 20 m wide, and inclined at an amazing 12 degrees.

Spread over 45.9 acres, this is the only airport on the island that lies off India's west coast. It features one runway and its terminal can handle a maximum of 50 passengers at peak time.

A challenging airport to land in, flights are restricted to land/take off only during daylight hours.

The Kansai airport is Japan's second largest airport is built on an artificial island that cost 17 billion dollars to construct. It was built to relieve overcrowding at Osaka International Airport.

Build during World War II, the Gibraltar International Airport features an astounding view of the Rock Of Gibraltar, however is another difficult airport for pilots to manoeuvre around, because of the same reason.

Oddly enough, this airport features a railway line (Pamerston-North to Gisborne) that cuts rights across the main runway.

One of the highest airports in the world (3,256 metres above mean sea level), there is heavy level of this security at this airport: police and soldiers from the Indian army patrol the airport at all times.

Commonly known as DIA, this is the 5th busiest airport in the United States and the only airport (in that country, at least) to feature an ISO 14001-certified environmental management system.

Close to the McMurdo station, this runway (out of three) is the main runway for the US Antarctic Program. It is used until early December, after which the operations are shifted to Williams Field, another snow-ice runway.

This altiport features a short runway (537 m) in the French Alps, and has gained a reputation for being a dangerous landing area due to its mountainous terrain.
Follow Travelzoo Canada on Twitter: www.twitter.com/TravelzooCanada