How The Travel Industry Is Relying On Robots More And More
If you walk in to the Henn-na (or the Weird Hotel) in Japan, you will likely be met by two receptionists. Both speak English but neither is like any receptionist you've ever seen before. One appears to be a perfectly airbrushed woman. The other is a dinosaur. Both are robots.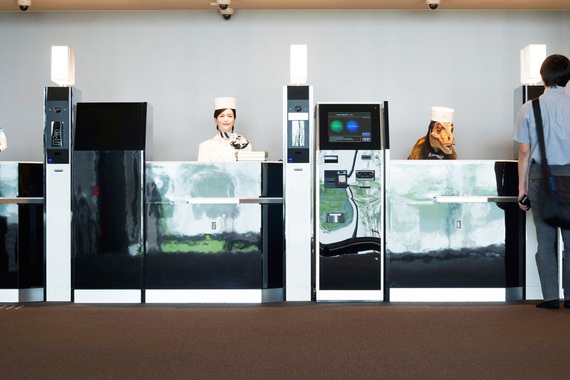 The reception desk at the Henn-na Hotel in Japan
The concierge at Henn-na is also a robot, as is the porter. While the Weird Hotel may be just that -- weird -- robots are still showing up in hotels, cruise ships and airports around the world in a quest to better serve travellers.
The Aloft, Residence Inn and Holiday Inn hotels in California use robots to deliver room service. Costa Cruise Lines' Pepper the robot assists passengers and is trilingual in German, Italian and English. Royal Caribbean's Quantum of the Seas has a Bionic Bar with robot bartenders. KLM's "Spencer" robot takes care of customer service at Amsterdam Airport Schiphol. The upscale Nihonbashi department store in Tokyo has even jumped on the bandwagon, unveiling humanoid ChihiraAico as their consierge.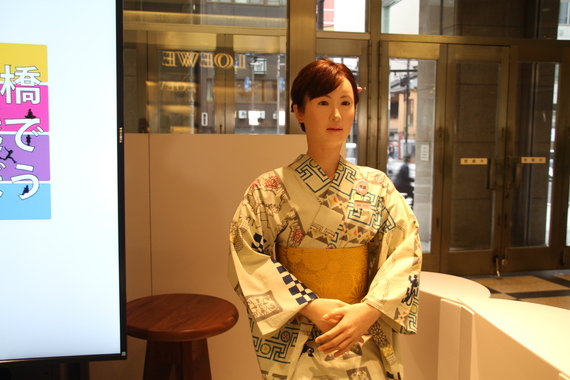 Toshiba's ChihiraAico at the upscale Nihonbashi department store in Tokyo
The list of robots in the travel industry continues to grow and on March 11, Toshiba unveiled Chihira Kanae, its most advanced, human-looking robot, at ITB Berlin, the world's largest tourism convention.
The idea that robots will be at the front desk or even helping you with your luggage on your next vacation is not so far-fetched.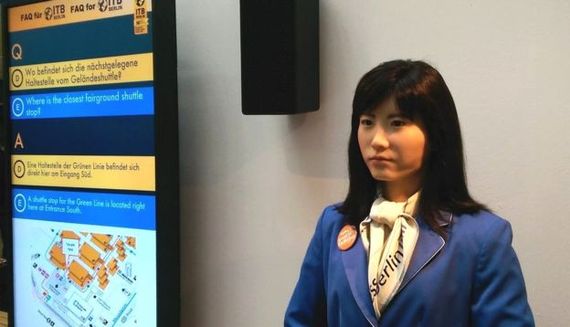 Toshiba's ChihiraKanae, unveiled this week at ITB Berlin
In fact, according to a global survey by Travelzoo, a global media commerce company, 80 per of travellers expect robots on their vacations by 2020 and almost two-thirds said they are comfortable being served by robots in some capacity.
Chinese, Brazilian and American travellers are the most positive about how robotics and artificial intelligence can enhance travel in general - 92 per cent of Chinese and 73 per cent of Brazilians and 71 per cent of Americans said they were comfortable with this idea. Other nations appear more cautious. Only 37 per cent of Germans and 47 per cent of French respondents said they were comfortable with cyborg hospitality.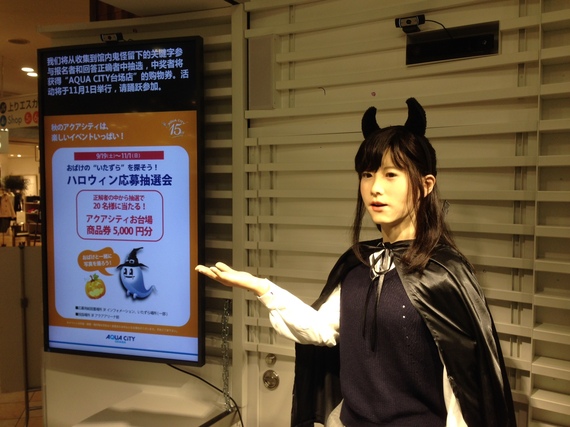 Toshiba's ChihiraJunco welcoming tourists at AQUA CiTY ODAIBA, Tokyo Waterfront City
The main advantages travellers see in robots are related to general efficiency, data retention and recall. More than three-quarters of respondents think that robots would be better than humans at handling data (81 per cent) and dealing with different languages (79 per cent), while 76 per cent believe robots have better memory overall. And 81 per cent of respondents cited their untiring energy as an advantage.
But that doesn't mean that respondents don't have their concerns. 75 per cent said robots are impersonal. 70 per cent doubted they would be able to understand informal language such as slang, idioms, local dialects or irony. Seventy-five per cent worried that their bionic counterparts would eventually take away jobs.
Commenting on the survey's findings, Travelzoo's European President, Richard Singer said, "Right now is a very exciting moment in the history of the travel industry - groundbreaking technology is revolutionizing what is possible from the perspective of customer service, entertainment and personalization. Robots and artificial intelligence are making their debut on the tourism stage, and our research into global acceptance of robots working in the travel industry is largely positive. Most nations are starting to open up to the idea of robots in travel and see the tangible benefits heading our way in the very near future."
Andrea Chrysanthou is an editor of the Travelzoo Canada blog and is based in Toronto, Ontario. Travelzoo has 250 deal experts around the world who rigorously research, evaluate and test thousands of deals to find those with true value.
Follow HuffPost Canada Blogs on Facebook
ALSO ON HUFFPOST:
Best Travel Destinations For Canadians
Best time to travel: April, May, September, October Average price: $700 to $900 Why you want to go: Even if the Euro scares you more than the U.S. dollar does, Spain is still considered a budget-friendly country with low accommodation costs. "Spain has something for every traveller's needs whether it be a relaxing beach vacation in Malaga, exploring the Alhambra Palace in Granada or visiting the famed Sagrada Familia in Barcelona. Spain is also famous for their tapas and you can get tapas and drink for $5," says Rishi Modi of travel deal site Next Departure.

Best time to travel: April, May, September, October Average price: $700 to $900 Why you want to go: For Canadians, Lisbon is one of the cheaper European cities to fly into. "It's a lively city with delicious seafood and cheap drinks. Take advantage of its inexpensive public transit to visit the historic Sintra, go to a winery in Porto and enjoy the Mediterranean weather on a beach in Faro."

Best time to travel: December to March Average price: $900 to $1,200 Why you want to go: Getting to Thailand can be pricey depending on the time you go, but once you're there, everything can fit into your budget. "Food from street vendors and markets costs you $4 to $5 and accommodations can run you as low as $20 a night [depending where you stay]. Thailand has tons of attractions to offer travellers, from trekking in the jungles of Chiang Mai to relaxing on tropical islands like Ko Samui."

Best time to travel: October to May Average price: $900 to $1,200 Why you want to go: Marrakech was named Tripadvisor's number one destination in 2015, according to travellers. "Explore the ancient palaces, shop in the markets of Marrakech and stay overnight in the Sahara desert. Food is inexpensive in local restaurants and street stalls, while accommodations are reasonably priced."

Best time to travel: Depending if you go north or south, you want to avoid cold or rainy seasons. Late December is usually the best. Average price: $900 to $1,100 Why you want to go: If you're an urban explorer or nature lover, Vietnam offers both. "Vietnam is another South Asian destination that continues to be budget-friendly with beautiful sights, including cruising along Halong Bay and visiting the rice terraces. Food is remarkably cheap — a meal and beer can cost under $3."

Best time to travel: April, May, September, October Average price: $900 to $1,100 Why you want to go: If you want to go to Europe and still have spending money, Modi suggests avoiding popular destinations like France and Italy and opting for Eastern Europe instead. "From Hungary to Romania to Bulgaria, these Eastern European countries are rich in diverse culture and its modern and historical architecture."

Best time to travel: April, May, September, October Average price: $700 to $900 Why you want to go: "Peru is known for its geographic diversity, from exploring the vast Amazon jungle to hiking the Inca Trail to relaxing on the beach coast," he says. But Peru's most famous attraction is the ancient site of Machu Picchu — a must-see if you decide to go to this South American country.

Best time to travel: April, May, September, October Average price: $1,000 to $1,200 Why you want to go: Indonesia has thousands of islands and Bali is one of the most luxurious and popular ones. "Food and hotels are extremely cheap, where you can enjoy tasty meals from $1 to $2 and spend as little as $20 per night on accommodations." However, if you do plan on renting out a villa or eating on Seminyak's main tourist strip, it can feel like dining and living in a major Canadian city.

Best time to travel: January to March; September to November Average price: $600 to $1,000 Why you want to go: If you haven't been to Cuba, you probably know several Canadians who have — the Caribbean island is one of the most popular beach destinations for Canucks. "All-inclusive packages are affordable and offer a bang for your buck. If you're really flexible, you can often find last-minute cheap deals on flights and all-inclusive packages."

Best time to travel: January to April; September to December Average price: $350 to $650 Why you want to go: We're not saying you should head to pricey destinations like Hawaii or Las Vegas, but some U.S. spots have taken advantage of our falling currency. "Myrtle Beach, Kissimmee, and Scottsdale are starting to offer deep discounts — around 20 to 30 per cent off accommodations, free meal vouchers and discounts off activities. Also, expect major airline carriers alongside the low-cost carriers stateside such as Allegiant and Sprint to offer discounts and seat sales as well." And when you look at your budget as a whole, many U.S. destinations tend to be cheaper than leaving the continent.
Follow Travelzoo Canada on Twitter: www.twitter.com/TravelzooCanada