Expanding Free Trade With Israel: A Step in the Wrong Direction for Canada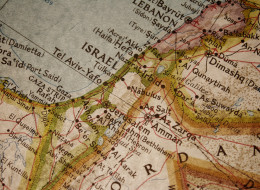 On July 21, the Conservative government announced an "expansion" and "modernization" of Canada's free-trade agreement with Israel. This development didn't make it into any headlines in Canadian media, and it eluded the attention of the official opposition. But if we, as Canadians, wish to play a positive role in the international community, this development cannot be overlooked.
It has become common knowledge that since 1967, Israel has maintained a military occupation over lands it captured in a war with its Arab neighbours. We are all familiar, too, with the fact that Israel has been establishing Jewish-only settlements on prime real estate within these occupied territories, in violation of the Fourth Geneva Convention. For nearly 50 years Israel has openly flouted international law as it continues to build new settlements and expand its existing ones, displacing more Palestinians and appropriating more lands and resources in the process.
Canada's official policy on the Israeli-Palestinian conflict recognizes the application of the Fourth Geneva Convention to the lands Israel has occupied since 1967, and states, "The settlements also constitute a serious obstacle to achieving a comprehensive, just and lasting peace." So these settlements, according to Canada, are not only war crimes, but are a "serious obstacle" to ending one of the longest-running conflicts in the world.
In close to 50 years of this illegal behaviour--and in violation of our official policy--Canada has never leveled sanctions against Israel. In fact, as Israel has continued to gobble up Palestinians' lands and resources, we've been rewarding Israel, rather than reprimanding her. In 1997, while Israel was violating its obligations under the Oslo Accords by exponentially expanding its illegal settlement enterprise, Canada established its first-ever bilateral trade agreement--the Canada-Israel Free Trade Agreement (CIFTA).
Under CIFTA, Canada has been importing goods produced and manufactured in Israel's illegal settlements, free of tariffs. Nearly 20 years after CIFTA's signing, you would think that this practice would be reversed, if anything, since Israel's current Prime Minister has made it clear that he refuses to establish a Palestinian state, and will never relinquish land Israel has settled illegally within occupied Palestinian territory.
Not only has this practise continued without hindrance, it has not even been discussed in the political arena. The European Union, meanwhile, has had measures in place for well over a decade to ensure that illegal settlement products do not enjoy tariff-free status under its free trade agreement with Israel. It's no surprise, really, since the EU recognizes the settlements as being illegal under international law.
It gets worse. Canadian consumers are not given the real freedom of choosing to avoid products from Israel's illegal settlements, since they are mislabelled as being "Made in Israel." This violates the Consumer Packaging and Labelling Act, which in Section 7 (c) prohibits false and misleading representations on prepackaged products, which includes the product's origin.
The UK, Belgium and Denmark each have national guidelines on labeling goods from Israel's illegal settlements, and the EU committed to establishing these guidelines years ago. After being pressured by John Kerry to delay implementing these proposed guidelines until after the most recent "peace talks," which of course failed in the face of Israel's refusal to freeze expansion of its illegal settlements during the duration of the talks, the EU is about to begin labeling illegal settlement products.
The complete lack of discussion on this issue in the Canadian political arena is not because those segments of Canadian civil society that support Palestinian human rights have not tried to initiate dialogue. The United Church of Canada sent a letter to John Baird on February 28, 2013, urging the Canadian government to, at the very least, "introduce guidelines for retailers that would encourage them to label goods from the settlements differently from products made in Israel." A page encouraging Canadians to take action is set up on the Church's website, directed to Minister of Trade Ed Fast and Minister of Foreign Affairs Rob Nicholson.
While many supporters of Palestinian human rights acknowledge that labeling goods from these illegal settlements is not nearly enough, as the United Church indicates, it is the very least we would expect Canada to do. Of course, Israel is to blame for its illegal settlements, and cannot be disconnected from them, since successive Israeli governments are fully responsible for establishing them and creating the conditions for them to expand and multiply. Logically, sanctioning Israel would be the appropriate measure to take.
But in a Canada in which our current government has expressed undying loyalty to Netanyahu's regime, and where the opposition parties appear unwilling to publicly shame the government for its appalling disregard for the human rights of Palestinians, we cannot realistically expect the enactment of state sanctions against Israel any time soon.
If the NDP wants to prove to Canadians that it is indeed the government in waiting, and that it's visibly different from the Conservatives, then we should all expect it to commit to taking action on this issue. Will the NDP, at the very least, commit to reforming CIFTA to exclude tariff-free imports of illegal Israeli settlement products? Will the NDP, at the very least, promise to label products originating from the illegal Israeli settlements so that Canadian consumers will no longer be deceived?
If the NDP cannot even make these bare-minimum commitments, which have already been embraced by most of our allies in the Western World, then we can expect that they will not differ from the Conservative government in their complicity with Israel's illegal behaviour. So far they have been silent on the expanded and modernized CIFTA. It remains to be seen whether this silence will continue until the upcoming federal election.
ALSO ON HUFFPOST:
Canada-EU Free Trade Deal: What You Need To Know
The trade pact needs the consent of Canada's provinces and EU member states to become law. So far, it's looking good on the provincial front: Quebec, Manitoba, New Brunswick, Newfoundland and Saskatchewan's leaders have all praised the deal, and Ontario seems open to it assuming it can get compensation for some of its industries that will be harmed by the deal. Pictured: Canadian Prime Minister Stephen Harper and European Commission President Jose Manuel Barroso shake hands following a joint media availability Friday, October 18, 2013 at the European Commission in Brussels, Belgium.

Canada will partially extend patent protection for brand-name drugs, which would delay the introduction of cheaper generics by up to two years. Officials say it will be eight years before any impact of these changes show up as higher costs for provincial drug plans. Earlier reports have suggested the cost to the health care system of extended drug patents could run between $1 billion and $3 billion annually. Jim Keon, president of the Canadian Generic Pharmaceutical Association: The EU trade deal will "delay market entry of cost-saving generic prescription medicines in Canada in the future, increasing health-care costs for provinces, employers that sponsor drug plans for their employees and Canadians who pay for their prescription medicines out-of-pocket." The federal government has suggested it will compensate provinces for higher costs as a result of the agreement.

Domestic car producers will be able to increase sales into Europe to 100,000 units from about 10,000 today under relaxed rules. The EU will phase out its 10-per-cent tariff on imports, and Canada will phase out a 6-per-cent tariff on European car imports. That could be good news for Canadian fans of European luxury cars, as those vehicles will be cheaper. But that, in turn, could be bad news for Canadian auto manufacturers. Dennis DesRosiers of DesRosiers Auto Analysts: "I don't think anyone can definitively know what the impact of the current EU Agreement will be on the automotive sector. ... The [Canadian] industry peaked in the year 2000 and has been struggling since and, indeed, just finished one of its worse decades in history and continues to deteriorate. Was this the long term result of FTA and NAFTA? We don't know but it could be."

Canadian beef farmers increase their quota by 50,000 tonnes, in addition to 15,000 tonnes for high-quality beef. Pork farmers will see their quota rise to 80,000 tonnes from the current 6,000. But producers will have to convert to hormone-free product for the European market, which experts say can add about 15 per cent to costs. Martin Unrau, president of the Canadian Cattlemen's Association: "The removal of long-standing barriers in this agreement, such as high tariffs, finally enables Canadian beef producers to benefit from the high value that the European beef market represents." Dairy Farmers of Ontario: "It will take income from Canadian dairy farmers and their communities and give it to the European industry."

Companies will be allowed to bid on major government procurement contracts right down to the municipal level. A joint study showed the new access will give European companies leeway to bid on federal contracts worth between $15 billion and $19 billion an year, and municipal contracts worth $112 billion a year. Critics say that, because of the common practice of "hiring Canadian" in government contracts, EU access to them could mean job losses in Canada. Trade Justice Network: "Canadian governments would lose a powerful tool for spurring job creation and economic development."

Foreign takeovers of Canadian firms now require a formal federal government review if the deal is worth $1 billion or more, but this agreement will raise that to $1.5 billion.

Labour and consumer groups fear CETA could lead to the privatization of Canada's water supply and infrastructure. According to early leaks from the negotiations, Canada did not try to protect water resources as part of the trade deal. The Council of Canadians writes: "This deal will give French companies Suez and Veolia, the two biggest private water operations in the world, access to run our water services for profit. Under a recent edict, the Harper government has tied federal funding of municipal water infrastructure construction or upgrading to privatization of water services. Private water operators charge far higher rates than public operators and cut corners when it comes to source protection."