Canada 150: Our Pursuit Of A More Perfect Canada Must Continue
I celebrate the Canada of 2017 for opening its doors and promise to millions like me.
An immigrant from India, I arrived in Canada in May 1968. Just the previous year Canada had celebrated its Centennial, capped by Expo '67. I had been in the United Kingdom for over three years and left for Canada shortly after Enoch Powell made his anti-immigrant "Rivers of Blood" speech. Since then I have happily journeyed along with Canada for the last third of its 150 years.
Canada has been good to me. It has made me feel at home. It is full of promise and potential as a model country for the world.
For me, Canada 150 and the marking the 150th anniversary of the country's confederacy is not just about the last 150 years. It can't be. It is about celebrating our land with its ancient peoples that have been around from time immemorial. It is about understanding the past: its accomplishments and failures, equalities and inequalities, justice and injustices, the opportunities availed and missed, the prosperity created and the still-evident poverty.
It is not about quarrelling with the past 150 years, it is about debating the future 150.
It is not perfect. No country is. But it is more perfect than most.
Canada is my chosen home. It is not perfect. No country is. But it is more perfect than most. It is certainly less imperfect than it was in 1968, and obviously a lot more perfect than it was 150 years ago. For me, Canada 150 is about making Canada, in the years ahead, an even more perfect confederation -- a more just, egalitarian, prosperous and inclusive society.
A brief look in the rear-view mirror shows that we have made a mess of indigenous peoples' lives, and it is taking us far too long to undo the damage. We need to move more quickly so that the inequality, poverty and racism indigenous peoples face is history in next 10 or 15 years -- not the next 150. By Canada 200, it would be wonderful to have had at least one -- if not more -- indigenous prime ministers. The mistreatment of the indigenous people will continue to stare us in the face until there is complete equality, reconciliation and rebuilding of a robust indigenous presence in every aspect of Canadian life.
While we celebrate the huge strides on equality for women, we still have far to go. Canada is a world leader on fairness and equality for members of the LGBTQ community, but much more remains to be done.
On immigration, we have come a long way from the Chinese Head Tax, the Komagata Maru, the internment of the Japanese Canadians and the persecution of the German, Ukrainian and Italian Canadians during the Second World War.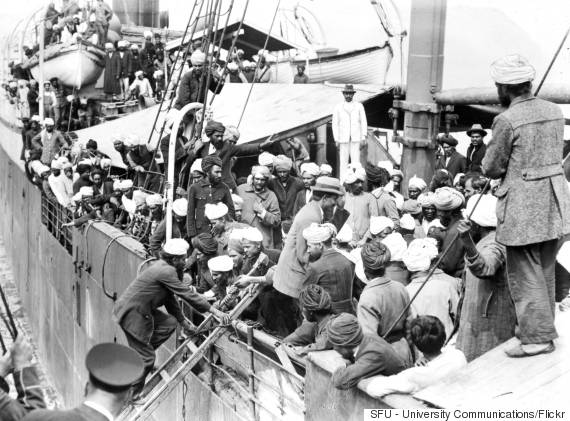 The Komogata Maru. (Photo: SFU University Communications/Flickr)
We have recognized that in 1939 Canada was wrong to turn away the St. Louis from our East Coast, forcing the 907 Jews on board to return to Europe, where 245 of them would perish in concentration camps. But the lessons of that historic wrong were forgotten in our treatment of the ship full of Sri Lankan Tamils running away from terror and civil war arriving on our shores, 70 years later in 2001.
As Canada continues to welcome immigrants from all over the world, we need to ensure that we assist them with integration into the economic, social and political life of the country. In the Internet age that can lead to the fragmentation of life and isolation, it is even more important that as a society we remain connected with each other in our neighbourhoods, towns and cities. We need to constantly remind ourselves of our history and remember it as we continue to move forward on the path to progress in race relations to build more connectedness and social solidarity in diversity.
We need to reduce our dependence on the extraction and sale of raw natural resources. A more robust manufacturing base is a must for Canada. Creation of wealth must be enhanced along with our response to the environmental changes occurring worldwide.
Poverty in Canada is a stark reality, our enduring shame. UNICEF Canada's recent report on child poverty placed Canada 26th out of 35 rich nations for child well-being, putting us "at the back of the pack." Child poverty is nothing if not poverty among the parents and the guardians of those children --simply: poverty.
The wealth gap in Canada is shocking. Two billionaires control the same amount of wealth as the poorest 40 per cent Canadians; not much better than the entire world, where eight of the richest men control as much wealth as the poorest half of the world.
A rich and caring country such as ours has no excuse for the degree of poverty or the huge wealth gap. Such poverty and disparity in a relatively affluent country should set the alarm bells ringing -- to not fall silent until a fairer, more equitable and poverty free society is created.
Canada 150 reminds us that our pursuit of a more perfect Canada must continue.
On the international front, many traditional assumptions about trade, foreign policy, international alliances and allegiances are under stress. The election of Donald Trump, his questioning of NATO's relevance and trade deals, the Brexit vote and the ascendant far-right in parts of Europe such as France are just some of the challenges that will require careful stewardship of our country and its relationships with the world.
As we confront the challenges ahead, we mustn't ever the lose sight of the essence of the Canadian Project: to create the most prosperous, egalitarian, just and inclusive society, and help build a more caring and peaceful world. The Canadian Project is not perfect, at least not yet. Much remains for us to worry about, contend with and accomplish.
Canada 150 reminds us that our pursuit of a more perfect Canada must continue.
Also on HuffPost:
Countries With The Most Immigrants: 24/7 Wall St.
> Immigrants: 7.3 million > Pct of population: 20.7% > GDP (PPP) per capita 2012: $42,734 > Gov't immigration goals: Maintain Currently, 7.3 million immigrants live in Canada, equivalent to more than 20% of the nation's total population. As 2011, the Canadian government was one of the few to propose policies that would increase the level of immigration for the purpose of family unification. The level of immigration, more generally, was considered satisfactory in the same year, according to the U.N. In spite of Canada's exceptionally liberal immigration policies, there has been concern recently over whether Canada's immigrants are successfully integrating into society. To avoid the potential social tension that could arise from a growing economic difference between immigrants and locals, the Canadian government has restructured its screening process to emphasize factors such as job skills and language fluency. Read more at 24/7 Wall St.

> Immigrants: 7.4 million > Pct of population: 11.6% > GDP (PPP) per capita 2012: $35,548 > Gov't immigration goals: Decrease Just 11.6% or France's roughly 65 million residents are international migrants. According to the U.N. Population division, while the French government promoted some policies aimed at attracting skilled immigrants as of 2011, the governments overall attitude toward immigration was generally negative. As a member of the European Union, France is obligated to support the free movement of EU nationals between the EU nations. In recent years, however, the European Commission has criticized the French government for expelling Roma, popularly called Gypsies, from the country. France's existing immigrant population is older, with nearly 20% at least 65 years of age, compared to just 11.1% globally. Read more at 24/7 Wall St.

> Immigrants: 7.8 million > Pct of population: 12.4% > GDP (PPP) per capita 2012: $36,941 > Gov't immigration goals: Decrease About 7.8 million million immigrants live in the U.K., up from just under 6.5 million as of 2010. This is despite the U.K. government's view, as of 2011, that the large influx of foreigners to the country was somewhat of a problem. The government's policies intended to lower the level of immigration to the country, including high-skilled workers immigration. Only one of the world's eight largest destinations for immigrants, the United Arab Emirates, had a higher average annual increase in immigration that exceeded the U.K.'s 4.0%. Although the country's aging population may actually signal a necessity for more immigrants, British Prime Minister David Cameron has stated that immigration has strained the nation's public services. Read more at 24/7 Wall St.

> Immigrants: 7.8 million > Pct of population: 83.7% > GDP (PPP) per capita 2012: $49,012 > Gov't immigration goals: Decrease A stunning 83.7% of UAE residents are international migrants the most of any country in the world, excluding only Vatican City. Between 2010 and 2013, the emirates let in more than 4.5 million migrant workers, more than any other nation in the world. The UAE is able to attract workers to come there because the country is extremely wealthy, with an economy driven by oil and finance. As of 2012, the nation's per capita GDP exceeded $49,000, on-par with that of the U.S. But despite the nation's appeal for immigrants, the UAE's government as of 2011 considered immigration to be too high. Additionally, the country has been criticized for the poor living and working conditions faced by many migrant workers. Read more at 24/7 Wall St.

> Immigrants: 9.1 million > Pct of population: 31.4% > GDP (PPP) per capita 2012: $31,275 > Gov't immigration goals: Decrease Nearly one-third of Saudi Arabia's population consists of immigrants, while between 2000 and 2013 the number of immigrants rose by an annual average of 4.2% per year, higher than most other nations. Between 2010 and 2013 alone, the number of immigrants to Saudi Arabia rose 24.3% As of 2011, the Saudi Arabian government regarded the overall level of legal immigration as too high and implemented policies to reduce immigration, according to the UN had. Similarly, the government's policies on the naturalization of immigrants were also considered restrictive. Recent news reports suggest immigration policy in Saudi Arabia has only become more restrictive with new measures implemented to prevent undocumented workers from finding employment. Read more at 24/7 Wall St.

> Immigrants: 9.8 million > Pct of population: 11.9% > GDP (PPP) per capita 2012: $39,028 > Gov't immigration goals: Maintain Germany, one of the world's largest economies, is a popular destination for immigrants. Its well-developed infrastructure and top-rate higher education only add to its attraction. Just under 10 milllion of the country's 82 million residents are immigrants. As of 2011, Germany's policies reflected approval of the country's rate of immigration. In 2012, with the eurozone crisis still unabated, a growing number of young workers immigrated from southern Europe to Germany. But Germany has openly recruited high skilled-workers to live and work in the country permanently, especially as the country's population ages and shrinks, according to Der Spiegel. Unfortunately, many such workers fail to stay for even as little as a year, and since 2010 the number of immigrants to Germany has actually dropped. Read more at 24/7 Wall St.

> Immigrants: 11.0 million > Pct of population: 7.7% > GDP (PPP) per capita 2012: $17,709 > Gov't immigration goals: Increase More than 12 million immigrants lived in Russia in 2010 and the Russian government was among the few seeking to increase the number of foreigners entering the country. In 2011, the country's government viewed immigration as too low and oriented its policies towards increasing immigration. However, these policies have failed to attract more net immigrants: as of this year, there are just over 11 million immigrants living in Russia, a decrease of roughly 10% from 2010. Local authorities have not embraced the prospect of single-ethnicity communities for Chinese, Uzbeks, Tajiks and other ethnic groups in Russia ,and have even sought to ban them in some cases, hoping instead to promote integration into Russian society. Read more at 24/7 Wall St.

> Immigrants: 45.8 million > Pct of population: 14.3% > GDP (PPP) per capita 2012: $49,922 > Gov't immigration goals: Maintain The U.S. is by far the largest destination for immigrants, with more than 45.7 million living in the country, according to the UN. As of 2011, the U.S. government's policies toward both immigration and emigration remained effectively neutral. However, immigration reform has been especially prominent in Congress this year. This reform is expected to address issues related to illegal immigration, while determining how, and whether, undocumented immigrants should be able to attain citizenship. Considering the U.S. has one the highest per capita GDPs in the world, at nearly $50,000, its appeal to immigrants is fairly straightforward. It is the world's largest economy, as measured by output, and has the second largest total exports. Also, the U.S. offers well-developed infrastructure and financial markets, as well as quality education. Read more at 24/7 Wall St.
Follow Ujjal Dosanjh on Twitter: www.twitter.com/ujjaldosanjh