This Gifted 24-Year-Old's Music Has Already Reached The White House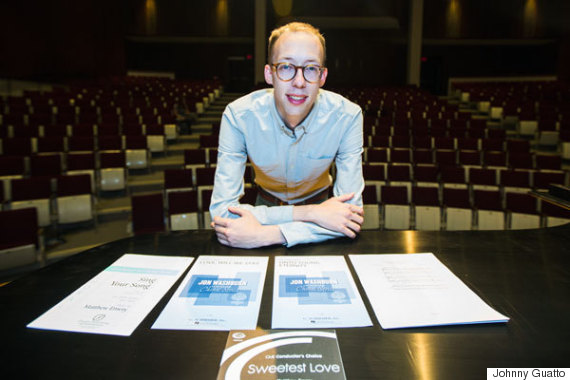 Matthew Emery is off to Washington this weekend to hear the Central Bucks High School-West Choir perform his work.
By Arthur Kaptainis
No one can say for certain how many concert works by Canadian composers have been heard at the White House.
We do know the University of Toronto's Matthew Emery was surprised in December to learn -- after the fact -- that he had written one of them.
"I totally would have gone down for that," the master of music student said in the lobby of the Edward Johnson Building.
Emery will be flying to Washington this weekend for another performance by the Central Bucks High School-West Choir, the same ensemble that participated in the Holiday Open House at the White House on Dec. 23, 2015. The program in New York Avenue Presbyterian Church includes Earth's Tall Trees, a six-part a cappella motet.
These engagements would be worthy of the resumé of an established composer, let alone a student. At 24, this native of London, Ontario can already claim a corpus of publications by such reputable firms as G. Schirmer and Boosey & Hawkes and performances by sacred and secular choirs across the country.
Emery expects to hit the threshold of 50 commissions in the fall. He is the youngest associate composer of the Canadian Music Centre.
"Matthew is a gifted young composer who will undoubtedly be a force in choral music on the international scene in the coming decades."
The majority of Emery's creations are short, accessible pieces of the sort that remain in high demand by community groups, schools and churches. "There are a lot of church choirs out there, and they all need music," he comments.
Ola Gjeilo, James MacMillan, Arvo Pärt and the late John Tavener are among the contemporary choral composers from whom he has derived inspiration. Emery pursued his undergraduate studies at the University of British Columbia under Stephen Chatman because he enjoyed singing Chatman's music in London.
Emery thinks highly also of Healey Willan, the late dean of liturgical Canadian choral music, and the Kingston-based composer Mark Sirett. Beethoven's late string quartets fascinate him, although he makes no claim to any stylistic emulation of these lofty works.
Emery grew up in a secular household. Early exposure to choral music was in school and as a member of the Amabile Choirs of London. This organization comprising youth and adult choirs encouraged his interest in composition. Success in competitions followed.
One breakthrough was the 2011 Vancouver Chamber Choir Young Composers Competition. A performance the following year by this professional ensemble in a Toronto concert involving the Elmer Iseler Singers and Pro Coro Canada led to expressions of interest by these groups, also professional.
"It just sort of snowballed," Emery says, adding that he has received encouragement from various conductors during his career.
Three years ago he attracted the attention of Joseph Ohrt, director of the ambitious choral program at Central Bucks High School-West Choir in Doylestown, Pennsylvania. Ohrt has invited Emery to lead annual workshops. Emery will undertake an American residency again next week after the Washington performance, working with three school choirs in nine of his compositions.
"Matthew is a gifted young composer who will undoubtedly be a force in choral music on the international scene in the coming decades," Ohrt wrote in an email. John Calderaio, a Bucks Choir member, says Emery's music "touches a place in my heart, and is an inspiration for all of the choir."
There is work to be done also at the Faculty of Music, where Emery is studying with Professor Christos Hatzis.
"Without a doubt he is one of the most successful choral composers anywhere," Hatzis says of his student. "His career trajectory belies his age but none of this success has gone to his head.
"He is modest and strives constantly to learn more about compositional craft and other aspects of musical discourse. He is a real pleasure to teach. Needless to say, we at the Faculty of Music are very proud of him and enthusiastically supportive."
Having proven himself as a miniaturist, Emery is starting to write longer scores. One will be his master's thesis.
"I'm also trying to write faster music," he adds. "A lot of my music is slow and about love."
Emery has written solo art songs. Some have been performed by fellow students. His ultimate goal, however, is to write large works for chorus and orchestra.
Undertaking such a project would be one attraction of applying for a doctoral degree at U of T. Many young composers, on the other hand, have embarked on busy careers on the strength of a master's. "I have some thinking to do over the summer," Emery says.
Does all this schoolwork and commission-writing leave any room for pastimes?
"I like reading poetry," Emery says. "As a choral composer, it goes hand in hand."
He explains his outlook in five words: "Music is sort of everything."
Follow HuffPost Canada Blogs on Facebook
MORE ON HUFFPOST:
Perhaps the creepiest story in the classical canon, Mozart was anonymously commissioned to write a requiem (a song for the dead) in 1791. His contemporaries wrote that composing it made him think of his own death, and that Mozart eventually began to feel like he was writing the requiem for himself. Soon after starting, Mozart fell ill but kept feverishly working on the requiem. He died before it could be completed and it was then performed at his funeral, making Mozart's premonition come true. (Cue X-Files theme)

Gesualdo's Wikipedia entry describes him as: "an Italian nobleman, lutenist, composer, and murderer." Way to bury the lead, Wikipedia. Gesualdo discovered that his wife and a duke were having an affair, so it's speculated that he pretended to leave for a hunting trip, and then stabbed them both with the help of his servants. Some argue Gesualdo shouldn't be demonized because, at the time, it would have been shameful if he didn't murder them both. But he dressed the duke in a woman's nightgown and then displayed the pair to the public, which just seems excessive.

Bach used to teach a student choir whose members resented him because he was younger than a lot of them. As Bach walked home one day, a student carrying a large stick accused Bach of insulting his bassoon and, when Bach denied it, began hitting him. Bach managed to draw a sword he carried around for these types of situations, but the student wrestled Bach to the ground. The church that ran the choir later had a hearing and while the student got a mild reprimand for attacking his teacher, Bach got in trouble, too, for referring to the student as a "nanny goat bassoonist." (Ooh, burn.)

In his later career, Beethoven's personal grooming fell by the wayside. People avoided his dinner table at his favourite inn due to his "uninviting habits," according to painter Blasius Hofel. He was even arrested for wandering around an Austrian town dressed as a hobo and peering in people's windows. He gave the 19th century equivalent of the "Don't you know who I am?" defense but the cops didn't believe him. Many people, including Leo Tolstoy and Beethoven himself, thought he was legitimately crazy.

Liszt was basically the first rock star, causing hysteria -– dubbed "Lisztomania" -– when he performed in Berlin in 1842. The term may seem tame now in our post-Beatlemania era, but at the time, women under Liszt's spell were seen as actually being ill as they fought over his discarded cigar butts and broken piano strings. A book about him says that at the time, "there was a risk that the experience of Liszt could become exclusively physical, all sensual pleasure, devoid of moral or intellectual engagement. Applause for Liszt thus teetered on the edge of the illegitimate abyss of pure sensuality."

In 1849, there was an uprising in Dresden after the Saxon king refused to accept a proposed constitution. The rebels expected able-bodied men to join them, and while Clara's husband, fellow composer Robert Schumann, sympathized with them, his weak health wouldn't allow him to fight. Clara kept him hidden as long as she could, but was eventually forced to help him and their oldest child escape. She later returned to retrieve the rest of her children -- ranging in age from a year and a half to six years old -- while dodging armed rebels and soldiers, and led them to safety. As if this wasn't badass enough, she was seven months pregnant at the time.

Robert suffered visions later in life, so much so that he was worried he would hurt his wife, Clara. He once imagined that a ghost dictated a "spirit theme" to him, and he used this theme in several of his works. He attempted suicide and was taken to an insane asylum, where he remained until his death in 1856. Modern speculation on the cause of his insanity and death include mercury poisoning, syphilis, and/or a tumour. (Or perhaps Liszt?)

The Victorians had a preoccupation with being buried alive, and to combat this they invented a range of safeguards: ropes that would ring a bell, breathing tubes, flags that could be raised. None of this was good enough for Chopin, who came up with a better solution: remove his heart so he couldn't regain consciousness. He requested that his heart (which was preserved in what is believed to be cognac) be taken to Poland, while his body was buried in France. In 2008, there was controversy when medical experts wanted to test his heart to see if he died from cystic fibrosis, rather than the widely accepted diagnosis of tuberculosis. Ultimately, the heart remained where it was.

Tchaikovsky was gay, or as he reportedly put it, afflicted with "cursed buggermania." But that didn't stop crazed fan Antonina Milyukova from confessing her love for him and saying if she couldn't have him, she would kill herself. Instead of running in the other direction, and despite the fact that he was repulsed by Milyukova, the two were married. Not long later, Tchaikovsky attempted suicide and then fled to live with his brother. When Antonina was told that Tchaikovsky wouldn't be returning, for some reason she didn't care anyway. Whatever.

The name "Hans Rott" is not very well-known these days, even in classical circles, but back in his prime he was seen as a very promising musician. He had a bromance with fellow student Gustav Mahler, who said that "His innermost nature is so much akin to mine that he and I are like two fruits of the same tree." Unfortunately, Rott snapped when he played the first movement of his symphony for Brahms, who brutally rejected it. Rott later claimed that Brahms had filled a train with dynamite and he was taken to an asylum, where he died in 1884. Brahms was supposedly also pretty rude to Austrian composer Hugo Wolf and Mahler, which is not something you'd expect from a guy best-known for writing a lullaby.

Russian composer Alexander Scriabin once wrote "I am God" in his diary and believed that his apocalyptic piece, Mysterium, would bring about the end of the world and usher in a new age. Mysterium was supposed to be a sort of festival, engaging all the senses, and taking place in the Himalayas. There would be bells and perfumes, and ultimately, humanity would enter a new plane of existence where even gender would be abolished. Scriabin decided that this might be too much to throw at humanity without warning, so he created the "Prefatory Act," which was basically a less grand version of Mysterium. Unfortunately, Scriabin died before Mysterium could be completed, and we'll never know if his apocalypse would have happened.

Canadian pianist Glenn Gould had a treasure trove of eccentricities. In his studio recordings, he would hum tunelessly along with the pieces he played, driving his recording engineers crazy. His mumblings can still be heard in the background of his recordings. He drove erratically and even went to court for it, later saying, "It's true that I've driven through a number of red lights on occasion, but on the other hand, I've stopped at a lot of green ones but never gotten credit for it." As well, Gould used to sing to cows and about that, said, "Certainly, I've never encountered so attentive an audience before." Much like Beethoven, he was apparently once arrested after being mistaken for a vagrant while dressed in winter clothing in Florida. Some now argue that his immense talent and immense oddness may point to Asperger's Syndrome, a mild form of autism.
Follow University of Toronto News on Twitter: www.twitter.com/uoftnews