These Under-The-Radar Universities Are Canada's Best Kept Secret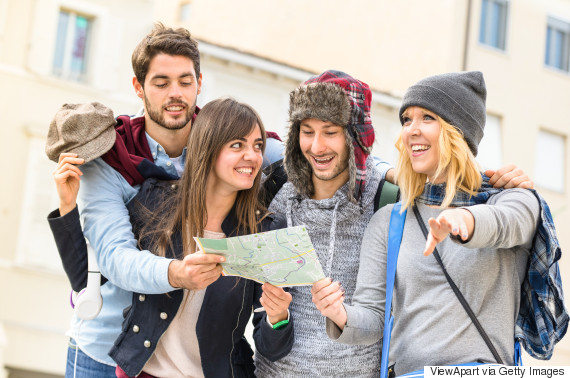 (Photo: Viewapart via Getty Images)
Can you name all 98 universities in Canada?
Quite honestly, we'd be impressed if you could hit more than 20.
So, which ones weren't on that list? Which ones don't have the marketing budgets of the larger schools to make them internationally known? And which ones simply want to be kept under the radar?
Each year UniversityHub publishes our infamous Canadian University Rankings, and among them are universities we consider Canada's best-kept secret. Visit our site to view the full rankings across over 55 evaluation areas.
The secret is out.
1. Bishop's University
The secret is out. This small, predominantly undergraduate university in Sherbrooke, Quebec peaks our list. While Bishop's is based in the heart of Canada's French-speaking population, the university is actually English-speaking -- making this the perfect place to continue all those years in French immersion.
Bishop's also has one of the strongest student communities in Canada, with sold-out crowds at football games and an incredible set of extra-curriculars opportunities on campus. The school is even giving away $2,000 to a lucky prospective student this year. There's nothing like some extra spending money for school.
2. University of Victoria
While UVic flies under the radar in Canada, it's a well-known study destination by international students. Quickly search "University of Victoria campus" in Google and you'll be stunned by it's beauty. It's also impossible to find a photo of UVic covered in snow, which is not surprisingly why it ranks number one for Comfortable Weather Conditions in our UniversityHub rankings.
The school prizes itself on its "dynamic learning" style through a co-op and hands-on focus on education. The school is equally strong outside the classroom with a tight-knit student community (Vikes Nation!). Check out this video for a sneak peek.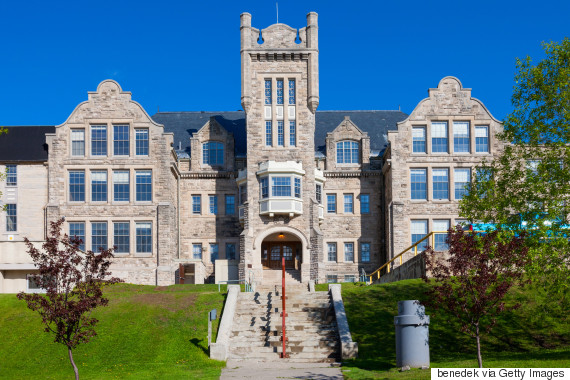 Lakehead University building in Thunder Bay, Ontario, built in 1909. (Photo: Getty)
3. Lakehead University
Oh, Lakehead -- the quintessentially Canadian university experience. Located in Thunder Bay, Ontario, Lakehead is a student-centred institution where students are proud to be "more than just a number."
They say they "offer an extraordinary education experience that gives you the highest potential for success," and we have no doubt this is true. With their number-one ranked undergraduate research, two campuses and over 8,000 students, Lakehead won't fly under the radar for much longer, so get in while you still can.
Lakehead is also giving away up to $6,000 this year to a prospective student.
4. St. Francis Xavier University
StFX is a primarily undergraduate university located in Antigonish, Nova Scotia. As if the name of the town wasn't cool enough to make you intrigued, StFX is one of the most unique schools in Canada. First, their alumni network is rated the second strongest in Canada by UniversityHub. Alumni wear their "X rings" like Michael Strahan wears his Superbowl ring. It's an extremely tight-knit group of people who are always willing to help one another succeed.
But the school doesn't stop at that. They rank first for Fun and School Uniqueness on UniversityHub and third for Professor Teaching Quality. Talk about well-rounded!
5. University of Lethbridge
Representing central Canada is the University of Lethbridge. I know what you're wondering -- where is Lethbridge? It's a short drive south from Calgary, to its west is mountain paradise (Cranbrook and Fernie) and to its south is the good ol' U.S. of A. The Lethbridge campus is insanely beautiful. Check out a few of the shots they captured in their recent YouTube video.
But Lethbridge is more than just a pretty face. The university has strong research programs and is internationally recognized in the sciences!
There you have it: UniversityHub's five hidden gem universities in Canada. Don't forget to visit the UniversityHub rankings to see our full list of university rankings.
Follow HuffPost Canada Blogs on Facebook
Also on HuffPost:
Top Ten Universities in the World In 2016
Harvard is inarguably the most highly reputed on the list yet managed to miss the lead because of their considerable drop in international students despite being one of the most geographically diverse universities in the world. However the establishment's reputation is not one to be reckoned with. Barack Obama is a noted Harvard alumnus along with John Roberts and even Natalie Portman. They have been ranked number one consistently for the last four years. The location is urban and convenient as it is near to shops and restaurants. Students tend to live in the same place for three years, which could mean a limited social circle and networking opportunities and there seems to be little interaction between students as a whole, which can be discouraging.

Cambridge wins the Oxford vs Cambridge rivalry this year at the third spot on the list. With a larger student body of 30,000 than the aforementioned universities, Cambridge is generally better suited for maths and science students than Oxford. However it's academic and employer reputation remain at 100 no matter what the course of study may be. The architecture and facilities are great however they can sometimes be limited through the collegiate system as you may not get to meet as many people as you would like. Entrance to Cambridge does come from high expectations of you though. The terms work in short and intense periods before a break during which the majority of students try to bag internships.

Unlike the majority, of its highly esteemed competitors, The University of Stanford is located on the West Coast of America, conveniently near Silicon Valley. This is why this is a great university for technological startups. Research, internship and work experience opportunities are rife at Stanford as they genuinely encourage you. It seems to have the perfect balance between a rigorous academia and a social side but activities here can be expensive and there are not a lot of nearby services in the local area. Stanford is also often thought to be a hop, skip and a jump away from San Fransisco but this requires a considerable amount of planning and isn't quite 'on your doorstep' as many seem to claim. The dorms can also be shabby and the scheduling system is said to need updating as many miss out on opportunities such as summer internships as a result of this.

California Institute of Technology, or Caltech as it is commonly known, has previously been ranked as number one by other university ranking sources. They claim that their mission is to 'expand human knowledge and benefit society through research integrated with education', which can't really be argued with although students also boast about the social side of it through regular dinners and events. The arts also seem to be appreciate appropriately as there is a secret tunnel system underneath the establishment which has been preserved throughout history. However the institution has been criticized by the likes of med students who claim that core classes seem to punish your overall GPA and there aren't enough opportunities such as hospital volunteering. Many also say that the establishment is simply too small and it can be difficult to expand your social circle.

Oxford is the world's oldest university in the English speaking world and lays claim to nine centuries of continuous existence. However it is only at number six this year after being let down by it's citations per faculty as well as its low level of international student intake which echoes criticisms of them not taking in enough students from less privileged backgrounds. Yet Oxford is renowned for its academia and is the best place to go for someone wanting to study the arts within the UK. Although there is a lot of pressure put on students and consequently Oxford has the highest suicide rate in the country.

Another British University is at number seven, The University College of London. Located in the heart of London, everything is on your doorstep including job opportunities. However UCL sometimes has a cramped feeling to it with little space both indoors and outdoors which is also furthered by the large student population of 30,000. The institution recently turned 100 years old and was the first one in the country to open its doors to women and other minorities during the height of racism.

Imperial College is the UK's very own engineering university. Recent graduates have been known to end up working for the likes of Ferrari and Lamborghini as a result of excellent opportunities across the establishment. Although this is often also the result of a 'pushy' work ethic whereby everything must be related to work, including socialising at times. There is also said to not be enough diversity in the student body and the surrounding area can be extremely expensive.

The only non-English speaking establishment to make it onto the list is ETH Zurich - The Swiss Federal Institute of Technology, which thankfully tends to be shortened to ETH Zurich. A public university with a student body of 30,000 it became 10 years old in 2013, it is a leading player in research and education in Switzerland and worldwide. Although if you want to study in the idyllic Swiss surroundings, you will have to learn German to an advanced level (as in not just a couple of Rosetta Stone lessos) if you want your bachelors although most postgrads are conducted in English. The institution has been greatly let down by their faculty to student ratio which is of high consideration in such a large university which hosts many international students who are likely to need assistance.

The University of Chicago is at the number ten spot. Originally set up by the American Baptist Education Society, it has been around for over a century with its academic reputation as high as ever. It is home to the best undergraduate economics course in the world therefore one has to work hard to distinguish themselves amongst a crushing workload. Many students also claim that their professors take little interest in them as many didn't actually come to teach but instead came to take a shot at a Nobel. Winters can be harsh, both physically and mentally and you will begin to question your decision to come here but if you soldier on through it, you are highly likely to get an excellent job straight out of university.
Follow UniversityHub.ca on Twitter: www.twitter.com/uhub_ca