Must Sees and Dos in Laguna Beach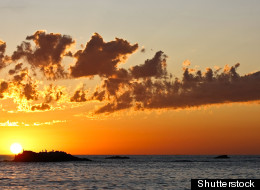 This laidback California beach community combines boho chic and an artsy vibe. Here's VitaminDaily.com's Sarah Bancroft's must-see, must-do itinerary.

picnic
The newly refurbished Heisler Park winds up above the beach offering pretty views and great picnic spots. Fill your beach basket at nearby
Whole Foods
.
shop

Want to dress like the locals? Ultra-soft T-shirts, drawstring pajama pants, Isabel Marant booties and baskets of gorgeous, Turkish hammam towels abound at Laguna Supply. 210 Beach St., Laguna Beach, CA, 949-497-8850, http://pinterest.com/lagunasupply





beach

The Pacific Edge Hotel has just renovated its five beachfront cabanas, which can be rented daily for up to 10 people each. Massages, bottle service, pedicures, and even photography are on offer. Each one has been designed by a different creative group or store, with one resembling a surf shop with Hoby surfboard pictures, another with a fan made from sailboat sails, and another stocked with kids books and a chalkboard table. Each has a private deck with loungers and direct beach access. Rates vary by season/day. VIP cabana Host, 949-281-5720, www.pacificedgehotel.com


eat
A refined surf-shack that is part of the California chainlet, Umami Burger is the go-to spot to refuel after surf and sand. Check out the plank walls, folding chairs and vintage surf posters, and order the Umami Burger with shiitake mushrooms and a parmesan crisp. Umami Burger, 620 Pacific Highway, 949-342-1210, www.umami.com

Fame Pictures

Fame Pictures

Fame Pictures

Fame Pictures

Fame Pictures

Fame Pictures

Fame Pictures

Fame Pictures

Fame Pictures

Fame Pictures

Fame Pictures

Fame Pictures

Fame Pictures

Fame Pictures

Fame Pictures

Fame Pictures

Fame Pictures

Fame Pictures

Fame Pictures

Fame Pictures

Fame Pictures

Fame Pictures

Fame Pictures

Fame Pictures

Fame Pictures

Fame Pictures

Fame Pictures

Fame Pictures

Fame Pictures

Fame Pictures

Fame Pictures

Fame Pictures

Fame Pictures

Fame Pictures

Fame Pictures

Fame Pictures

Fame Pictures

Fame Pictures

Fame Pictures

Fame Pictures

Fame Pictures

Fame Pictures

Fame Pictures

Fame Pictures

Fame Pictures

Fame Pictures

Fame Pictures

Fame Pictures

Fame Pictures

Fame Pictures

Fame Pictures

Fame Pictures

Fame Pictures

Fame Pictures

Fame Pictures

Fame Pictures

Fame Pictures

Fame Pictures

Fame Pictures

Fame Pictures

Fame Pictures

Fame Pictures

Fame Pictures

Fame Pictures

Fame Pictures

Fame Pictures

Fame Pictures

Fame Pictures

Fame Pictures

Fame Pictures

Fame Pictures

Fame Pictures

Fame Pictures

Fame Pictures

Fame Pictures

Fame Pictures

Fame Pictures

Fame Pictures

Fame Pictures

Fame Pictures

Fame Pictures

Fame Pictures

Fame Pictures

Fame Pictures

Fame Pictures

Fame Pictures

Fame Pictures

Fame Pictures

Fame Pictures

Fame Pictures

Fame Pictures

Fame Pictures

Fame Pictures

Fame Pictures

Fame Pictures

Fame Pictures

Fame Pictures

Fame Pictures

Fame Pictures

Fame Pictures

Fame Pictures

Fame Pictures

Getty Images

Fame Pictures

Fame Pictures

Fame Pictures

Fame Pictures

Fame Pictures

BRJ/Fame Pictures

Fame Pictures

R2D2/Fame Pictures

Fame Pictures

Fame Pictures

Fame Pictures
Follow Vitamin Daily on Twitter: www.twitter.com/vanvitamindaily