Spanking Kids Is Just Hitting Kids, and It Doesn't Work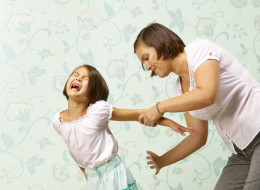 Spanking doesn't work.
I've gotten so tired of humouring so many of my pro-spanking friends that I have to be as blunt as possible.
On a recent episode of our daily SiriusXM radio show, "Ward and Al," my co-host and I answered phone calls and emails from parents who insisted that it's still necessary in the 21st century to hit their children as a means of discipline. Of course, they didn't use the word "hit." They always said "spanking."
Whatever you call it, it's ineffective. It doesn't work now, and it never really did. It's a short-term solution to a problem that will never be solved instantly or with a swing of the arm. It's dated, it's counterproductive, and it's time to stop claiming it is remotely as effective as people like to pretend it is.
Don't just take my word for it. Listen to what the experts say. Cornell University research found that not only is spanking not effective in the long term, but that it breeds distrust and aggression in children. I find it amazing that I have so many friends who will believe anything a scientist says about Gluten-free diets, but refuse to listen to one when told that hitting children is a bad idea.
Yet, here we are, in the 21st century, and I'm watching otherwise rational adults rally behind how children aren't getting their asses handed to them by parents and how that is somehow leading to the downfall of society. People don't just spank their kids; they proudly announce it as if it's an admirable achievement. As if there is someone handing a diploma to them at the end of a long day of smacking their kid on the behind.
People mock "time-outs or grounding their kids. As if the thought of having toys or luxuries or privileges taken away is soft or meaningless. In fact, when researchers studied it and asked them, most kids admitted that they hate this far worse than the temporary, (although humiliating) pain that comes with corporal punishment. Being spanked only tends to make kids angry and distrustful of the person administering the punishment. I can't say I blame them. I don't know if I'd trust a person whom I'm supposed to look up to who thinks the best way to teach me right from wrong is by smacking me across the thighs.
But now the idea of grounding kids or taking away privileges (TV, phone, Internet, car) is seen as "weak" or somewhat ineffective despite all evidence to the contrary. People tell me that such "wimpy" punishments won't work for their kids these days, to which I have to wonder what kind of negligent parents they've been up to that point. If the only effective thing you can do to punish a kid is to hit him, I have to wonder if the problem isn't the kid at all.
And that's the real problem, isn't it? Discipline is hard work. It takes time and effort and patience. It can be frustrating and seem nearly impossible. On the other hand, just swatting the kid numerous times across the buttocks? Well, that's easy. But that's also exactly the problem: Spanking is the easy way out. It's lazy.
I'm especially against spanking because it makes me out to be a liar. I can't tell a child that hitting people is wrong and then turn around and hit him because he didn't do what I demanded. How could I look at my daughter with a straight face and tell her that it's wrong to hit people at all -- let alone people smaller than she is -- only to then tell her that it's perfectly acceptable if I do it to her? The utter contradiction is appalling.
Don't think for a second that the kid who gets the belt at home is somehow humbled or more polite than others. Turns out that many kids who are spanked as kids also wind up bullying other kids. And why not? After all, they've just learned at home that hitting gets results.
What does that say about us as adults when we think it proves our authority when we raise a hand to our children? It'd be like being impressed that Mike Tyson slapped Jonah Hill.
Look at it this way: If you struck an annoying stranger in line at McDonald's with the back of your hand, you wouldn't be seen as a "real man" or someone who was just administering discipline. You'd be seen as a jerk -- and rightfully so -- and then charged with assault. When it's another adult being struck, we call the police. Yet, when it's our children, parents call it an effective learning tool. I'm calling BS.

Stop taking the easy way out. It's not about what's convenient for you; it's about what's best for the kid. That might just be exhausting and seem impossible, but it's better than the lazy alternative that is raising your hand to someone much, much smaller than you are; that same someone whom you're supposed to teach not to hit other people.
ALSO ON HUFFPOST:
Mike Vega points to the area of sidewalk in Madison, Wis., Wednesday, Feb. 15, 2012, where he discovered a starving 15-year-old after she escaped from her abusive father and stepmother last week. The severely malnourished teenager had been forced to stay in an unfinished basement for years and an alarm would sound if she went upstairs, police records say. The teen told authorities she ate what she could find in the garbage and on the floor of her father and stepmother's Madison home. Sometimes she was made to eat her feces and drink her own urine, according to a police affidavit. (AP Photo/Todd Richmond)

This photo released by the Montgomery County Police Dept shows Zakieya Latrice Avery, 28. Montgomery County Police charged 21-year-old Monifa Denise Sanford and Avery with murder in the deaths of two of Avery's children, a 1-year-old and a 2-year-old. The women are also facing attempted murder charges for injuring the children's siblings, ages 5 and 8. (AP Photo/Montgomery County Police Dept.)

Carnes reportedly left her 1-year-old son standing next to a mailbox outside the home where she though the boy's father lived in Palmetto, Fla. Police say Carnes not only left her baby and his belongings at the wrong house, but that the 27-year-old mom hadn't told the father she was giving him their child. She was jailed and charged with child abandonment in Manatee County, near Tampa Bay.

In this undated photo provided by the Philadelphia Police Department, Carmen Ramirez is seen. Police say the parents of a disabled 3-year-old Philadelphia girl who died weighing just 11 pounds have been charged with murder in what authorities are calling her starvation death. Police say the parents, 30-year-old Carlos Rivera and 27-year-old Ramirez, also face counts of involuntary manslaughter, endangering the welfare of a child and criminal conspiracy in the death of Nathalyz Rivera. She was found unresponsive Monday, Sept. 9, 2013, at the family's squalid home. (AP Photo/Philadelphia Police Department)

FILE - In this March 19, 2012, file photo, Tanicia Goodwin is arraigned in Salem District Court in Salem, Mass. A court hearing is scheduled Thursday, May 3, 2012, for Goodwin, who is accused in the attempted murders of her 3-year-old daughter, Erica, and her 8-year-old son, Jamaal. Both children survived the alleged attacks in March. (AP Photo/The Boston Globe, Aram Boghosian, Pool)

Angelo Fabiani Arroyo, 40, is accused of leaving his 4-year-old child at a car crash site and fleeing the scene.

Carron Washington allegedly fed his 2-month-old daughter bleach because a friend from school told him it was a great cure for breathing trouble. The kid is OK, but Washington still called the incident, "probably be the dumbest decision I ever made in my life." Read the whole story here.

Michelle Windgassen, 27, and John Lewis, 32, were arrested on charges of endangering a minor while they were under the influence of drugs at a Louisville restaurant. Officers found Windgassen in the bathroom snorting heroin, and Lewis admitted snorting heroin a couple hours earlier.

Collier is accused of walking into her son's middle school in March, 2013 and hitting a sick child she mistook for her son. She then allegedly apologized to the child and then started slapping her own son, according to a Spartanburg County, South Carolina sheriff's office arrest report.

Having been banned from the Family Dollar Store after employees say she was stealing, this mother allegedly returned to the establishment and began pepper spraying the workers there. She then allegedly handed the can to her 7-year-old daughter, saying, "You know what to do, baby. Spray it!" The 7-year-old apparently realized this was one of those times mother does not know best. Read the whole story here.

Robert Forbes and Christina Forbes have been arrested by sheriffs in Citrus County, Fla. after their 9-year-old son was found with a cockroach in his ear.

Officials in Penn Yan, NY, say Kimberly Margeson, 54, passed two Oxycodone painkiller pills to her 30-year-old, William Partridge by french kissing him during a jailhouse visit.

Austin Davis is accused of beating his three children with a belt because one of his kids had passed gas in the car.

For almost four years, police in upstate New York believed that Karl Karlsen's son Levi was accidentally crushed beneath a truck that he was working on in 2008. But after learning that Karlsen, 52, was the sole beneficiary of a life insurance policy on his 23-year-old son, they came to the conclusion that the father deliberately dropped the pickup on top of him. He was arrested on Nov. 23, 2012 and charged with second-degree murder

Koko Nicole Anderson, 21, from Mesa, Ariz., is shown after being jailed on aggravated DUI and criminal damage charges in this handout photo provided by the Maricopa County Sheriff's Office on Friday, Nov. 16, 2012. Anderson was charged after crashing her car with her infant son inside through a gate at Phoenix Sky Harbor International Airport Thursday night, driving on the runway in the latest in a series of similar mishaps across the country that have raised questions whether the nation's airports are truly secure. (AP Photo/Maricopa County Sheriff

Ruiz is accused of pouring rum into his infant son's feeding tube in October, 2012 in Belle Chasse, La. BELLE CHASSE, La

William Lewallen was arrested after Tulsa police found his 18-month-old daughter locked in a metal dog cage, his naked 4-year old daughter outside on a cold afternoon and him asleep in a drug or alcohol induced stupor.

Authorities in Virginia arrested 30-year-old Billie Jolene Warburton, of Norfolk, on Oct. 15, 2012, in the parking lot of a courthouse. Police allegedly found Warburton slumped over the steering wheel of her vehicle. Warburton's window was open, the motor was running and a young child was sobbing in a car seat in the back, police said. The officer allegedly observed blood on the center console and fresh injection marks on Warburton's arms. Warburton allegedly told police her child was crying because he had not been fed since the previous evening. The baby was placed in the custody of Child Protective Services and Warburton was transported to Western Tidewater Regional Jail under a no bond status for possession of heroin, driving under the influence of drugs, and felony child neglect.

Langley is accused of leaving his 1-year-old daughter home alone so he could go rob houses in October, 2012 in Brookhaven, Pa.

Federal agents have arrested Betsian Carrasquillo Penaloza for allegedly prostituting her 14-year-old daughter in Puerto Rico. (teresa.canino@gfrmedia.com)

This 26-year-old was charged with threatening to discharge a destructive device after allegedly saying she was going to blow up her daughter's elementary school. Witnesses say that Schauer warned, "Don't bring your kid to school that day," and when asked what day she meant, she said, "The day I blow it up."

Cops found a 2-year-old girl under this couple's care sleeping outside a Florida mall at 2:45 a.m. on Oct. 1, 2012. The two were arrested and charged with child neglect when it was found that Montalvo was allegedly on drugs, and Rogers let him leave with her daughter knowing that he was intoxicated.

Barron allegedly prostituted herself while her infant child was at home. She told police that her addiction to money led to a life of crime.

Howard's addiction to morphine drove her son to commit suicide, because he lived in fear that she would overdose, according to police in Indiana.

James D. Blanchard, 21, has been sentenced to 15 years in prison for abusing his newborn son. A medical doctor said that the child has lost his vision and will likely never walk or talk. The doctor also said the injury was common with shaken babies.

Cops say that not only did Diana and Samuel Franklin keep their 15-year-old daughter in a chicken coop, they made her wear a shock collar and used it several times.

Dario Napolitano is accused of kicking his 3-year-old son at Disney World in late June, 2012.

Adolfo Gomez Jr., 52, and his wife, Deborah Gomez, 43, both of Northlake, Ill., were arrested at a Walmart in Lawrence, Kan., after someone spotted a 5-year-old boy sitting outside a sport utility vehicle with his hands and feet bound and a blindfold covering his eyes. -AP

Brittany Hill allegedly tried to sell her 4-month-old boy in a classified ad in June, 2012. Someone was going to try and buy the baby, but decided to call Dallas police instead.

Baumgardner is accused of injecting her daughter with heroin roughly 200 times when the girl was 14-years-old.

Thar Kyi, 42 of upstate New York, accidentally hit his 8-year-old son in the head with a samurai sword while fighting another man. Kyi attacked the boy's mother's boyfriend while his three children were getting ready for school in the morning. The boy was treated at a hospital for non-life-threatening injuries.

In May 2012, New Jersey mom Patricia Krentcil was arrested after taking her 5-year-old daughter to a tanning parlor. The daughter reportedly received severe burns from exposure to harmful ultraviolet radiation. In the aftermath of the arrest, Krentcil was banned from several local tanning salons. Krentcil's habit has also received wide criticism in mass media, including a spoof by Kristen Wiig on "Saturday Night Live." Read more.

Employees at a Maryland Chuck E. Cheese were worried when they found a 3-year-old named Harmony apparently alone in the establishment at around 8 p.m one night in March 2012. They took the girl to a police station and shared a photo of her with local TV stations in hopes of tracking down a parent or guardian. It wasn't until Harmony's photo aired on the 11 p.m news that her parents even realized she was missing. The two had split custody of Harmony, and each had assumed that she was with other family members. Read more.

Mistie Atkinson, 32, allegedly performed oral sex on her 16-year-old son and had sexual intercourse with him in a hotel room in Northern California. The two reconnected on Facebook after the boy's father had assumed primary custody when the child was 2. Atkinson, whom the boy's father claims had a "boyfriend-girlfriend relationship" with her son, also reportedly sent the child nude photos of herself. She pleaded no contest in a Napa County Superior Court on May 21 to charges of incest, oral copulation with a minor, contact with a minor for sexual offense, and sending harmful material to a teen. Read more.

Floridian Elton Jerome Davis Jr. allegedly left his 18-month-old toddler at home with a bowl of Cheerios while he went to work. An unidentified witness found the child playing with a dog on a public road. Davis was charged with child neglect on May 21 in Okaloosa County. Read more.

On May 17, police found Shana Bishop's 2-year-old son naked in a pile of trash on the floor of her car in South Carolina. The child was found when an unidentified resident called the police, alleging that Bishop was dancing naked in her driveway. Bishop was arrested in Spartanburg and charged with child neglect. Read more.

Marsia Emanuel allegedly flagged a school bus in Winter Haven, Fla., boarded and beat the bus driver in front of her daughter, a student riding it already. Cops found Emanuel later at home where she dropped her underpants in front of them, they said. It's unclear what was her motive. Read more.

Misty Lawson, 30, a self-described "professional baby maker" on her Facebook page, allegedly punched her son in the face and body several times during an in-home, state-mandated anger management course. Read more here.

Salem police say surveillance video shows Christina Lopez watched her 17-year-old daughter dance at Presley's Playhouse Cabaret, a strip club in Oregon. Read more.

Barry O'Connell, a Spokane, Wash., police officer, was suspended for three weeks after his daughter used his service weapon to accidentally shoot herself in the leg.

This undated handout photo from the Dallas County Sheriff's Department shows Elizabeth Escalona. The mother was facing child abuse charges, Friday, Sept. 9, 2011, after police said she glued her toddler daughter's hands to a wall, kicked her in the stomach and beat her over a potty training issue.

Hill was accused in October 2012 of using heroin with her 12-year-old daughter over the course of several weeks. She also allegedly told police that she often took her daughter along on shoplifting trips that financed their heroin addictions.

Hysaw is accused of using a stun gun on her child after he didn't ask for permission to play basketball.
Follow Ward Anderson on Twitter: www.twitter.com/@wardanderson