Simple Ways to Embrace Your Wild Side When Choosing Decor
Animal prints have always had a place in interior design: from the earliest days of dressing up caves and farms, to modern times, people have used faux hides and furs to let a natural element warm up their space. Lately however, animal motifs have surpassed these untameable prints in popularity: birds were the first huge trend, and now fauna of all kinds can be found adorning decorative papers, fabrics and objects galore.
Here are a few ways I've found to embrace the wild side in any décor:
1) During the recent design of the Entertainment City interview suite for the Toronto International Film Festival, I discovered a pair of spectacular sconces from cool new boutique Bentley Flanders - the arm of each shade features a charming monkey statuette for a classic touch of whimsy.
2) Working with a long-time client, I'm incorporating multiple animal species into her environment: in her dining room I contrasted a cool mid century table and chairs with bright and colourful Hummingbirds wallpaper (through Lee Jofa), for a balance between organic and man-made. Then, for another space, I'm considering an infusion of Thibaut's Tropical Fantasy (featuring images of urns adorned with zebras and monkeys) for a both classic and modern look.
3) For my Oct. 7th Cityline feature on foyer styling (here's the episode), I showed a fun butterfly print paper -- Flutterby from Graham & Brown. It makes for instant artwork that gives even the simplest space plenty of personality. For a lighter touch, try something like this printed Christian Lacroix pillow, and pull colours from the wings to inspire other solid fabrics.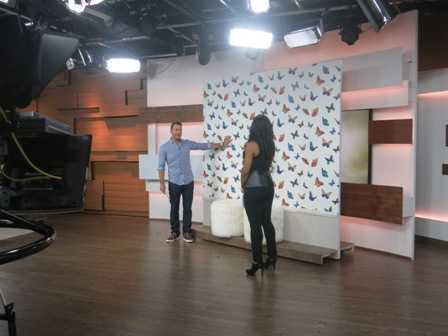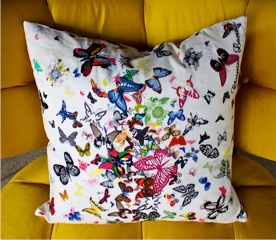 4) A dramatic animal statuette is like having a furry friend, without any of the responsibilities -- or the fur. Sit one at the end of your island, on top of a buffet, or in its own niche overseeing your table. If you really want to be King of the Jungle, Maximo Riera creates lavish throne-like sculpted chairs mimicking life sized rhinos, elephants and even octopuses.
5) Designer Jonathan Adler's lighting line carries a number of animalistic light fixtures, such as the Giraffe lamp (also available as a sconce) which sees the head of the famously long necked animal peeking out above the simple shade.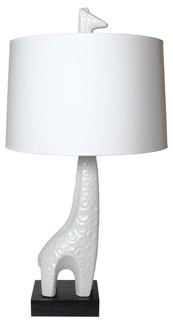 6) Branch Handmade's screen-printed tea towels and pillow cases feature zebras or giraffes in subdued colours, adding a quick playful touch without animal-print overload.
7) Art gallery-style collections are trendy: gathering a collection of disparate items to make a large collage makes a bold statement while celebrating pieces you love. Adding in decorative faux antlers or animal busts (available in fun materials such as a gold leaf or even funky cardboard) gives depth, either grouped together or mixed between framed memories.
8) Lastly a peek into the design future: behind the scenes, I've been working with Canadian accessories mogul Torre & Tagus on creating my own accessories line, Yanic Simard Living. While drawing inspiration from all over the design world, I stumbled across a great metal edge tray featuring a painted image of a black dog -- the graphic image is simple but memorable, and adds personality while remaining sophisticated. This is exactly what I look to infuse in my accessory collection, and just how to go about adding an animalistic pop: skip the untamed clutter, and choose a few bold touches you love to take your décor to wild new heights!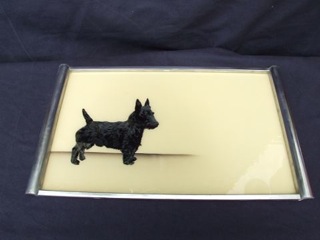 Instead of spending loads on pricey chairs, reach for oversized cushions (in bright colours and bold patterns!) to increase a room's seating capacity.

Instead of buying expensive artwork, get creative with large collages, wallpaper scraps or maps or hang a beautifully patterned fabric from wooden dowels. Off-the-shelf frames with kids art can make your home unique.

Paint an accent wall a high-contrast colour (the brighter the better). All you need is a single quart to make the transformation happen.

Countertop in need of some life? Pop some plants inside colourful metal planters for a cheerful look at a cheap price.

Add this no-fuss centrepiece to a table! Ripened fruit in a wooden bowl is simple, accessible and chic.

Whether it's a single item or a group of items placed together, creating a major focal point can make a room look more spacious -- and can save you more cash than by spending money on several ornate pieces.

Uniform sets are out; mixing and matching is in. To create a gorgeous and trendy living room, dining room or table-setting, mix and match pieces from different furniture sets.

These classic colours can create dramatic space that looks expensive and has a lot of bang without the buck.

Use lamps that have shape and sculpture. Lamps that are too small can make your space look cheap and are often just as expensive as show-stopping lights.

This budget-friendly tip prevents you from spending loads when you can just revamp the old. Don't have the money to spend on a new media unit? Try an antique armoire.

Try turning old pillow cases and bedsheets into chic throw pillow shams.

To create gorgeous patterns and accentuate any space, all you need is cardboard, paint and an exacto knife! Detailing your home has never been so easy and budget-friendly.

A large decorative rug or hallway runner will hide scuffs and mask worn hardwood; it's much less expensive than having your floors refinished or sanded down.

Instead of buying new pricey storage units, cover old boxes of varying sizes with different papers and materials. You can even paint them!

Chalkboards and blackboards are an easy, budget-friendly purchase and add a fun touch to kids' rooms, kitchens and studies. You can even paint your own on a wall using store-bought paint.

The great outdoors is just outside your window. Collect branches and place them in a large vase or fill different sized jars with herbs, leaves and flowers to add colour to a beige room.

Oceanic accents are trendy and keep your budget in control. Giant clams and oyster shells can be used on their own for decorative purposes and can also make great bowls to hold anything from candy to potpourri. Sticking a variety of shells in all different shapes and sizes on different walls and frames can also make your home worth sea-ing.

Mirrors come in a variety of shapes, sizes and prices. Hanging mirrors on walls, or installing them in opposite windows or doorways, also creates the illusion of space.

Mixing high-end products that are on sale with inexpensive accessories will give any room a chic look that's on-trend for fall. So go ahead: combine high-end pieces with vintage accessories and flea market finds.

Hang eye-catching ornaments in your kitchen, like an eclectic collection of silver trays or pots filled with greenery.

An affordable way of making your house zen? Bring in pleasant sounds and smells with wind chimes, table-top fountains and aromatic candles.

To add a lift to a room, get some new paint and coat the walls. A cheap way to get your rooms looking clean and fresh!

Grouping together intriguing framed photos in interesting ways creates a unique presentation -- and is much less costly than displaying art, photography or building a shelving unit.

Changing cabinet handles, door knobs and drawer pulls can bring a whole new style and look to your existing cabinetry. Faucet handles are also a quick and cheap fix that can up the glam in a home.

Materials like painter's tape allow you to paint horizontal or vertical lines or create shapes like rectangles or squares on walls.

Hang fabric panels on rods that are wider than the actual window frame; this costs less than regular window draping and gives the illusion that your window is much larger than it actually is.

Upgrade your living area or bedroom with a small ceiling fan -- they often cost under $100.

Revamp large pieces of furniture with slipcovers. This, combined with changing around pillow shams and materials, will make it appear as if you've done a major reno or room overhaul.

Want a floating island in your kitchen, but don't want to spend the extra dough? Invest (barely) in a caster. You can even attach wheels onto one to create rollable storage.

Doing this craft yourself with iron-on decals -- and foregoing spending money on it professionally -- will add some oomph to staid home objects without breaking the bank.
Follow Yanic Simard on Twitter: www.twitter.com/yanicsimard