Could This Be The Vancouver Housing Market's Last Hurrah?
Written by Wayne Karl
Next to Vancouver-area markets, do you think Toronto is leading home price growth in Canada? In Ontario?
Nope. Try Oshawa.
Based on the latest Royal LePage House Price Survey for the third quarter of 2016, B.C. markets dominate the top five. The usual suspects of Vancouver, West Vancouver and North Vancouver are right up there, but Richmond and Coquitlam are also showing strong double-digit increases of 34.3 and 26.4 per cent, respectively, year-over-year.
And in Ontario, Toronto is still posting strong gains, but Oshawa, at 26 per cent, and Richmond Hill, at 25.7 per cent, are far outpacing Toronto's 12.1-per-cent growth.
B.C.'s new 15-per-cent property transfer surtax on foreign nationals and foreign-controlled corporations, introduced early in the quarter, is causing sales to slow, but is having little impact on Greater Vancouver home prices, which led the country with 30.6 per cent appreciation year-over-year. Ontario, which is said to be considering a similar tax, saw house price increases in the GTA of 13.6 per cent.
Overall for Canada, the Royal LePage National House Price Composite shows that the price of a home increased 12 per cent year-over-year to $545,414 in the third quarter of 2016. The price of a two-storey home rose 13.7 per cent to $649,635, bungalows increased 11 per cent to $459,481 and condominiums 5.8 per cent to $360,679.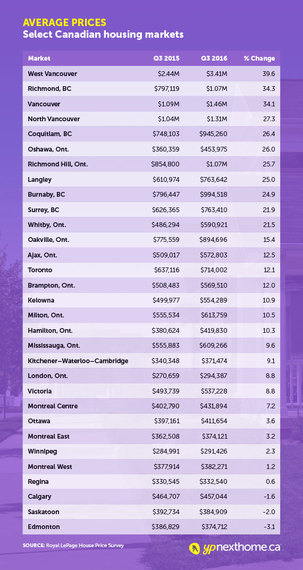 "In what may be a final hurrah for this expansionary cycle, Greater Vancouver posted another quarter of unsustainably high price appreciation," says Phil Soper, president and chief executive officer, Royal LePage. "The median value of homes in the tiny West Vancouver suburb increased by nearly 40 per cent -- or an astonishing million dollars -- year-over-year. That said, relief appears to be on the way. For months, the number of homes trading hands has been slowing on eroding affordability. And, slower sales volumes lead to moderating prices."
Nationally, real estate markets remain healthy, with home values showing modest to strong price appreciation in almost every Canadian city.
"Even in the hardest hit oil patch regions, prices have held up well, with small single-digit declines, year-over-year," says Soper.
New measures introduced by the federal finance ministry on October 3, designed to cool the housing market primarily by curtailing foreign buying activity, have led to a decline in sales in Vancouver.
"Consumer confidence suffered a direct hit when the federal government introduced new, more restrictive regulations in early October," says Soper. "While it is too early to say definitively, it appears Canadian homebuyers are adjusting quickly, and that fears of a hard correction were unwarranted. While the changes are significant, major lenders may already be using similar criteria when writing mortgages in sensitive regions like Alberta and BC, so the additional drag on the market resulting from the new legislation won't be as great as it appears on the surface."
Vancouver continues to attract foreign interest, he says, and capital is not expected to automatically migrate to Toronto as a result of the new tax in B.C.
"It is important to remember that most people buy houses for the location, lifestyle and family needs, and not simply upon financial investment criteria," says Soper.
Post originally published at YPNextHome.ca
Follow HuffPost Canada Blogs on Facebook
Also on HuffPost:
Canadian Homes You Can Buy With A Median Income (September 2016)
This big brick box in Empress, a village about 350 kilometres from Calgary, could use a little work on the inside. It's a historic building with potential for a business to run on the main floor and have a residence on the top one. The inside has mostly been torn apart, so you certainly have your work cut out for you.

This three-bedroom P.E.I. home sits on a large, 1.18-acre lot in Duvar, about 120 kilometres from Charlottetown. And it's a fixer-upper. The basement needs foundation. But if you're willing to buy the home as is, it's there for you.

This 625-sq.-ft., one-bedroom apartment is located in Tahsis, a western Vancouver Island community about 150 kilometres from Campbell River. For just under $20,000, you can own a unit that has river and mountain views and comes with a spacious living room. The building has three common barbecue areas. The home's listing pitches it as a "great getaway for fishing."

Sintaluta. It's a small town about 45 minutes away from Regina. And a "motivated" seller wants you to have a piece of it with this three-bedroom, one-bathroom, 1,000-sq.-ft. home that is being sold in as-is, where-is condition. The listing doesn't come with any photos of the interior and it's being pitched as a project for renovators who can "bring life back" into the home. So you likely have some real grunt work to do.

How about that, an affordable home in a major Canadian city! This 626-sq.-ft., one-bedroom apartment is being pitched by an out-of-town seller who's "looking at liquidating his holdings" in Winnipeg. He owns three units, and one of them is this one, which is currently being rented out to tenants who are paying $675 per month plus hydro. So there's a chance to have someone else pay your mortgage. The unit is also assessed at $79,800, so maybe someday you might be able to sell it for what it's worth, at a significant profit to yourself.

"With a little TLC the opportunities are endless." That's how the ad concludes for this 991-sq.-ft. home in Matheson, which is just over 350 kilometres north of Sudbury. It has an "open concept main floor" and an upstairs big enough to build your own little office. It's being sold as is and there are no interior photos attached to the listing.

A giant, two-bedroom home just over the U.S. border in Maine can be yours, if you're willing to put the work into it. It also comes with a dining room, living room, den and laundry room. And one bathroom.

The listing is as honest as they come: "Bring your ideas and tools, this home is in need of a lot of work." It's an 864-sq.-ft. home located in Canso, a small coastal community about 320 kilometres from Halifax. The kitchen has pretty wooden cabinets and the home, overall, looks a tad outdated but could be quite nice with some love. Not too bad for $16,900.

Travel 270 kilometres away from St. John's and you'll find yourself in Dunfield, where you'll find a 994-sq.-ft., two-bedroom home that could be yours with some renovation. Listings show that some windows are missing on the home, and the interior could use some sprucing up too. But it's priced to sell, so if you know how to use your tools, it might be worth a shot.
Follow YPNextHome on Twitter: www.twitter.com/YPNextHome