The Most Millennial-Friendly Housing Markets In Canada
Written by Wayne Karl
Millennials, please adjust your homebuying aspirations. Your targets are a little off, so we've assembled Canada's most millennial friendly housing markets to help you.
Many of you -- those 18 to 34, the generally accepted age range for millennials -- seem to be aware of what's going on in Canadian real estate. Others, though...
According to the 2016 Bank of Montreal Millennial Home Buyer Report, 76 per cent of Canadian millennials who currently rent, expect to buy a home within the next five years. But affordability is cited as a major concern.
AFFORDABILITY CHALLENGES
Our first clue comes with what they expect to pay -- an average of $350,000 on their first home (but more on this later). Two thirds anticipate they will need help -- with $35,000 of that amount coming from family. The average expected down payment is 15 per cent, or about $53,000.
As a general guideline, buyers can assume the mortgage you can qualify for in today's market is about five times your income. "So, if you're looking to qualify for a $400,000 mortgage, the basic income requirement would be $80,000," says James Laird, president of CanWise Financial, in-house mortgage brokerage for mortgage comparison website RateHub.
The issue of millennials needing help to buy their first home also surfaced in two other recent reports. RBC Economics' latest Home Ownership Poll indicates 24 per cent of millennial respondents say they are more likely to consider purchasing a home with a family member. Another new poll, from ReMax Canada, says 37 per cent of millennials expect help with their down payment from a family member or friend.
EXPECTED PURCHASE PRICES VS ACTUAL PRICES
The problem with millennials' homebuying target purchase prices from the BMO survey comes when you compare them to actual prices. Their national average target price of $350,000, for example, is well below the Canadian average home price of $512,621, as of the first quarter of this year, according to the latest Royal LePage House Price Survey. That $350,000 expected purchase price, in fact, barely exceeds the national average price for the most affordable housing type -- condos -- which is $344,491.
But rest assured, prospective millennial homebuyers. There is hope.
MILLENNIAL FRIENDLY HOUSING MARKETS
We've assembled the most millennial friendly markets across the country -- what housing types you can buy in what markets, at less than the expected average price from the BMO survey.
In the following tables, we've laid out, province by province, what millennials expect to pay for their first home and their expected average down payment, based on the BMO survey. We've also projected the monthly mortgage payment, based on a five-year fixed rate at 2.59 mortgage on a 25-year amortization.
We then list the available housing types in major markets in each province that are priced at less than the expected average price -- based on actual average home prices as of the first quarter of 2016, from Royal LePage.
As you can see, in many markets, millennials may have to adjust their desired housing types and purchase prices, given what's available in certain areas.
Still, there are some very millennial friendly housing markets.
ATLANTIC CANADA home price expectations, BMO report
Average expected home price: $253,990
Average down payment: 13.39 per cent ($34,009)
Monthly payment: $995.41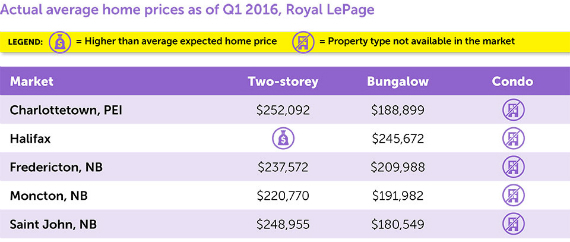 Reality check: Limited condo supply in Atlantic Canada, and nothing in any housing type available the expected price point in St. John's, Nfld.
QUEBEC home price expectations, BMO report
Average expected home price $234,735
Average down payment: 12.82 per cent ($30,093)
Monthly payment: $927.54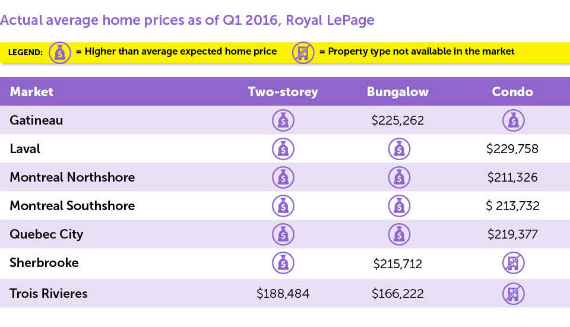 Reality check: For those hoping to buy in Montreal, you might want to budget a little higher, since all housing types in Montreal Centre, East and West are above the average expected home price.
ONTARIO home price expectations, BMO report
Average expected home price $415,110
Average down payment: 15.97 per cent ($66,293)
Monthly payment: $1,579.09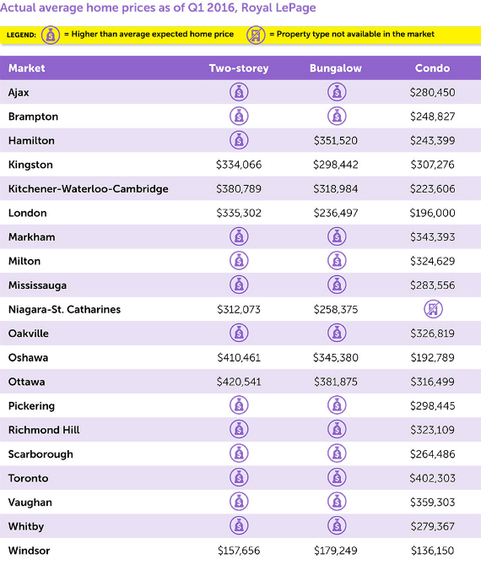 Reality check: Ontario millennials -- get used to the idea of a condo being your first home.
PRAIRIES home price expectations, BMO report
Average expected home price: $264,388
Average down payment: 20.56 per cent ($54,358)
Monthly payment: $950.17

Reality check: Condos in Regina are just slightly higher than the average expected home price, at $275,138.
ALBERTA home price expectations, BMO report
Average expected home price: $386,480
Average down payment: 15.2 per cent ($58,744)
Monthly payment: $1,502.17

Reality check: Buyers in Calgary and Edmonton, investigate home prices in your city, as there may be deals to be had given the recent downturn.
BRITISH COLUMBIA home price expectations, BMO report
Average expected home price: $478,113
Average down payment: 15.85 per cent ($75,780)
Monthly payment: $1,818.89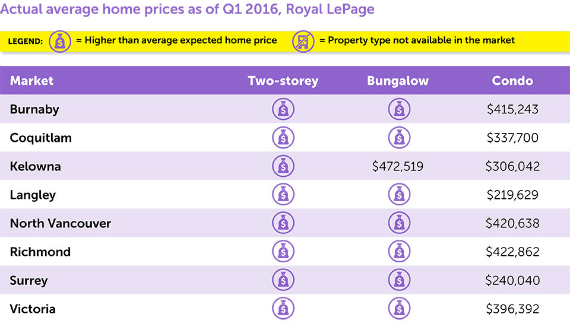 Reality check: Sorry, Vancouver millennials. There's nothing in your average expected home price available in the city. And in West Van? LOL.
Sources: Bank of Montreal Millennial Home Buyer Report, April 2016; monthly payments calculated using 25-year amortization, five-year fixed rate at 2.59, via BMO mortgage calculator; Royal LePage House Price Survey, Q1 2016
Post originally published on YPNextHome.ca
Follow HuffPost Canada Blogs on Facebook
ALSO ON HUFFPOST:
Craziest Vancouver Real Estate Stories Of 2015
This Tudor home in Vancouver's ritzy Shaughnessy neighbourhood was listed for $5.99 million in May. After 12 days, it sold for just over $8 million. "When you've got too little supply (of detached houses) and too many buyers, that's always what happens," realtor Stuart Bonner told The Province.

This abandoned home (read: eyesore) became a dumping ground over several months in 2015. Piles of rotting trash and unwanted furniture attracted rodents to the area, and the smell was sometimes so bad that neighbours refused to open their back doors. The house was assessed at $813,000, and others in the area were valued at over $1 million.

"Avail now. Bring your tent." A Craigslist ad advertised a backyard for rent for $500 per month. WiFi, use of the home's bathroom, kitchen, laundry, and "art room" were part of the deal. Great for travellers, apparently!

This home was listed at just under $3 million in June, and was sold to an offshore buyer for $4.1 million after a couple hours, the realtor said.

Bargain alert: a former grow-op hit the market in March for $930,000. The 1968 two-storey home was in such bad shape that no one could live in it. The house got an occupancy permit back in 2001, and was renovated before it was listed. The price was mostly because of the 6,000 sq.-ft. lot.

This rare, 3.6-metre wide home sold in April for $1.35 million. Tucked in the upscale Point Grey neighbourhood, the floor space is only 945 sq.-ft., but manages to cram in a full kitchen, master bedroom, living room, garage, den and 1.5 bathrooms. The home is believed to be one of the last of its kind in the entire city, according to the realtor.

This house, listed for just under $1.6 million, sold for $2.17 million in March — a mind-boggling 35 per cent over asking. "It was the highest price per square foot ever achieved for an East Vancouver home," realtor Paul Eviston told CBC News.

Chump change, amirite? This 25,000 sq.-ft. mansion, which sits on a 1.09 hectare property, was purchased in December 2014 for $51 million. (Details of the sale were made public in March.) The deal included a movie theatre, grass tennis court, and 10-car garage, according to the CBC.

Talk about a sweet deal! This (very well-decorated) gingerbread house was advertised on Craigslist for $4.5 million in December. It's a one-bedroom home that's a single sq. ft. in size. The baking sheet upon which it stands was not included in the sale. The seller asked for "serious" inquires only.
Follow YPNextHome on Twitter: www.twitter.com/YPNextHome