If You're Priced Out Of Canada's Hot Housing Market - Stay Out
By Lydia McNutt
With steadily decreasing housing affordability -- according to popular opinion, as well as official sources like RBC Economics and Canada Mortgage and Housing Corp. (CMHC) -- there's no shortage of tips out there on how to save up for a home.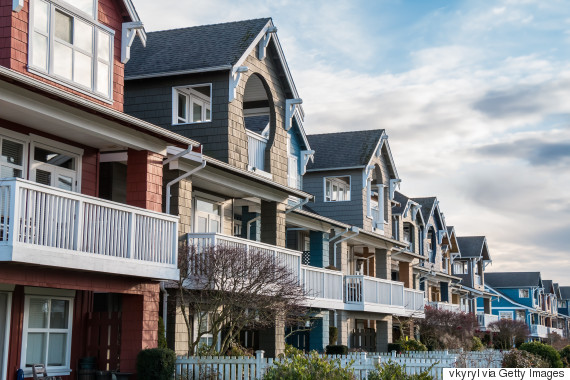 Hopeful homebuyers find themselves the targets of a steady stream of advice bombs about how to save more and spend less, complete with suggestions of different housing types at lower price points, and "coming soon" communities in the nether regions that might be within your price range. These are all potentially good and feasible options for maximizing your available funds. But ultimately, if you can't comfortably afford to buy that home, the choice should be clear.
To those who find themselves priced out of this hot housing market, "Don't do it," says Brian Brown, vice-president of Lifetime Developments. He admits it's surprising advice, particularly coming from a real estate developer. "It's the advice I give my kids when they want to buy a toy they can't afford."
If you can't comfortably afford to buy that home, the choice should be clear.
Now, let's be careful not to take Brown's unhesitating words out of context. Real estate has historically been a good investment and, barring any major catastrophe, will probably continue to be one in the long-term -- that is, if you can manage to get your foot in the door.
The term "priced out" has become commonplace in housing markets like Toronto and Vancouver. Each of these cities has experienced incredulous rates of price growth, and both display signs of "price sprawl" into suburban areas and even further, into surrounding cities.
To that effect, CMHC released a report earlier this year, which explored how house prices in Toronto impact surrounding areas. According to the report, a one-per-cent increase in Toronto home prices would lead to a 1.4-per-cent price change in Hamilton within one year.
Similarly in B.C., "Evidence of overvaluation has increased from moderate to strong in Victoria, as fundamentals are not keeping up with higher prices. There is also moderate evidence of price acceleration and overheating, leading to strong overall evidence of problematic conditions," CMHC reported in its latest Housing Market Assessment.
Guess it's not so bad, being little brother to the big city -- unless you're a prospective homebuyer.
So, what to do about housing un-affordability?
"Be disciplined. Be prudent. Be responsible."
-- Brian Brown, Lifetime Developments
Last summer, the B.C. government implemented the 15-per-cent foreign buyers' tax, and Vancouver resale prices have since eased somewhat. Then in October, Ottawa intervened with tighter mortgage qualification rules. And just last month, the Ontario government announced its 16-point Fair Housing Plan, all in an effort to cool the runaway housing market. Only time will tell if these measures will have the desired, long-term outcome.
In the meantime, Brown offers some words of wisdom: "Be disciplined. Be prudent. Be responsible," he says. "The biggest threat to our strong real estate market, and local economy, is a generation of buyers who, in pursuit of the housing dream, throw caution to the wind, assume a crippling mortgage, and take on more debt than they can handle."
For more essential real estate reading, visit YP NextHome.
Follow HuffPost Canada Blogs on Facebook
Also on HuffPost:
What Toronto's Average House Price Will Buy You Around The World
Located on a lush, narrow street that looks like a Caribbean jungle, this four-bedroom, three-bath house in ritzy Coconut Grove proves the average Toronto homeowner could live like a monarch in south Florida. The listing asks US$1.2 million (C$1.61 million).

This seven-bedroom, seven-bath behemoth is located in Naperville, the U.S. Midwest's richest municipality, about a 40-minute drive from downtown Chicago. For Toronto money, you can live like a Chicago one-percenter. The listing asks US$1.15 million (C$1.54 million).

This five-bedroom, four-bath house in Provence comes with a separate caretaker's home that includes three apartments, as well as a separate warehouse. But forget all that, look at the view. The listing asks 1.1 million euro (C$1.56 million).

This terraced house, as it's known in England, is located on an elegant street in the lively and ethnically diverse Brixton area of south London. Want to be north of the Thames? It'll cost ya. But this place is within walking distance of two tube stations, so at 950,000 pounds (C$1.57 million), it's nothing short of a London bargain.

This house is located in one of Asia's top vacation destinations, has views of lush rolling hills and the ocean, and offers nearly 3,800 sq. ft. of living space. Not a bad trade-in for a retired Torontonian. The listing asks 45 million Thai baht (C$1.74 million).

OK, so there are still places in the world where housing is more expensive than Toronto. Central Paris is one of them, and here the average Toronto house price will get you a one-bedroom apartment. Granted, this place is in a completely renovated 18th-century building next to the Place de Furstenberg. The listing asks one million euro (C$1.42 million).

Manhattan is another place that is still more expensive than Toronto (though the same cannot be said for New York as a whole anymore), but here the average Toronto house price will at least get you into a really good location. This apartment on Central Park South is steps from Columbus Circle and is walking distance to Times Square. The listing asks US$1.25 million (C$1.67 million).

The world's least affordable housing market will not get you much for your Toronto dollars. For the equivalent of around C$1.5 million, you can get apartment in the 350 sq. ft. to 500 sq. ft. range. So yes, things could be worse than they are in Toronto. Let's just hope Toronto's housing bubble never reaches Hong Kong proportions.
Follow YPNextHome on Twitter: www.twitter.com/YPNextHome