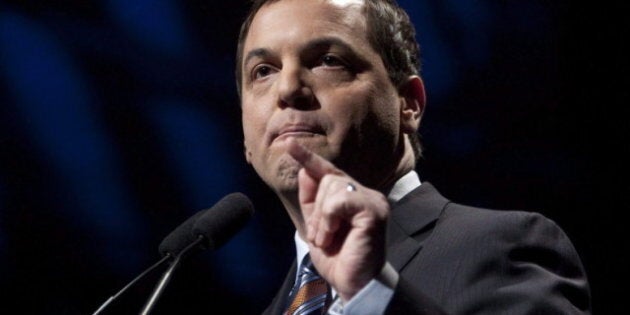 Hudak spoke to his supporters at his Niagara Falls headquarters Thursday night, pledging to continue to fight for the interests of Ontario families and to stay on as leader of the Progressive Conservative Party.
"It's been a long campaign, a hard-fought campaign, and while the result is not what we hoped for, we accept it," Hudak told the crowd.
Hudak congratulated Liberal Leader Dalton McGuinty as well as the NDP's Andrea Horwath and thanked the voters in his riding for re-electing him.
While it was still unclear whether the Liberal government would be majority or minority, Hudak said Ontario voters had sent a message to the McGuinty that they are looking for change.
"It is very clear that the people of Ontario have sent a strong message that they want a change in direction ... And friends it is very clear that the people of Ontario have put Dalton McGuinty on a much shorter leash."
Hudak touted PC seat gains and his party's strong performance in the popular vote, roughly two per cent shy of the Liberals as of 11:00 p.m. Thursday night. "We have over a dozen new Conservative MPPs ...Our PC party is stronger than it has been in more than a decade," Hudak told supporters.
Earlier in the night, Hudak sent the following memo to his staff.
Friend,

I am in Niagara Falls and about to speak to the people of Ontario about tonight's election. But before that I wanted to take a moment and thank you for your hard work on behalf of our party during this campaign.

We campaigned on a message of change and while the result is not exactly what we'd hoped for, we have won more seats than in any election since 1999 and came very close to tying the popular vote.

Our message of change resonated in many communities across Ontario. I am proud and humbled to have your support. Thank you for all of your hard work.

Tim