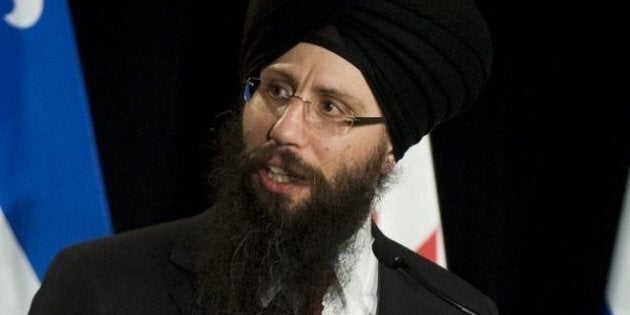 In a letter to party faithful, Singh said his campaign can't afford the financial penalty imposed by the NDP's chief electoral officer (CEO), but he refused to take back his words and avoid the fine.
"I am a principled person and my honour is very important to me, so I am not willing to apologize for breaking a rule that did not exist yet while telling the truth about what Mr. Topp said on February 12," Singh wrote. "This $1100 file will seriously hurt my campaign," he added, pleading for new donors to come forward.
Topp's camp, Singh said, complained to the NDP's CEO after the March 4 debate when the heated exchange took place, and the CEO sent out a notice saying "unparliamentary language" wouldn't be accepted and ruled that Singh should have known better.
Speaking to The Huffington Post Canada, Singh said Topp's unwillingness to admit that his plan to tax capital gains would hurt charities made him so angry that he called out the NDP strategist for lying.
"I stand by that … He puts the work of charities at risk," the bilingual pharmacist said in a phone interview from Halifax.
Topp's plan would cut funding avenues for charities and put the jobs of hundreds of thousands of Canadians who work in the not-for-profit sector in jeopardy, Singh said.
The 39 year old was given the chance to apologize to Topp Sunday during the party's Vancouver debate, the last official event before the NDP's convention on March 23-24, but refused an opening given to him by fellow candidate Nathan Cullen.
He told HuffPost he doesn't think his tone was too harsh.
"I think it was appropriate given the situation, the thing that is difficult now is that there is a bit of animosity that's developed and this has come as a result that Brian Topp has tried to smear me. He has had ample opportunity to make changes to his comment, to state directly that charities would be exempted and instead of doing these things he has dug himself into a deeper and deeper hole … he has chosen instead to label me as an attack dog and working in cahoots with Tom's campaign," he said.
"I believe that if I cannot be the leader, he would be the next best candidate for leader of the party," Singh said, while refusing to answer why specifically Mulcair had his vote.
Despite being the only candidate so far to declare a second choice for leader, Singh continues to publicly insist he is still his own first choice and believes he can win when the ballots are finalized on March 24.
By endorsing Mulcair, Singh said he is only "trying to provide a service to our supporters."
Singh's self-described "pro-business" campaign aligns more closely with Mulcair than the other, more socialist, candidates.
His campaign stresses the need for a national pharmacare program, involving business and non-profits in finding "profitable" solutions to environmental challenges and providing additional help for entrepreneurs. He's calls for a job training plan for youth, a mentorship program for workers of all ages and alternative business financing methods so that "even people who don't live nearby the big financial sectors have the flexibility to build a proper economy."
The married father of three lives in Musquodoboit Harbour, on the eastern shore of Nova Scotia. Singh is also a businessman and serves as a pharmacist with the Canadian Armed Forces Reserves — a role, he told the CBC, that he doesn't believe clashes with his party's policy on military combat.
Singh wants to stress his pro-business platform, saying it is important for his party to have someone championing those issues in the race.
"On the provincial side, the NDP has done a very good job of managing the economy… (but) our political opponents at the federal level have been more successful," Singh said. "So we needed someone with qualifications, such as myself, to put forward flexible and strong business policy that allows the New Democratic Party to build credibility on the economic file."
"The result of that, I think we have a very good shot to win on March 24," he added, noting that his team had signed up more than 10,000 members across the country.
Singh, who also serves as chair of the NDP's Faith and Social Justice Commission and the president of his riding association, said he joined the New Democrats 15 years ago after "investigating" other parties because it best fit his value system: reducing poverty and winning the equality of men and women.
At age 18, Singh, who was born Martin Hill, converted to Sikhism.
He told HuffPost he believes the values of his religion and his politics mirror each other.
"The NDP and my faith very much cover off each other," he said. "Inequality, making sure that we take care of our fellow citizens like the national pharmacare program that I mentioned, and also making sure that everyone has an opportunity to make a decent living."
If those values don't win the vote on March 24, Singh said, he has definite plans to run for a federal seat in 2015.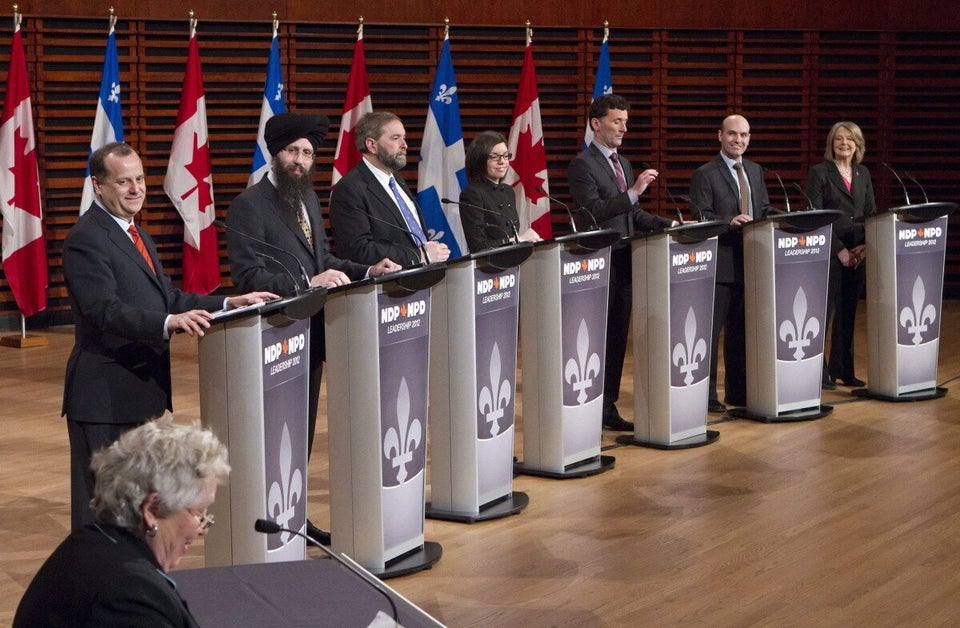 NDP GOES 1 ON 1 WITH HUFFPOST