 We'll turn just about anything into a reason to discuss style -- including the London Olympics.
It's not that we don't totally love sports and fitness and all the athleticism of, well, sport, it's just we care far more about what Kate Middleton is wearing and who designed each country's uniforms than, say, how to shot put -- though we could be interested in the uniforms the athletes don.
Wondering what the most stylish elements of this year's summer games will be? We compiled a list of the 26 reasons -- from art to decor and fashion to fun -- we're excited for London 2012. What can't you wait to see? Let us know on Twitter.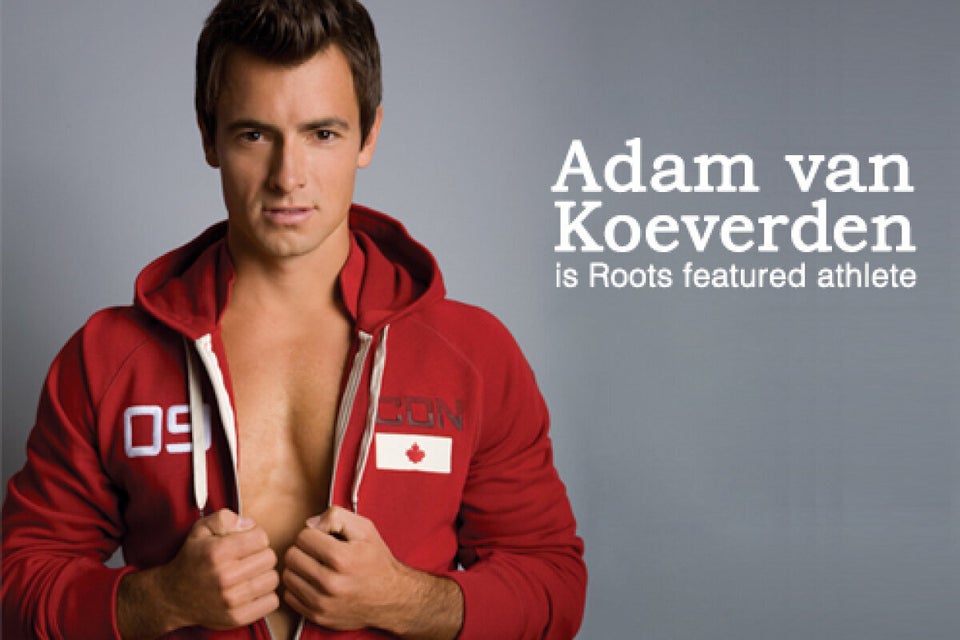 A Is For Adam Van Koeverden
Not only is Adam Van Koeverden the face of Roots, he is one of The Huffington Post Canada's Olympians to watch. Good looking and talented -- Van Koeverden makes us proud. And he can accessorize with any colour of medal, because, you know, he's won three -- one in every shade.
Beach volleyball players no longer have to sport the too tiny bikinis of past summer Olympics. In fact, it could be so cold this year they may rock long sleeve shirts. A letdown for fans, yes; but a necessity to keep muscles warm.
Because many of the streets of London will be shutting down due to the Olympics, we suspect people will have to take to their bicycles and skip on the car. This presents an opportunity to see some stylish bike fashion around town. And let's not forget the skin-tight uniforms of those participating in the official biking events.
Thank you David Beckham for bidding to have the Olympics in London. And thank you David Beckham for being as attractive as you are. We can't wait to see what you and your wife, Posh Spice, wear to the various parties and events you'll be at.
E Is For Editorial Spreads
We can't even hypothesize on how many Union Jacks we'll see starting Friday. Or any flag for that matter. We're hoping that Geri Halliwell comes out at the closing ceremonies in her iconic Union Jack dress. Dreams can come true, right?!
G Is For Gold Medal Stamps
For those representing the U.K. at this summer's games, a win means much more than just getting a gold medal -- the athlete will also have a stamp created with their picture on it. Talk about a stylish way to decorate any envelope.
H Is For The Hudson's Bay Company
One of the most classic Canadian companies is dressing our Olympians for London -- in everything from denim jackets to bold windbreakers. The good news is, you can don some of the wares, too (the collection is available in The Bay stores). Simply swap your Vancouver 2010 heart mittens for London 2012 red sunglasses.
I Is For Innovative Materials
With every Olympics, comes newer, faster, more innovative materials created to shave nanoseconds off an athlete's time. With ultra-lightweight sneakers and seal-esque suits, this year's material technology will be an important part of the games.
J Is For Jolie At The Olympics
It's rumoured Angelina Jolie and Brad Pitt will be hosting one of the most star-studded parties of the Olympics. The event, Sports For Peace, will take place two days before the opening ceremonies and will have guests like Prince Harry and the Beckham's in attendance. Talk about a glamorous event and a reason for us to ogle celebs in gowns.
We cannot control our excitement for what Kate will be wearing to her scheduled events. We envision a whole lot of Sarah Burton for Alexander McQueen and Stella McCartney.
This is London's second time hosting the Olympics (lucky!). We'd be happy to have this vintage poster hanging in our house even if 1948 was way before our time.
Although we don't quite understand this year's mascots, we think they look awfully cuddly. Hopefully, Kate and Will get their photo snapped with these guys -- it'd be cheesily amazing.
Naomi Campbell will be joined by fellow supermodels, Kate Moss and Rosie Huntington-Whiteley, as they take to the runway at the closing ceremonies. The models will be dressed in British designers like Vivienne Westwood and Sarah Burton for Alexander McQueen. Talk about a showstopper!
O Is For Opening Ceremony x Adidas
There are so many Olympic collaborations taking place, but Opening Ceremony x Adidas has to be our favourite. The line looks like it stepped straight out of 1998 -- and that's not a problem with us.
From H&M to Karl Lagerfeld, designers and companies are opening stores just for the Olympics all over London. If you happen to be heading to the city and want to pick up some limited edition gear, Elle has a round-up of the top pop-ups to visit.
As fun as Kate-watching will be, we'll also have our eyes peeled for the Queen. Hopefully she has a few spectacular hats ready-to-wear for her opening ceremony duties.
Nothing says America more than a Ralph Lauren-designed uniform. And the U.S. outfits are all about classic Americana (with a dash of odd flight attendant).
We want the Spice Girls to spice up the closing ceremonies! It's only rumoured they will perform, but our fingers, toes and eyes are crossed that it'll happen. We're also hopeful they wear some of their iconic 90's outfits.
Transport For London recreated the tube map so that every stop is an Olympic athletic legend. That's 361 Olympic stars -- past and present. Next stop: Michael Phelps, please!
With a whole lot of rain on the Olympic horizon, we're sure to see a lot of umbrellas. It's always fun to see how people dress stylishly in the rain, so get ready for some damp sartorial inspiration.
Swipe! Swipe! Swipe! You can already hear guests of the Olympic games swiping their cards and buying souvenirs and treats. And as one of the official Olympic sponsors, we're sure Visa logos (and plastic) will be everywhere.
Summer Olympics generally means it's hot, hot, hot. But that may not be true in temperamental London. The weather shows it's going to rain and be significantly chillier than we'd normally expect for the summer games. We're sure our athletes can handle anything Mother Nature throws their way. But just in case, we're glad The Bay has our team decked out with windbreakers and sweatshirts.
X Is For Xtreme Patriotism
If you dare to get decked in Canadiana from head to toe, why not top it off with an Olympic CND shellac manicure? All of the athletes will be able to get a manicure and pedicure in the Olympic village that will last for 14 days. Bold nails to go with bold patriotism? Why not!
Y Is For The Youngest Athlete
Fifteen. Victoria Moors is 15. We don't know if we need to say more. She will dazzle in her glittery bodysuit while competing in artistic gymnastics.
Penguins are classy animals. They're constantly wearing a tuxedo, which means they're always ready for a black-tie event. And this year, lucky them, they get to join human athletes in competing in the summer games. The London Zoo will host an animal Olympics for tourists (check out this penguin practicing his/her dive off their brand new diving board).