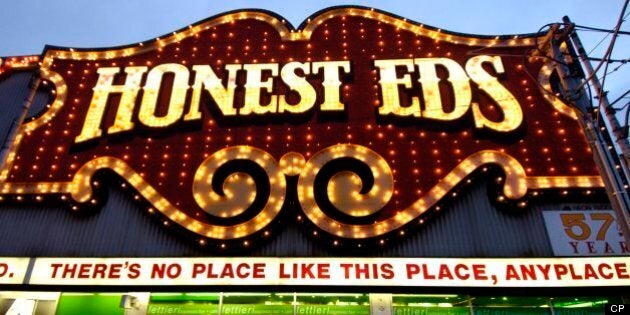 An iconic Toronto discount store known for its bright neon lights and cheesy puns on store signs may soon be a thing of the past.
Owner David Mirvish, son of Ed Mirvish — the colourful Toronto entrepreneur who started Honest Ed's in 1948 — would not confirm to the newspaper the store is up for sale, but said that "everything is on the market with me … you never know what will happen in the future."
Commercial real estate agency Colliers is reportedly representing the property.
News of the sale is likely to cause consternation among the many Torontonians who shop at the discount store and those who see the neon-covered building as a landmark. Its folksy signage ("How cheap can a guy get? Come in and find out!") has been amusing residents for decades.
But speculation is already abounding that Honest Ed's will be replaced by the same thing being built in just about every other available corner of Toronto — a condo tower.
Ed Mirvish opened Honest Ed's in 1948. He died in 2007, having become a mainstay of Toronto's retail and cultural scenes. Besides building a retail and real estate empire, Mirvish also took an active interest in Toronto's theatre scene, buying up some of the city's landmark theatres and running an eponymous production company.
Mirvish was also known for his acts of charity, handing out whole turkeys to passersby on Christmas and Thanksgiving.
See some of the Twitter reactions from Torontonians on the sale: