The move follows the U.S. State Department issued a worldwide travel alert for its citizens, and temporarily shut down a number of its embassies due to an increased threat of terrorist attacks in certain regions.
Though Canada hasn't issue any new travel advisories, the warnings mark an opportunity to explore other places in the world where the Government of Canada encourages travellers to avoid or to exercise a high degree of caution if they're still determined to visit.
Granted, no country is risk free, so always stay alert and practice common sense when travelling. For up-to-date information about the areas travellers plan to visit, the Foreign Affairs Canada's Advice and Advisories page features all travel advisories -- advisories that could affect your medical emergency and trip cancellation insurance -- itemized by country. Foreign Affairs also lets Canadian Travellers sign up for Registration of Canadians Abroad, a free mobile-friendly service for up-to-date notifications in the in the event of an emergency situation in the country you are visiting.
Travellers able to look beyond the media headlines and security advisories will find that many affected countries offers unique travel experiences, each with their own historical, cultural and natural appeal. But as travellers patiently wait for the situations in these regions to calm down, it's worth noting that there are alternative destinations that may provide a similar experience.
5 Regions Hit With Travel Advisories And Their Safer Alternatives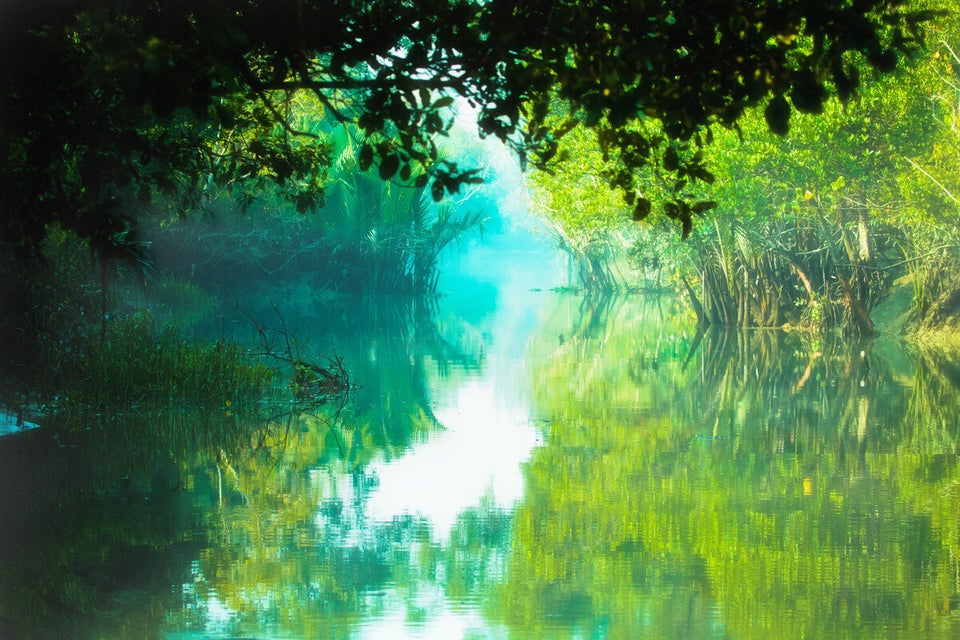 August Travel Warnings And Their Safer Alternatives
Best To Avoid: Bangladesh
Bangladesh has an assortment of archeological, cultural and natural attractions worth exploring; however, one of the country's greatest treasures is the Sundarbans. The Sundarbans is the largest block of mangrove forest in the world, and a UNESCO World Heritage Site. It's home to the Royal Bengal Tiger and a diversity of other wildlife. A tour around the forest offers a peaceful escape from Bangladesh's frenzied capital city, Dhaka.
Instead, Why Not: Costa Rica?
If you're looking for a safer spot for a nature escape, Costa Rica is a popular ecotourism destination, with ecotourism making up one of the largest sectors of the country's economy. Costa Rica has a wealth of national parks and reserves, including the uninhabited Cocos Island Marine Park, a stunning spot for scuba diving. You can also take a kayak or boat tour to explore the mangrove forests of the Damas Island estuaries. Keep your eye open for wildlife, such as sloths, white face monkeys and crocodiles. There is no advisory in place for Costa Rica, but travellers should be on high alert, due to increasing levels of violent crime.
The Nile River, the Egyptian Museum in Cairo, the Great Pyramid and Great Sphinx of Giza, the hospitable nature of the people, and the abundance of mango, sugar cane and other fresh juices, are just a taste of why this culturally and historically rich country lands on so many of our bucket lists.
For the time being, however, Canadian travellers are advised against non-essential travel to the country, except for Red Sea coastal resorts (where travellers should still exercise a high degree of caution). The Egyptian military overthrew President Mohammed Morsi on July 3, after millions of Egyptian people protested for days, calling for the leader's resignation. Pro-Morsi demonstrations and gatherings continue throughout the country, with the potential to become violent.
If you are in search of a country that will offer a rich historical and cultural experience, then Italy is an obvious (and safe) choice that rarely disappoints. With countless historical sites to visit, such as the ancient city of Paestum, Saint Mark's Basilica in Venice, and the Colosseum in Rome, it's no surprise that the country is the fifth most visited in the world, taking in more than 46 million tourists a year.
Look beyond the headlines and you'll discover an Iran with a fascinating history, generous people, and a stunning and diverse landscape that allows for a range of outdoor adventures, such as hiking and skiing in the Alborz mountain range; snorkeling and scuba diving along the coral coasts of Kish Island in the Persian Gulf; and trekking across the Dasht-e Kavir desert.
While Iran's new president, Hasan Rouhani, hopes to boost the country's tourism sector, Canada continues to advise against all travel to Iran for the time being. Canada closed its embassy in Iran last September, increasing tensions between the countries. The Government of Canada warns that Iranian authorities will keep a watchful eye on Canadian travellers, and says that Canadians may even be "arbitrarily questioned, arrested and detained for a long period." Activities such as taking photos in public, travelling outside of tourist areas, and interacting with Iranian friends may lead to investigation and harassment, according to the advisory. The risk is even greater for Iranian-Canadian duel citizens.
Instead, Why Not: Australia?
If you are seeking a destination with a diverse landscape that offers a myriad of opportunities for an adrenaline-pumping adventure, look no further than Down Under. Trek through one of Australia's many deserts, cross country or downhill ski in the Australian Alps in the winter, or snorkel or scuba dive to explore the Great Barrier Reef off the Queensland coast. There is no travel advisory in effect for Australia.
Mali's music industry is not only an important sector of the West African country's economy, but it also plays an important role in the everyday life of the country. The country's capital, Bamako, is often thought of as the music capital of West Africa. You don't have to search hard to find musicians filling the streets with traditional music, or live bands playing at a bar, club or restaurant at night. Mali is also host to the famed Festival au Désert, an annual concert that not only unites musicians from around the country, but also the world.
However, if you're a fan of West African music, you may have to put your visit to Mali on hold. When Islamic militants seized northern regions of Mali last spring, music was banned, live venues were shut down, musicians fled the country, and the Festival in the Desert had to be postponed to next year. The French army, along with Malian and other African forces, have intervened and liberated much of the northern territory; however, military clashes continue to take place. There may also be demonstrations surrounding a run-off presidential election that is set to take place on August 11. Canadians are advised against all travel to Mali, because of the political instability and military clashes, as well as the threat of terrorism, banditry and kidnapping.
Instead, Why Not: The Gambia
If you are interested in exploring the music of West Africa there are safer areas to visit, including The Gambia. The Gambia may be the smallest country on mainland Africa, but it is attracting more and more tourists with its sandy beaches, nature reserves and historical sites. In The Gambia, you are likely to hear the striking sound of the kora, a 21-string West African instrument that sounds similar to a harp. There is no national advisory in place for The Gambia; however, travellers should still be highly cautious due to crime in some areas.
Best To Avoid: Northern Mexico
Instead, Why Not: The Yucatan Peninsula, Mexico
If you are keen on travelling Mexico, don't fret! Mexico is a vast country and the majority of its major tourist destinations remain largely untouched by the violence and crime plaguing the northern regions that border the U.S. Mexico remains the second most travelled to country by Canadians, with about two million Canadian tourists visiting per year. Popular Yucatan Peninsula destinations, such as Cancun, Cozumel and the Riviera Maya, are among those safe for travellers. But no matter where you visit in Mexico, Canadian travellers should always exercise a high degree of caution, especially if leaving urban areas.