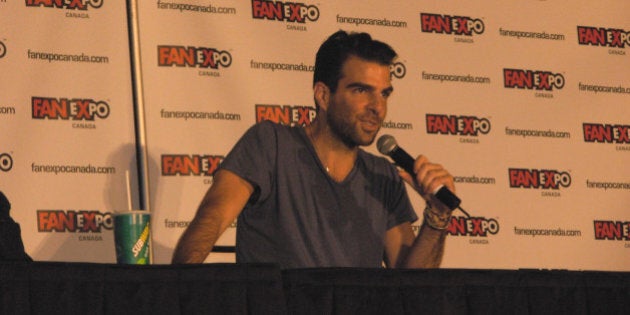 A spiritual theme of life, death and the great beyond seemed to permeate the panels on Day 3 of Fan Expo Canada at the Metro Toronto Convention Centre. Perhaps it was because Saturday is known for being the Expo's busiest day, as the threat of the fire marshall's wrath loomed under the crush of a slow-moving and gridlocked crowd. Tempers were short and people seemed to have a more fatalistic outlook as they crossed the bridge between the north and south buildings, hoping to make it to the next task on their to-do list in time.
Putting The 'Hell' In 'Hellboy'
First up, Hellboy creator Mike Mignola described how he's able to stretch the bounds of his own creativity after killing his title character in "Hellboy: The Fury" and sending him to hell for December's "Hellboy In Hell."
"One of the things I want to do in 'Hellboy In Hell' is something I did a lot in "Hellboy" short stories. I want Hellboy to roam around. It was always my idea in the short stories that Hellboy had roamed the entire world. He had been in every corner of the world and interacted with every different kind of folklore creature and mythology. I want to continue that in hell.
The beauty of 'Hellboy In Hell' is, if he roams the Asian neighbourhood in hell, it doesn't need to look like real Japan or real China, so it saves a lot of work. A lot of 'Hellboy In Hell' is going to be him interacting with these various demons in folktales from all over the world. I want to do Asia, I want to do India, Basically, I want to do everything."
"I believe that you get back what you put out in the world. I'm a big believer in treating people with compassion and respect and that's the only way to treat people unless they treat you differently. I believe in striving for authenticity and journeying within to understand myself, and know myself on as many levels as possible. I truly believe that the universe will support you if you're specific about what you want. I believe in a spiritual interconnectivity ... that has been proven to me, based on my own experience, time and time again.
The world offers things that you're open to, so the more open you are to the world, the more will come your way. Specificity, in terms of what you want in your life, will help yield it more. I believe in living as hard as I work and not taking anything for granted, ever. I try to stay aware of how lucky I am all the time in all that I'm experiencing because it can go like that for any of us."
Slash Talks The Legend Of Stull, Kansas
Meanwhile, legendary guitarist Slash has temporarily put down his six-string and traded it for a producer's chair. He came to Fan Expo to tease the first horror movie from his Slasher Films production company: "Nothing Left to Fear." He played three random clips from the film and the trailer:
The movie stars Anne Heche, and features a family looking to start over in rural Kansas before crossing paths with a Satanist preacher who summons hell to their doorstep. The movie is loosely based on the occult legends surrounding the town of Stull, Kansas.
"If you go online, it's got this folklore and mythology about it being the seventh gateway to hell," says Slash. "The Pope won't fly over it, The Cure wouldn't play in the town adjacent to it and there's a really great-looking graveyard there where -- because it's the seventh gateway to hell -- people like to get drunk and have sex, so they've had to fence it off from the youth. I don't know where the origin of this mythology comes from, but it's cemented to the town's personality, and the people that live there weren't too happy about us making a movie based on Stull. Although, it's not really about their town."
For his part, Slash doesn't think Stull is the seventh gateway to hell, but he's open to the possibility.
"In order for me to steadfastly believe in something, there has to be some proof to it. I don't go on, 'A group of people says this' or 'A cult says that,' but I'm open to all possibilities because I don't think, as a race, we really have a handle on what could potentially be out there."