GEORGETOWN ROYALTY, P.E.I. — Don't expect any concrete policy proposals from the federal Liberals until 2015, the party's leader Justin Trudeau warned Wednesday.
Speaking to reporters in eastern Prince Edward Island, where Liberal MPs and senators have gathered for the party's summer caucus, Trudeau said he won't be rushed into announcing policy.
"My responsibility is to put forward a comprehensive robust platform in 2015 that is going to demonstrate to Canadians that the Liberal party is serious about working hard for them and responding to their concerns," he said.
"I'm not going to shortcut that process, which is a serious and responsible process, just because people want to know right now and they are impatient to know," Trudeau said. "We will be responsible about how we approach this, and we are not worried about dominating the news of the day, we want to provide good government to Canadians because that is what they deserve."
Trudeau's only policy proposal as Liberal leader has been to champion several measures to improve transparency and democracy in the House of Commons, such as pledging to hold free votes and forcing his MPs and senators to publicly disclose more details about their spending.
Through speeches and editorials, Trudeau has announced support for legalizing marijuana, the Keystone XL and East-West pipelines and increasing rates of post-secondary education. Trudeau has said he is against the Northern Gateway pipeline and Wednesday he told reporters he would like Parliament recalled in order to discuss the situation in Syria but he's not in favour of military intervention there.
Story continues after slideshow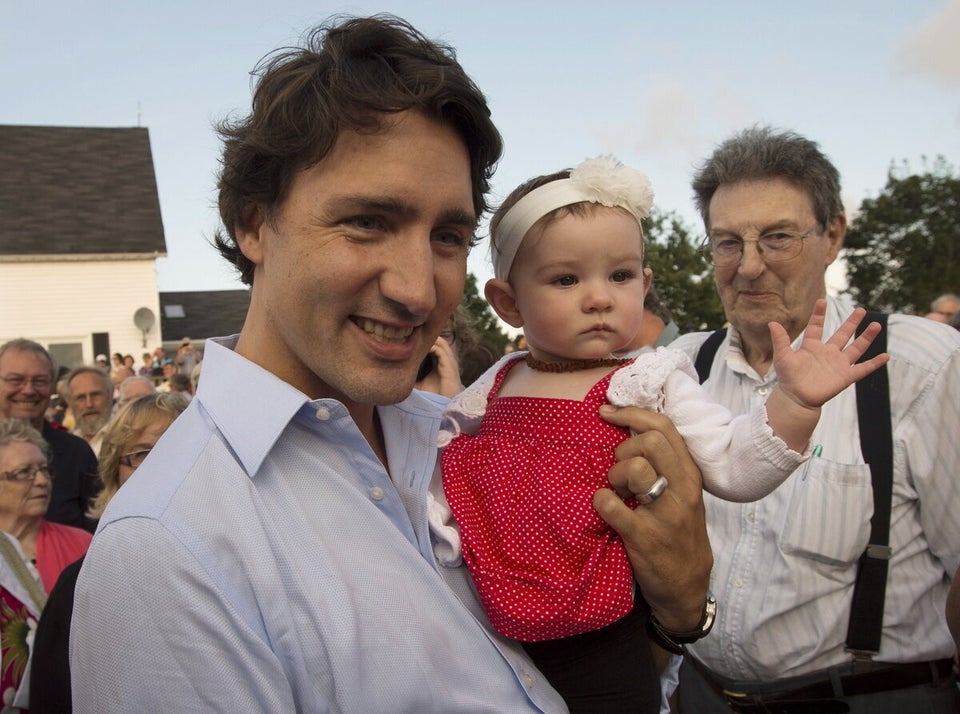 Liberal Summer Caucus In P.E.I
Trudeau's spokesperson Kate Purchase told HuffPost the Liberals will continue to take such policy positions before a full platform is released.
"What we are not going to do is release a platform before we have had a chance to consult with Canadians and experts in various fields," she said, backtracking somewhat from her leader's comments.
Trudeau told reporters more than wanting answers, Canadians want to be included in the process of finding answers. He said he is focused on engaging and consulting the public and pledged to hold open public meetings over the next two years.
University of Moncton political scientist Donald Savoie told HuffPost Trudeau's team is using a calculated and politically smart strategy.
If Trudeau came out with proposals he would open up targets, Savoie said. Trudeau's opponents could take shots at his policies, marshal arguments against them and steal any good or original ideas.
"Part of it is [his] popularity, part of it is not opening up new targets, part of it is not giving the opposition or the government, in this case, ammunition to strike back," Savoie said. "It's probably a wise calculation," he added.
Still, Savoie said that while it's good politics, it is not good public policy. The public would be better served if they had a chance to mull Trudeau's proposals over and debate them, he said.
University of Toronto political science professor Nelson Wiseman noted that Ontario Progressive Conservative Leader Tim Hudak has unveiled a number of policy positions and they have done nothing to improve his party's position and garnered a lot of negative reaction.
"Generally, the public will vote against something and someone rather than for something and someone," Wiseman wrote HuffPost in an email. Stephen Harper and the Conservatives won in 2006 not because they were popular or had good policies but because the public rejected Paul Martin and the Liberals, he said.
Polls suggest the Liberals are not being hurt by not releasing policy positions, Wiseman added.
Indeed, poll after poll suggest Trudeau has a substantial lead over his political opponents. A Forum Poll for the National Post published earlier this week pegged Liberal support at 38 per cent, compared to 29 per cent for the Conservatives and 22 per cent for the NDP.
Not releasing any policy "allows the public to read whatever they would like into the party and the leader," Wiseman said.
Still, some caucus members may not be happy to hear that Trudeau feels no need to rush out with policy to prove his intellectual chops.
One Liberal MP told HuffPost he hopes Trudeau will come out with some policy before 2015. "If all we have to talk about is marijuana, it will be pretty weak," he said.
British Columbia Senator Larry Campbell told HuffPost Tuesday that Trudeau needs to flesh out themes such as transparency and the middle class.
"I think [Trudeau] is resonating with the population," Campbell said. "Now, what we need to do as as a party is put meat on that carcass and really help him get his message across to Canadian people."
During their caucus meetings in P.E. I., the Liberals have been holding discussions on the challenges facing the middle class, as well as on problems with youth underemployment and unpaid internships.
They plan to hold more meetings in September in Ottawa to mark what should have been the beginning of the fall session for the House of Commons. Prime Minister Stephen Harper has announced plans to prorogue Parliament until October.