Kate Upton has landed herself yet another Sports Illustrated cover but it's not as hot as you would think.
The 21-year-old model poses in the Oct. 7 issue (her first time on a weekly edition) in a tribute to baseball, alongside Atlanta Braves players B.J. and Justin Upton (no relation) with nary a skimpy bikini or open fur-rimmed jacket in sight.
Instead of showing off her incredible figure, the Vogue cover girl hides her famous curves in a Braves uniform, although the magazine did its best to boost newsstand sales by lowering the shirt's necklace and squeezing the "Cat Daddy" star's bod into tight pants.
Kate's latest foray on SI is her third cover, the first being the famous-making 2012 Swimsuit edition where she stopped heartbeats in a tiny red bikini and the second being her sizzling hot foray in the Arctic.
The covers have certainly paid off for the bubbly blond; not only is she dating "Dancing With the Stars" pro Maksim Chmerkovskiy but the Twitter-lover has been embraced by the high fashion world at Paris Fashion Week, making an appearance at Marc Jacobs' final Louis Vuitton show.
Keep doing your thing, girl!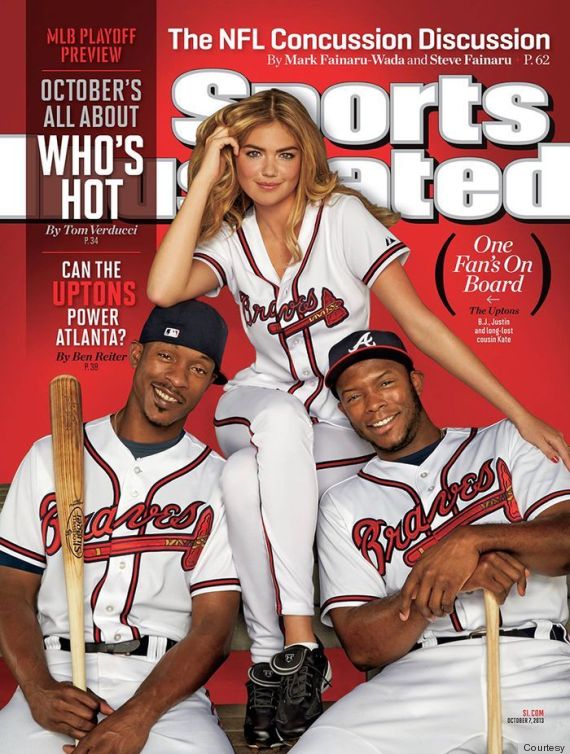 Oh, look. Kate Upton in a bikini!
Kate Upton's Hottest Pics