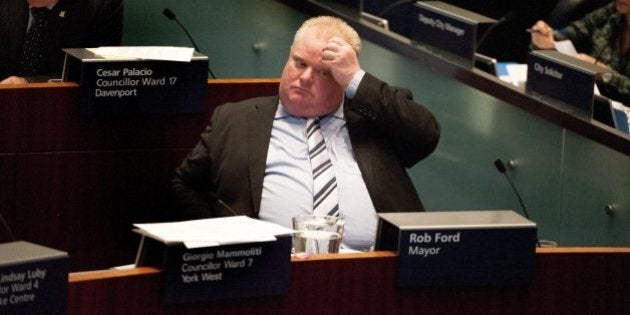 Toronto Mayor Rob Ford has reportedly berated a Sun columnist for suggesting he think twice, in light of his own varied controversies, before publicly criticizing others.
Warmington said the mayor called his cellphone around 6 p.m. on Sunday and blew a gasket over a piece he wrote condemning what he saw as Ford's unfair lambasting of a city worked allegedly caught sleeping on the job.
Really? No proof or explanation? No compassion? No one is allowed to have a bad day? No second chances?

Do you want us to apply that same standard to you, Mr. Mayor?

In the future, or perhaps retroactively to hockey-game-gate, Garrison Ball-gate, Ass-gate, TTC bus-gate, robo-gate?
The reference to various Ford shenanigans and scandals was apparently enough to cause the mayor to devolve into profanity and eventually hang up on the journalist.
"Don't write lies," Ford reportedly told Warmington. "You know that stuff is lies. You know I wasn't drunk at the Garrison Ball and that I didn't grab that woman's ass."
Warmington ended his column Monday promising to report whatever he pleases and not to back down from pressure.
The Toronto Star reported an intoxicated Ford was asked to leave the Garrison Ball, an annual gala that celebrates the Canadian Armed Forces, in February. Ford brushed off the report as "lies after lies and lies."
A few weeks before the bombshell Star report, former Toronto mayoral candidate Sarah Thomson accused Ford of hitting on her at a different party and touching her behind.
"I've never seen him so out of it. I know I shouldn't be pissed but after spending 10 months on the campaign trail together you expect a little bit of respect at the very least for my husband," she wrote.
Ford vigorously denied making inappropriate advances to Thomson and suggested on his weekly radio show she may not be "playing with a full deck."
Months later, two Star reporters and the editor of U.S. website Gawker reported seeing a cellphone video of Ford smoking crack cocaine. Ford has denied using cocaine and that such a tape exists.
The Toronto mayor told reporters at City Hall last week he wanted a rec centre employee fired after Councillor Giorgio Mammoliti released a photo allegedly showing the worker asleep at a desk.
"If we have someone that's literally sleeping at their desk — how it looks — we cannot tolerate this," he said.
The very next day, a photo of Ford sitting with his eyes closed during a 2011 council meeting went viral. Ford told the Sun he wasn't napping in the image.
"It is so farfetched it is not even funny," he told the paper.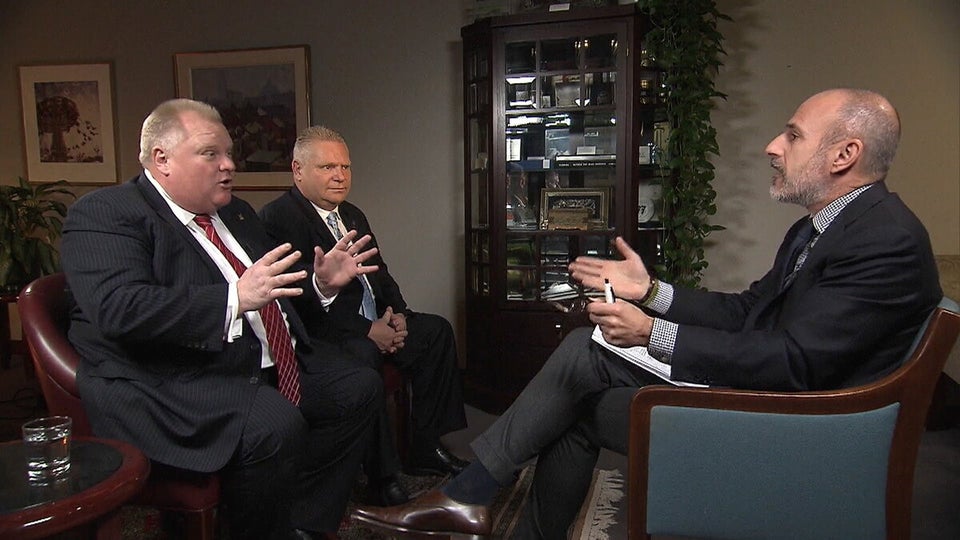 Best Photos From Rob Ford Crack Scandal