Conservatives want Manitoba voters to think long and hard about the judgment of Liberal Leader Justin Trudeau before casting a ballot in Monday's federal byelections.
They just aren't giving them much to go on.
Pamphlets distributed in the riding of Brandon-Souris, a long-time Tory fortress at risk of falling to the Liberals, feature an image of Trudeau taking off his shirt and three quotes attributed to him before he won the party leadership in April.
The message in the pamphlets, much like the television ads Tories released in the spring, is that Trudeau is "in way over his head."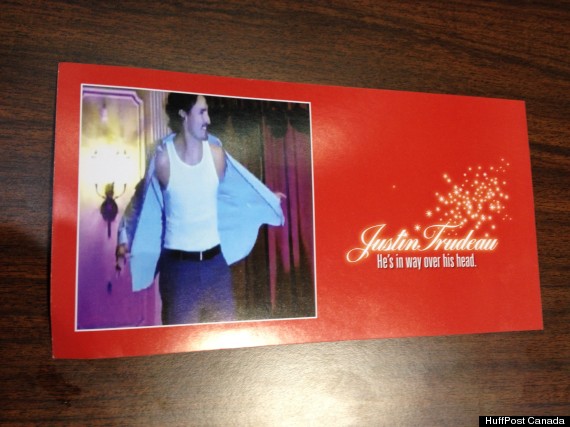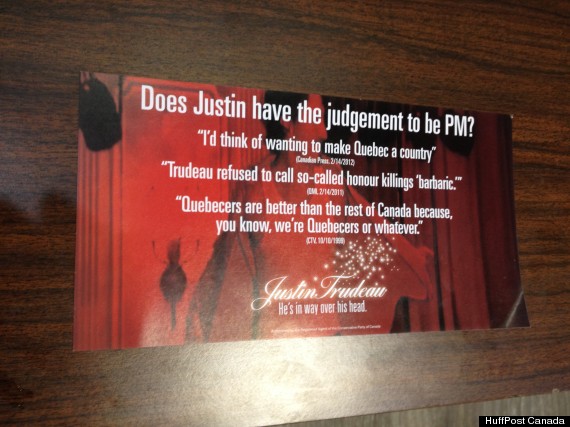 But it appears there's only one thing missing: context.
So, let's provide some right now.
What's up with the photo?
Trudeau is shown on the front of the pamphlets removing his shirt with a big smile on his face.
Did he actually do that? Yes, he did.
The "striptease" took place at an Ottawa charity event in 2011 to raise funds for the Canadian Liver Foundation. Attendees at the What A Girl Wants gala bid on a lunch with the MP that eventually went for $1,900. Trudeau shed his clothes down to his undershirt only.
As it happens, the prime minister's wife, Laureen Harper, attended the organization's gala in 2010, where Trudeau performed a similar striptease.
In April, Tory spokesman Fred DeLorey said it was fair game to use footage from the charity event to attack Trudeau.
"We believe Justin Trudeau's eagerness to perform a strip-tease, regardless of the venue or putative cause, says something about his judgement," he said in a statement.
Yet, the Canadian Liver Foundation came to Trudeau's defence with a press release.
"This auction item raised $1,900 and the event raised $128,000," it reads. "The Foundation believes Mr. Trudeau should be applauded for his commitment to an important health issue that affects an estimated 3.4 million Canadians."
Watch the original Trudeau charity striptease, shot by The Huffington Post Canada, in the video below.
&nbsp
Now, let's move on to those contentious quotes.
"I'd think of wanting to make Quebec a country."
Did Trudeau really say that? Yes, he did.
But Tories don't provide the full quote.
In 2012, Trudeau sparked controversy after an interview with Radio-Canada had political rivals wondering if he was a closeted separatist.
"I always say that if I ever believed Canada was really the Canada of Stephen Harper and we were going against abortion and going against gay marriage, and we were going backward in 10,000 different ways, maybe I'd think of wanting to make Quebec a country,'' he said.
Two days later, Trudeau told reporters it was "ridiculous" to question his loyalty to a united Canada.
"I live this country in my bones, every breath I take and I'm not going to stand here and somehow defend that I actually do love Canada because we know I love Canada," he said.
Trudeau then told CBC's Power and Politics that there are millions of Quebecers who don't see themselves in the values promoted by the Harper Tories.
"Trudeau refused to call so-called honour killings 'barbaric.'"
Is that true? Not exactly.
But Trudeau did get himself in hot water in 2011 for taking issue with the use of the term "barbaric" in the revamped citizenship guide.
The Harper government updated the Discover Canada booklet to include a line saying: "Canada's openness and generosity do not extend to barbaric cultural practices that tolerate spousal abuse, 'honour killings,' female genital mutilation, forced marriage or other gender-based violence."
Trudeau, then the immigration critic for the Liberals, said that while those acts are unacceptable, an official government publication should "make an attempt at responsible neutrality."
Conservatives like Jason Kenney wasted no time pouncing on Trudeau, who quickly offered an apology and retraction.
"Perhaps I got tangled in semantic weeds in my comments, particularly in view of the Conservatives' cynicism on these issues," he said in a statement. "I want to make it clear that I think the acts described are heinous, barbaric acts that are totally unacceptable in our society."
"Quebecers are better than the rest of Canada because, you know, we're Quebecers or whatever."
Did Trudeau say that? Yes.
But what Tories don't mention is that he was paraphrasing his father.
In a 1999 interview with CTV's W5, Trudeau opened up about why his father, former prime minister Pierre Trudeau, did not believe Quebecers needed special rights and privileges.
"His philosophy, certainly as he passed it on to us, has always been Quebecers are better than the rest of Canada because we're Quebecers or whatever. I mean, this idea that a lot more of us are bilingual, bicultural, there's a lot more awareness of the rest and that's a richness," he said. "Who's to say that we should need special protections, or special deals, or special allowances that make us protected?"
So, there you have it.
While these pamphlets may provide a sneak peek of how Tories will take on Trudeau in 2015, it appears the attacks aren't working.
According to a poll released last week, the Liberals are leading the Conservatives in Brandon-Souris by five points.
With files from The Canadian Press
Also on HuffPost