Twitter/Shutterstock
UPDATE: Shortly after posting the tweets, Gerry Byrne deleted them and apologized for his earlier messages.

"Movie stars and celebrities should not use hardworking sealers for self promotion. I am angry but will not use unfair tactics. I retract," Byrne wrote.
Liberal MP Gerry Byrne raised plenty of eyebrows Tuesday after posting tweets slamming actress Pamela Anderson and "The Simpsons" co-creator Sam Simon over their anti-sealing stance.
Byrne, who represents the Newfoundland riding of Humber–St. Barbe–Baie Verte, didn't hesitate to get personal.
He criticized Anderson over her sexually transmitted disease, and called her a "hasbeen" for good measure. Anderson contracted hepatitis C from her former husband, Motley Crue's Tommy Lee.
Simon has been spending much of his fortune on animal-rights causes after being diagnosed with terminal cancer.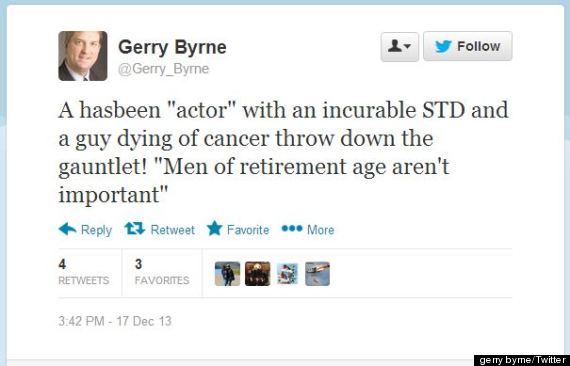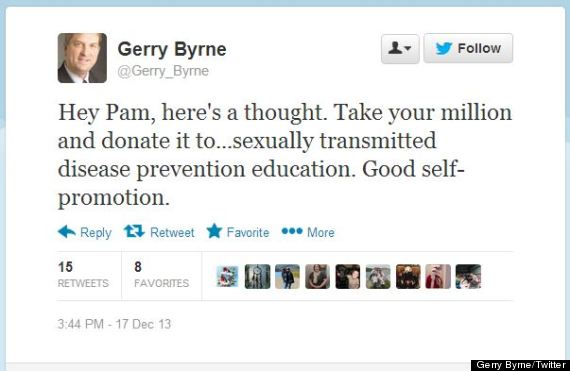 Anderson and Simon were in St. John's on Tuesday for a press conference where they offered $1 million to the province's sealers if they stopped the hunt. The press conference attracted vocal criticism from Newfoundlanders, including "This Hour Has 22 Minutes" comedian Mark Critch.
Critch offered Anderson a $1 million cheque to stop acting, before reducing the offer to $165.
"There are so many members of the sealers' association, it breaks down to $165 a person. Will you give up your livelihood for $165?," Critch asked, according to The Telegram.
And it appears Byrne also took issue with a statement from PETA senior vice-president Dan Matthews.
Matthews travelled with Anderson and Simon to Newfoundland, and told CBC News the age of the protesters at the press conference shows the trade has no future.
"It was interesting to note that the sealers who were heckling were all of retirement age," he said in a statement to the CBC.