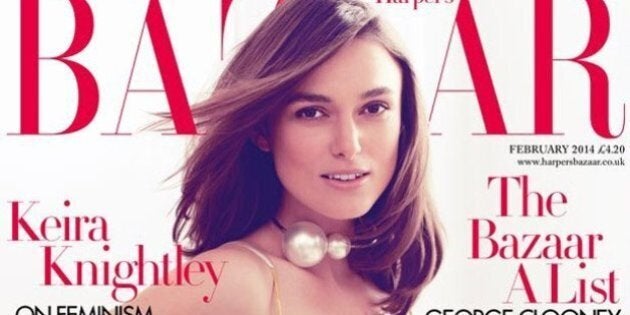 The British actress, who covers the February 2014 cover of Harper's Bazaar UK (and looks gorgeous, natch), spoke out about why she only joined Twitter for 12 hours, what it's like working in a male-dominated industry and how feminism is becoming accepted again.
"I think it's great that the discussions are finally being allowed to be had [about feminism], as opposed to anybody mentioning feminism and everybody going, 'Oh, f***ing shut up.' Somehow, it [feminism] became a dirty word. I thought it was really weird for a long time, and I think it's great that we're coming out of that."
Keira, whose career is the envy of both actors and actresses, hasn't shied away from doing exactly what she wants when it comes to the parts she plays on screen, her personal life and on the red carpet.
"I go to work at 5:30 in the morning," said Knightley, "I wouldn't get back probably until 9 o'clock at night. Most of the guys that I talk to — and I've spoken to a lot of guys about it — they say [whispers], 'My wife does everything.' You think, 'Why wasn't I thinking about this five years ago?' Hollywood has a really long way to go. I don't think that anybody can deny that, really, and I think as much as you are getting more women playing lead roles… they're still pretty few and far between."
We're glad to see that this talented star isn't afraid of speaking her mind!