One of Vancouver's "Hobbit Houses" will be restored as part of a townhouse development if the owner has his way.
W.T. Leung Architects has filed a rezoning application with the City of Vancouver that includes restoration of the heritage home at 587 West King Edward Avenue as part of a 20-unit three-storey townhouse complex.
"The house will be restored to the original design intent," architect Wing Ting Leung told The Huffington Post B.C., and that will include removing an elevator that was added to the rear.
Check out the plans for one of Vancouver's "Hobbit Houses." The story continues below: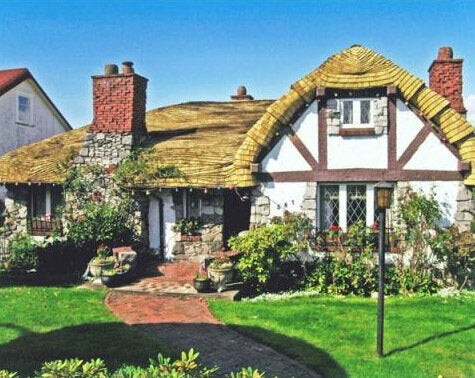 "Hobbit House" To Be Restored
Developer David Mooney bought the property last year and engaged heritage consultant Donald Luxton to see how the home might be incorporated into a new development.
The Hobbit house is one of three designed by builder Brenton T. Lea in the 1940s. It is listed on the City of Vancouver's heritage B register, meaning it may have some historical significance in the neighbourhood.
The proposal includes two townhouses behind the house itself, with 18 more planned for the adjacent lot.
The city has not yet set a meeting to consider the application.