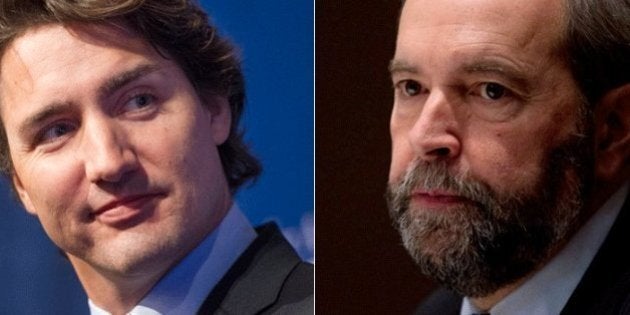 Most Canadians are in favour of Justin Trudeau's surprise decision to boot all 32 Liberal senators out of caucus, a new poll suggests.
And, in a development that may trouble Opposition Leader Tom Mulcair, it appears Trudeau's Senate gambit is most popular among Canadians who supported the NDP in 2011.
According to an online survey from Angus Reid Global, conducted on Thursday among 1,503 Canadian adults, 53 per cent strongly or somewhat approve of the development, while about one-third (31 per cent) say they are still digesting the news and aren't sure how to feel about it yet.
Less than 16 per cent of respondents disapprove of the move.
But perhaps most notably, 70 per cent of respondents who cast a ballot for Jack Layton in 2011 support Trudeau's decision, compared to 68 per cent who voted Liberal in the last election. Forty-one per cent of those who voted Conservative also back the move.
However, it appears Canadians aren't exactly sure what the changes say about Trudeau's leadership.
Less than forty per cent see it as a "bold move," while 32 per cent say it is a "meaningless stunt" meant to minimize damage to the Liberal party.
The poll may foreshadow trouble ahead for New Democrats.
Mulcair spent most of the summer preaching to Canadians coast-to-coast about the need to abolish the upper chamber as part of his party's "Roll Up The Red Carpet" campaign.
One imagines Mulcair can't be pleased, then, that more of the past NDP voters surveyed believe Trudeau is the federal leader best equipped to handle issues in the Red Chamber.
On the question of whom Canadians trust to "effectively deal with Senate issues," 23 per cent of past NDP voters chose Mulcair while 33 per cent picked Trudeau.
But Angus Reid Global vice president Shachi Kurl cautions not to read too much into these early numbers.
"At first glance, Trudeau may have reason to feel optimistic about his political gamble," she said in a release. "However, the significant number of Canadians who are undecided about this issue means the battle for the hearts and minds is far from over."
In fact, Trudeau and his Grits dismissed the motion as "ridiculous" then.
And much like Pierre Poilievre, the minister of state for democratic reform, Mulcair suggested the looming auditor general's report might have something to do with Trudeau's change of heart.
Still, the NDP leader did have some kind words for Trudeau.
"Obviously it's a step in the right direction, but why stop there? Why stop at 32?" Mulcair wondered. "We want to get rid of the Senate altogether."
The Harper government has asked the Supreme Court of Canada what it would take to reform or abolish the Senate.
"It inoculates him somewhat from any further trouble in the Senate, undermines his opponents' arguments, and puts them off-balance," Grenier wrote. "It is hard to see this move by Trudeau as anything but win-win."
With files from The Canadian Press