A Russian sushi restaurant has run a tongue-in-cheek ad poking fun at the Olympic rings foul-up at the Sochi Olympics Opening Ceremony.
The ad was caught by Reuters' Russian correspondent Thomas Grove.
Sushi ad themed on the #Sochi2014 Olympic ring that couldn´t https://t.co/FEVKxWqKGu

— Thomas Grove (@tggrove) February 8, 2014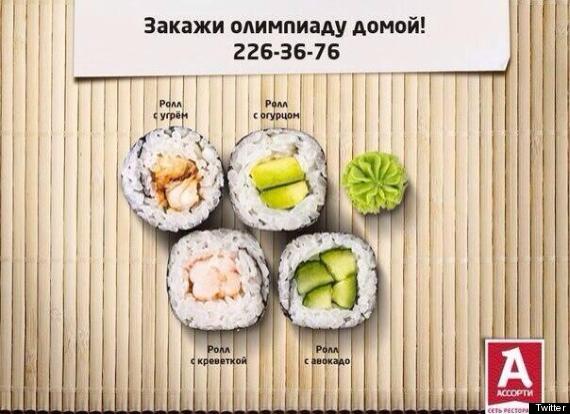 Many Russians would not have seen the botched moment of the Games as Russian TV reportedly censored the blooper.
Social media users were quick to pounce on the error. One person went as far as creating a t-shirt with the four rings.
We'll take five! RT @mychelmiller: #sochiproblems The Commerative Tshirt. pic.twitter.com/27vP6TXGjB

— HuffPost Canada (@HuffPostCanada) February 7, 2014
Also on HuffPost
PHOTOS: Sochi 2014 Opening Ceremony