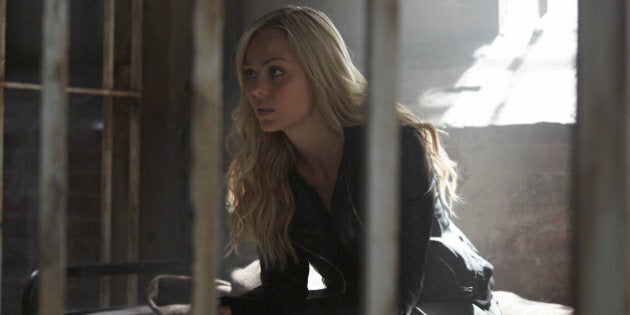 If there's a Canadian queen of science-fiction TV, it's probably Laura Vandervoort. From her beginnings on "Smallville" to her current role as Elena on the werewolf hit show "Bitten," Vandervoort has dominated the genre for over a decade. (Fellow Canucks Tatiana Maslany and Anna Silk are well on their way, too.) The line-ups for her appearances at Comic-Con and Fan Expo are testament to this rising star.
With the "Bitten" Season 1 finale airing tomorrow night on Space, HuffPost Canada TV chatted with Vandervoort about what's to come, how she feels about the "Bitten" fans, and whether or not we get some closure about that love triangle.
HuffPost Canada TV: So "Bitten" is Space's No. 1 show ... ever.
Laura Vandervoort: I know! I saw that! I was very happy to see that! We're -- the entire team and I -- really proud of "Bitten."
When you were first approached about this show, did you balk at all based on the subject matter?
I'm not going to lie, I was a little concerned about doing another sci-fi project, and playing another non-human character after "V" and everything. But I spoke to our executive producer, I read the books and the first two scripts, and ended up falling in love with the idea of Elena and her history. I fell in love with the fact that she's a layered, complex character, and it wasn't just like, "I'm a werewolf." Being a werewolf is just a sidebar to everything I love about her.
Do you try to stay 100 percent true to the book character of Elena, or do you bring a little 'something else' to the role?
Well, we're pretty loyal to the book because the fan base would want that, and we want that for them. But like every role, I try to bring in a little piece of myself and make it unique, not just play what's on the page. I grew up with martial arts as a tomboy, and I was trying to be one of the guys for so long, so I could relate to Elena. Also being torn between two lives: being Canadian and living in LA, and trying to keep my own personal life private.
What do you like best about playing Elena?
Probably her need to be loved and love ... I love that she was trying to create normalcy, but always knew that she'd never be able to have it. I get that. She was trying to suppress a side of herself that she didn't want anyone to know about. In every episode, she's hiding who she truly is, suppressing the wolf, the inner animal.
Elena's transformations into the werewolf are painful and intense. Do you think there's anything addictive about it for her?
There's a sense of erotic relief -- I know, strange choice of words -- to changing for Elena. It is exactly that. There's an addictive part of it, sure. She's not holding in the pressure anymore once she turns into a wolf. Towards the end of the season, you'll see which way she goes and what she chooses to be.
I've read some of the stuff you've said about the upcoming Season 1 finale. It's a crazy episode?
[Laughs] Oh, yeah. Oh my goodness. I have the DVD and I watched it two weeks ago ... we had an incredible director and visually, it's just stunning. All of us put everything we had left after six months into this finale. Emotionally and physically. There's a fight scene that took us three days -- at least my portion of it -- and I did 95 percent of it, the stuff that couldn't kill me. [Laughs] I'm giving everything I have to this role and this character.
I've also read several reviews of the show that say it's too gratuitous with its sex and violence. What do you think of that opinion?
I think that's sort of what we expected. Of course people are going to focus on that, but there are those people and then there are other people who focus on the show itself. Look past the sex and nudity ... I mean, it's a necessary part of these characters and their stories. Elena is torn between two loves, and they are animals, so their animal nature is to not wear clothes. If we hadn't had that, it would just be a love story, and it's so much more than that. On TV right now, there's so much nudity and blood and gore. I knew going into this that the show was going to be a more adult role for me, more like "True Blood," and it was dark. That's what I've been wanting to do anyway, so if these critics have a problem with it, that's unfortunate, but we're not doing anything unnecessarily.
The fanbase for this show is insane. What do you have to say to the "Bitten" fans out there?
Thank you, for one. Thank you for giving us the opportunity to adapt the book they love so much. Thank you for letting us play these characters in our own way and for sticking with us for this entire season. And thanks for all the tweets! The appreciation doesn't go unnoticed - I see everything! [Laughs] We'll do what we can to come back for a second season.
Is there a resolution to the love triangle before the end? Can you tell me that?
I can't tell you, but watch the finale. When you think it's going one way, it's going another.
Catch the "Bitten" Season 1 finale on Space on Saturday, April 5 at 9 p.m. ET/6 p.m. PT.