UPDATE: After Birmingham's picture went viral, Shape editor Bahar Takhtehchian appeared on the Today show with her, and said they will run the photo, stating, "We want to start a larger discussion about what happens after you lose a significant amount of weight."
Extreme weight loss can be one of the most satisfying achievements someone can take on — we've seen time and time again stories of people who proudly took control of their lives and got themselves to a healthy weight.
So that's why it's disappointing when a publication dedicated to a healthy lifestyle reportedly won't show the reality of what a post-weight loss body looks like.
According to blogger Brooke Birmingham of Brooke Not On A Diet, after Shape magazine requested a picture of her for their "Success Stories" for weight loss, she sent in an image of herself in a bikini, 172 pounds lighter than when she'd started her journey: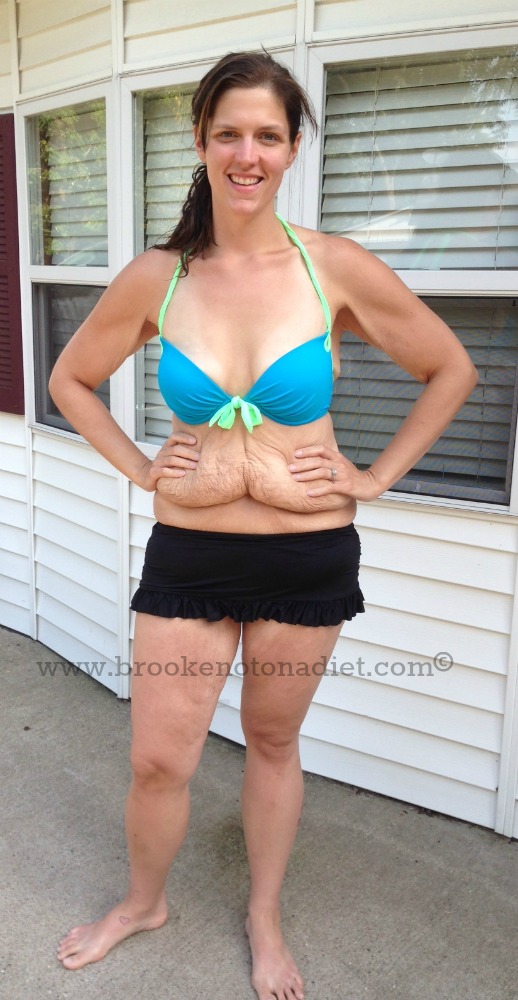 Upon receipt, the writer who'd interviewed Birmingham then asked for a picture of her with a shirt on, and when Birmingham asked why, received the response that it's the magazine's policy to have people fully clothed for these stories.
Birmingham took that to mean that the publication didn't want a picture of what it really looks like when people lose that kind of weight, and declined to participate in the article.
The fact is, for most people who lose extreme amounts of weight, their bodies don't snap back into perfect shape. There is loose skin, stretch marks, and many other signs that show how their bodies have changed.
According to the American Society of Plastic Surgeons, body contouring (which includes tummy tucks, thigh lifts, arm lifts and more) is one way to reduce this sagging skin. WeightLoss.com also notes exercise can help tighten both skin and muscle.
As Birmingham wrote, "I spent MANY years hating and hiding a body I was ashamed of because it wasn't society's ideal of beautiful. Being asked to send a photo of myself with a shirt on made me feel like I again should be ashamed of my body. That since I have the loose skin, I shouldn't be in a bikini."
The more stories like Birmingham's are shown, the more people might realize the realities of what bodies actually look like, particularly after such extreme changes. Already, her Facebook is overflowing with messages of support and gratitude for her inspiration. Here's hoping her message spreads much further than a magazine article ever could.
Also on HuffPost