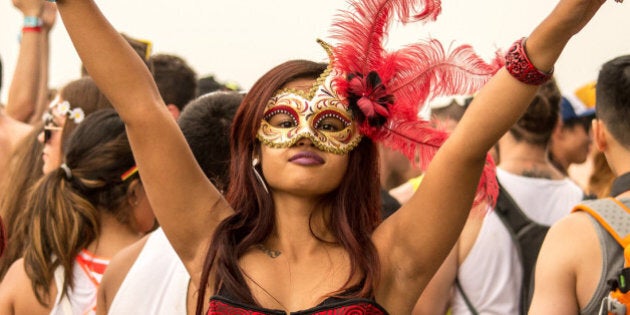 It was a rough start for Toronto's two-day electronic dance music festival VELD as doors were delayed due to inclement weather conditions -- and a far rougher end with the unfortunate passing of a 22-year-old man on Sunday night.
UPDATE: A second festivalgoer, a 20-year-old woman, died on Monday and 13 others were taken to hospital. Police announced on Monday that they'd launched a homicide investigating, fearing the "party drugs" may have been laved with poison. Anyone with information is being asked to call the investigators at 416-622-2150 or 1-800-787-8529 extension 2150.
Despite the heavy rain dampening the vibe of the festival at first, the crowds decided to make the best of it and rave on. Dutch DJ and producer Dannic quickly adapted to the situation and asked the crowd to sit down in an attempt to mock the rain gods. The idea of doing a mass sit-down might not have been the best, given that the fluffy green grass has now turned into mud; but the crowd compromised by crouching instead and had a great laugh doing it.
As the build of the song came, together as one, the crowd jumped up and went wild bringing the energy of the festival right back up as if the rain never happened. The candy ravers were determined to have a blast, rain or shine.
In its third year now, VELD has grown immensely with about 85,000 EDM enthusiasts attending this year. Attracting such a crowd is no surprise considering the star-studded line-up, consisting of some of EDM's best-known veterans such as Armin Van Buuren, Calvin Harris, and Sebastian Ingrosso, as well as some of the latest up-and-coming young acts such as Martin Garrix and radio rap star Iggy Azalea to name a few.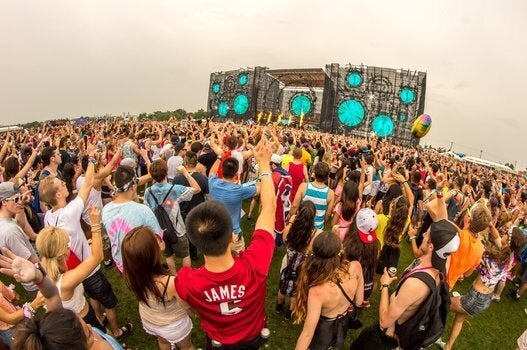 VELD 2014 Festival Photos
Manzone and Strong, Mark Oliver, Hatiras and Flipside, all local heroes from the Toronto party scene, opened up and primed the crowd for what was to be one of the most memorable parties of the summer.
An honourable mention that should be brought to light would be Bingo Players. When they initially started out in 2006, the duo consisted of Paul Bäumer and Maarten Hoogstraten. Unfortunately after a long battle with cancer, Paul Bäumer passed away on December 17, 2013. After mourning of the loss of his friend, Maarten Hoogstraten carried on the duo's legacy as per his late friend's wish.
During their time together, they've brought us hits such as "Rattle," "Cry (Just a Little)," and "Out of My Mind" to name a few. We take our hats off to Maarten for pulling through a tough time and still keeping the dream alive.
The festival pulled through a tough time, too, and it was great to see the EDM enthusiasts gathered and showing love to the artists and to each other.