Justin Trudeau is ready to pull out all the stops to charm voters in British Columbia whose support could be key to making him prime minister in 2015.
And Trudeau's youngest son is already doing his part to help Dad out.
On Monday, Trudeau hoisted five-month-old Hadrien up in the air at a Liberal party barbecue in Vancouver and showed how the boy is able to balance himself in his father's palm.
Darryl Dyck, a photographer from The Canadian Press, snapped a few photos of the handy trick: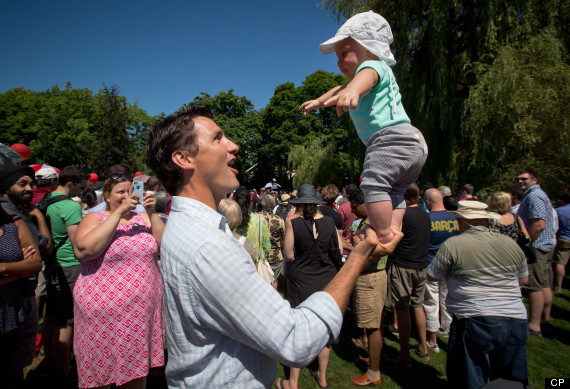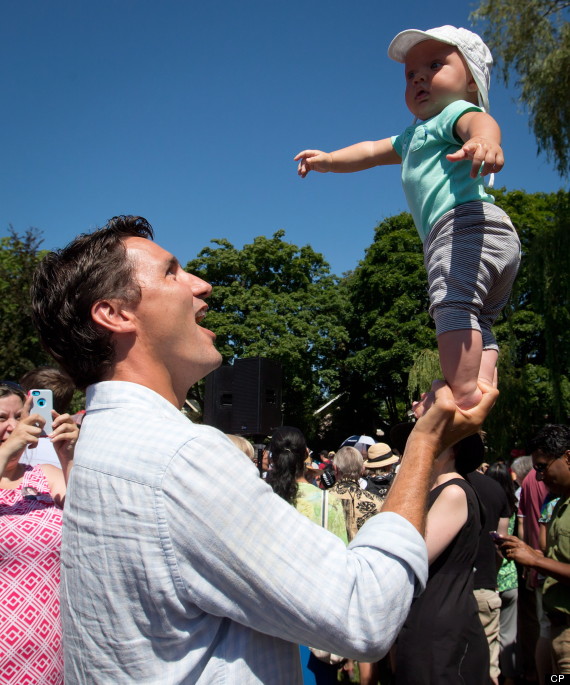 Trudeau told The Vancouver Sun he learned the trick from his dad and former prime minister, Pierre. He said that all kids want to stand up, even if they don't know how.
"They're very excited. You twist their ankles at the same time as you're holding them up, and their (knees) lock and they're just happy to be big and proud and they can see everything and everyone's smiling," Trudeau told the newspaper.
Trudeau, who is visiting B.C. for the second summer in a row, also marched in the Vancouver Pride parade on Sunday.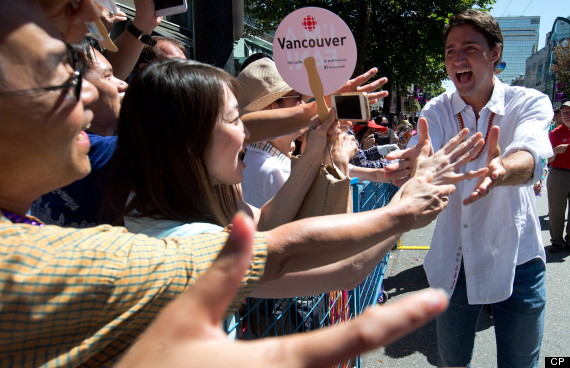 Though he only has two Liberal MPs in the province, polls have shown the party has kept a slim lead there since Trudeau took over as leader. A recent survey by Forum Research put the federal Liberals at 35 per cent support in B.C., followed by the New Democrats at 30 per cent and Tories at 29 per cent.
The Liberal leader, who once worked as a teacher in Vancouver, has come out against the proposed Northern Gateway pipeline and announced his support for marijuana legalization during his B.C. tour last year. A recent poll commissioned by the government suggests support for pot legalization is highest in B.C.
Trudeau has also lined up a star B.C. candidate for the next federal election, scheduled for October 2015. Jody Wilson-Raybould, B.C. regional chief of the Assembly of First Nations, was acclaimed last week as the Grit candidate in the new riding of Vancouver–Granville.
But The Province reports Trudeau largely avoided a question about the potential Liberal candidacy of B.C. pot activist Jodie Emery at the weekend barbecue.
Emery's husband Marc, the so-called "Prince of Pot," has vowed "political revenge" on the Harper Conservatives once he returns from serving a U.S. jail term later this month.
Trudeau told reporters he has never met Jodie and wouldn't say one way or the other if she would be green-lit by the party to run next year.
"I certainly don't have anything to say on her status as someone who could or couldn't be a candidate — there's a whole process to go through on that and I'm going to allow the process to function in this situation," he said.
What a balanced answer.
Also on HuffPost
Justin Trudeau Through The Years