EDMONTON — The Liberals insist they are not being arrogant when they say a majority government is within their grasp in 2015.
Speaking to reporters on Wednesday, Liberal Leader Justin Trudeau suggested that the number of Canadians who have a distaste for Prime Minister Stephen Harper and his government's approach means that the Liberals can win 170 seats.
"I think that if we want to replace a government, we might as well aim to...completely replace it," he said in French.
"Canadians want a stable, strong government that will respond to their needs and build a better future. Do the math," Trudeau said.
During the next federal election, 338 seats will be up for grabs, so winning 170 would give the Grits a majority. That would allow a Trudeau government to pass its legislation without having to bargain with the Conservatives or New Democrats. The Liberals currently hold 37 seats.
"The goal is for many more, I am sure," P.E.I. MP Lawrence MacAulay told HuffPost. "I'm sure we'd elect more than 170. Oh yes... things look very good."
Montreal MP Irwin Cotler said it is good to have a goal and that he thinks a majority is "doable."
"Today, we are looking at growing numbers, growing seats," Labrador MP Yvonne Jones said.
"I don't think there is an opportunity to even fail."
Trudeau seemed a bit more cautious, saying there is still an "enormous amount of work ahead of us."
As if to bear out his caution, a planned 1,000-person rally that Trudeau was scheduled to address on Tuesday in Edmonton fell short. About 350 people showed up.
His deputy leader, Ralph Goodale, told reporters the Liberals are not "counting any chickens prematurely."
The 170-seat target is a goal that seemed ambitious for the Liberals a year and a half ago but now seems within reach, Goodale said.
"This is a matter [of] opportunity presenting itself, Canadians having a sense that change is a desirable thing for the country now," he said.
"We're not there yet," he added. But the election isn't tomorrow and the Grits are moving in the right direction, he said.
Since Trudeau became Liberal leader, the party has increased its vote share in areas where it never fared well. Strong showings in recent byelections in Calgary Centre, Brandon, Man., and Fort McMurray, Alta., have them feeling pretty confident.
"There are ridings all across Western Canada which wouldn't have been available to us in the last campaign that are certainly within the margin now," Goodale said.
The Liberals would have to more than quadruple the size of their current caucus to obtain a majority and jump from being the third-place party to forming the government.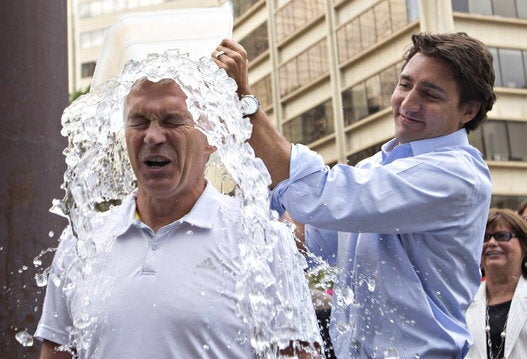 Liberal Summer Caucus In Edmonton