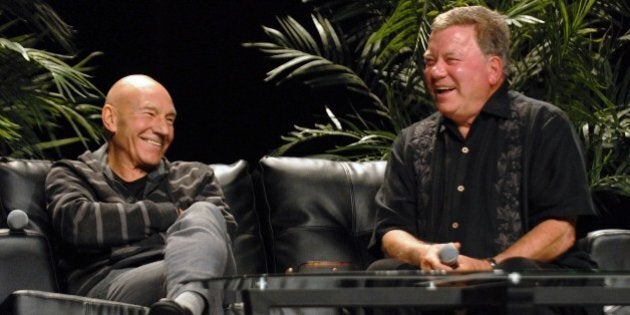 Fan Expo Canada is celebrating its 20th year, and it's back to basics for the long-running exploration of all things geeky at the Metro Toronto Convention Centre.
Gone is the sports category, which propelled the convention past its genre roots last year. Many favourite past guests are making their return, including Stan Lee, William Shatner, Patrick Stewart, Bruce Campbell, Nathan Fillion, Adam West, Burt Ward and, for the first time since 2005, Elijah Wood. It's great to see Fan Expo back in fighting shape -- leaner, meaner and doing what it does best: catering to the true genre-fan hordes. It looks like those legions of fans won't be disappointed, either; here are our top picks for what to do at Fan Expo 2014.
Two Captains Are Better Than One
In a special separately ticketed event, the age-old 'Kirk or Picard?' debate will come to a head, as both William Shatner and Patrick Stewart ("Star Trek"'s Captain James T. Kirk and Captain Jean-Luc Picard, respectively) will be called to the bridge and take to the stage for an exclusive engagement with fans. With many Trekkies/Trekkers having not seen these two in conversation since they re-watched "Star Trek: Generations" for the umpteenth time, this event promises to be something special for everyone in attendance.
Get out your Dragon Dagger and summon the Dragonzord because the longest serving Power Ranger of the franchise is making his first appearance at Fan Expo. Jason David Frank (known to fans as Tommy Oliver) is best known as The Green Ranger -- the evil ranger gone good on Mighty Morphin Power Rangers -- but he has also been the red, black and white ranger on various versions of the series. The man of many rangers will take the stage for a special Q&A where he may discuss his next upcoming appearance on Power Rangers this fall.
Thursday, Room 105 at 8 p.m.
Holy Ravioli! The Dynamic Duo Reunite!
Fans will be doing the Batusi in the aisles when Adam West and Burt Ward reunite as the famed dynamic duo from the "Batman" '66 TV series. Perfect timing too, since the show is now experiencing a merchandising renaissance ever since the rights and legal disputes were settled in 2012, and the long-awaited DVD boxset of the complete series launches just in time for Christmas.
Friday, Room 105 at 2:30 p.m.
Witness Horror History In The Making
Two of horror's creepiest casts are coming together this year at Fan Expo, and they're closer than you may think. After all, both felt like a surrealist nightmare, both feature an evil spirit serial killer and both were created by visionary filmmakers. Give up? We're talking about David Lynch's "Twin Peaks" and Wes Craven's "Nightmare On Elm Street." "Elm Street" is celebrating a 30th anniversary and the cast of "Twin Peaks" will mark their 25th anniversary for the first time in Canada.
The "Twin Peaks" Reunion is on Saturday in Room 206 at 12:00 p.m and the "Nightmare On Elm Street" Reunion is on Friday in Room 105 at 4:30 p.m.
A Close Encounter With A Hollywood Legend
Enjoy a close encounter of the Academy Award-winning kind when Richard Dreyfuss graces the Fan Expo floor. Whether it's "Jaws," "The Good-Bye Girl," "Close Encounters Of The Third Kind" or even "Mr. Holland's Opus," Dreyfuss guarantees a stand-out performance, so expect a good time. The man's a walking piece of film history, so don't miss an opportunity to pick his brain. Sunday, Room 102 at 1:00 p.m.
Photos From Last Year's Fan Expo in Toronto: