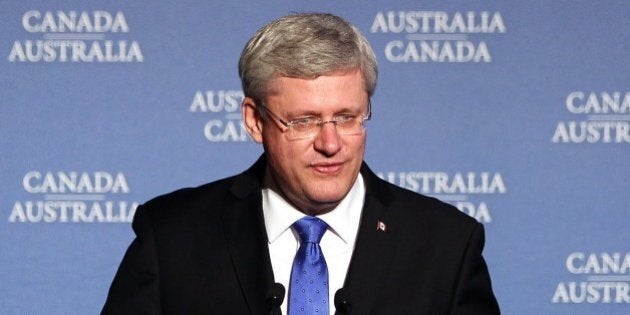 OTTAWA — Conservative MP Michael Chong's watered-down bill — originally introduced to to re-empower members of Parliament — is a big disappointment, says former colleague Brent Rathgeber.
Rathgeber, the Conservative turned independent MP for Edmonton—St. Albert's, told a small gathering at his book launch Thursday in Ottawa that he feels Stephen Harper "Rathgebered" Chong's Reform Act.
His "Rathgebered" comment was a reference to the fact the Prime Minister's Office had tried to gut his own private member's bill last year — a bill which called for the salary disclosure of highly paid public servants — without his approval.
Rathgeber said he could have gone along with Harper's plan but instead chose to shelve a bad bill rather than see it pass. And he quit the Tory caucus over the issue.
Chong, an Ontario MP for Wellington-Halton Hills, introduced a bill last fall to rebalance the power between the Prime Minister's Office or party leader's office and their respective caucuses. Chong initially wanted riding associations to have the veto over who could run as a candidate, rather than the party leader. He also wanted caucus members to be able to trigger a leadership review in order to make the leader more accountable.
Chong made concessions after the bill failed to get much traction among Tory MPs, partly due to a coordinated campaign by the PMO. He raised the threshold for a leadership review and agreed a provincial nomination officer — elected by the local riding presidents — could decide candidate nominations.
Then earlier this month, Chong announced further concessions which won the support of the Prime Minister this week and assurances his bill would be passed. Chong is now suggesting party members — not local riding associations — designate a person or group, like the party's national council, to approve candidate nominations. He is also suggesting that MPs vote on potential caucus rules after a general election — rules that could govern issues such as leadership reviews and the ejection of misbehaving party members.
In an interview with the Huffington Post Canada, Rathgeber called the new changes in Chong's bill "very very disappointing."
He recently published a book titled "Irresponsible Government" in which he argues Parliamentarians have abandoned their responsibilities and broad changes are needed to decentralize power away from party leaders.
"I thought the bill that [Chong] tabled last fall was a great bill and it would do a lot to recalibrate the power relationship between opposition leader's offices and their caucuses and between the PMO and the government caucus," he said.
"I was disappointed with the second bill that he tabled, the bill that has been debated and will be voted on next week, but I still thought it was meritorious."
Raising the threshold from 15 percent to 20 percent to petition for a leadership review in caucus wasn't a dealbreaker, Rathgeber said. But the amendments now being discussed in the media "eviscerate" the bill, he said.
The amendments that will be tabled at committee would ensure the leader's proxy gets to determine who can run under the party banner, Rathgeber said. The other change would allow the caucus to opt-out of any of any new powers, such as choosing their own chairs or petitioning for a leadership review, he said.
"So yeah the bill will pass. The government will stand up and say, 'Yay, we support Michael Chong's reform bill.' But the bill will have no lasting effect."
Conservative MP Garry Breitkreuz, the lone Tory MP at Rathgeber's book launch, told reporters he finds Rathgeber courageous for his willingness to speak out about the control members of Parliament face.
"He has a lot of courage. He is a good example for the rest of us," he said.
Breitkreuz was a strong supporter of Chong's so-called Reform Act last fall.
"I took one look at it and I didn't go and consult what the official line was on this, I supported it immediately," he said.
Now, the MP from East Central, Saskatchewan, said he's not sure Chong's "incremental" changes will make Parliament more democratic.
"It's not going to be a great change. It's a concern of mine," Breitkreuz, a former Reform MP, said. "I really think we would re-invigorate the country if we would be able to bring more democracy to it."
Breitkreuz first came to Parliament Hill in 1993, "somewhat naive," he said, thinking that if he spoke the truth and made rational and common sense proposals, they would be accepted. Instead, he discovered that wasn't the case.
"There is frustration among MPs that they cannot have more of a voice," he said. "But [for] someone like me [who] is not trying to get into cabinet, I'm a little bit more free to talk about these things."
Still, there are things Breitkreuz doesn't feel free to talk about. Yes, he said, he's felt pressure to fall into line. But he declined to say which issues attracted the heavy weight of the Prime Minister's Office.
"You almost have to do this behind the scenes because of the system. If you do it openly, the media will immediately seize upon it about divisions within the party," he said.
"The media drives a lot of the problem. In fact, if it wasn't for media, we could probably make some of these changes."
Breitkreuz, who is not seeking re-election, said he thought broad changes could be made if all political parties were committed to it and worked together.
"One party cannot do it," he said.
Speaking in the Commons Thursday evening during a debate on the bill, Democratic Reform Minister Pierre Poilievre praised the Conservative party for allowing discussions and proposals on Parliamentary reform to emerge.
Poilievre said Harper was willing to cede power to the grassroots and remove his legal veto over the party's candidates.
But even those close to Chong are somewhat skeptical that MPs will actually stand up to their leader and endorse rules that would take power away from the leadership.
Conservative MP Deepak Obhrai, who initially opposed Chong's bill, said he now supports it because party members will now decide who approves the nomination process and caucus members can opt out of triggering leadership reviews.
"The membership who have elected the leader will not have their choice overridden," he wrote in an email. "I don't have any objection to elected caucus chair and caucus voting to expel or admit a caucus member," he added.
"There are just few administrative issues that need more clarity and that can be addressed at committee," he said.