Vancouver Bollywood fans are getting another chance to watch superstar Shahrukh Khan live on stage.
The legendary actor, singer, and producer known as SRK was last in Vancouver in 2013 for the Times Of India Film Awards. Now he's headlining SLAM! The Tour on Saturday evening (Sept. 27) at the Pacific Coliseum.
At 48 years young (seriously, check out his eight-pack), Khan is the second richest actor in the world, topped only by comedian Jerry Seinfeld.
SRK said the idea for a world tour came out of plans to promote his latest film "Happy New Year."
"We have a good set of stars right now; why don't we just turn it into a tour instead of just coming down, doing a press conference, hanging around, and shopping," he said in a recent interview. "Might as well work a little harder and entertain people in America."
Sizzling actress Deepika Padukone, actors Abhishek Bachchan and Sonu Sood, and singers Kanika Kapoor and Yo Yo Honey Singh are among the other Bollywood A-listers on the SLAM tour.
SRK says be prepared for "2.5 hours of entertainment for people which is classy, which is entertaining, which is fun, which is as international as we can."
Tickets range from $86 all the way to $444. A portion of the ticket proceeds will be donated to the B.C. Children's Hospital, said organizers.
The tour is also stopping in Houston, New Jersey, Washington D.C., Chicago, San Jose, and London. Khan is appearing in the U.S. for the first time in 10 years, according to organizers.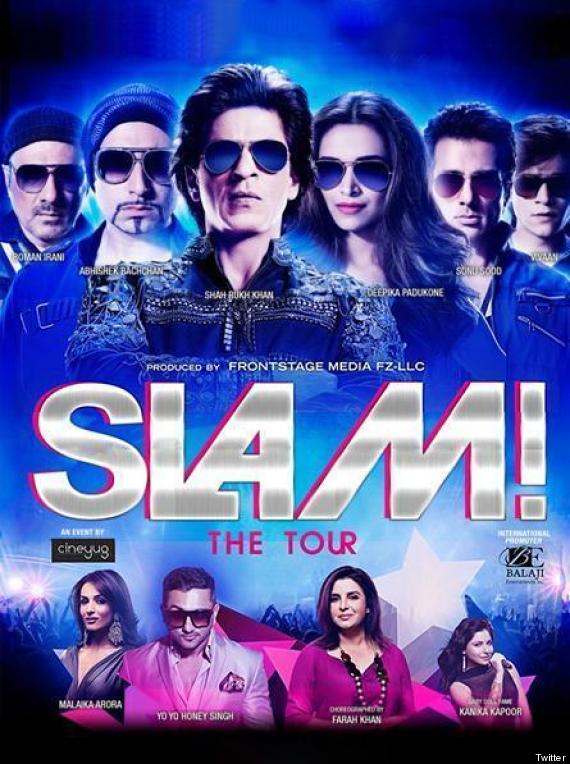 EARLIER ON HUFFPOST:
TOIFA Vancouver: Shahrukh Khan Greets Fans