Rex Murphy managed to summarize a national tragedy in two minutes Wednesday, hours after a gunman went on a brazen attack in the nation's capital, killing an unarmed Canadian soldier before dying in a gunfight.
Murphy regularly appears on "The National" delivering terse commentary on current events. His take on the shootings in Ottawa offer a poetic homage to the memory of fallen soldier Cpl. Nathan Crillo and the day's hero, sergeant-at-arms Kevin Vickers.
Read Murphy's full commentary below:
The saddest thing I saw today was the image of a woman, then police officers and medics desperately pumping the heart of the soldier in Ottawa, as he lay dying.
How long they strived I cannot tell, but long it was. And enough to make all of us who were watching tremble and weep with sheer pity.
To kill a soldier standing unarmed ceremonial guard at the tomb of the Unknown Soldier was a bottomless cowardice and a perversion.
If the soul of Canada has an abiding place, it is here. In the great hallowed War Memorial with the tomb, in our capital city, a bugle call away from the chambers of our national deliberations.
The murder of fine, fit, friendly and unarmed Cpl. Nathan Cirillo was not a thoughtless act; instead it was soaked in callousness and contempt.
The slaughter was meant to burn, beyond the deed itself, to speak fundamental insult to the very ideas of honour, sacrifice and solidarity, which are our military's credo and our country's ideals.
The killer was a hateful brute; let us not name him. But today was not the damn killer's, it produced a master counterexample: the sergeant-at-arms, Mr. Kevin Vickers.
Mr. Vickers, the whole country is unanimous on all the matters that count: bravery, duty, selflessness, you are as good as they get.
The office of sergeant-at-arms can never have been better filled.
So as we mourn the soldier, Cpl. Cirillo, let us honour the sergeant, Mr. Vickers.
They encompass between them so much of what we Canadians choose to admire and love.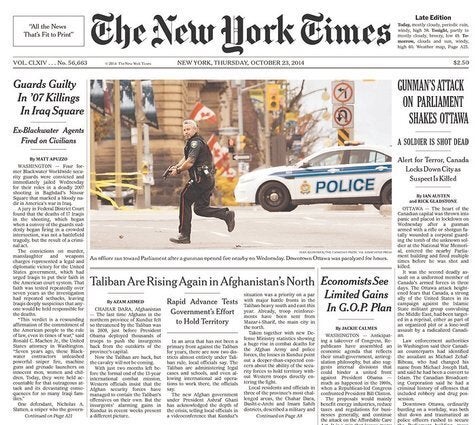 Newspaper Coverage Of Ottawa Shooting