Winter is coming. Don't say Ned Stark never warned us.
Canada is set for a wallop of winter weather from coast to coast this weekend as alerts, warnings and statements from Environment Canada are active in every province except Alberta.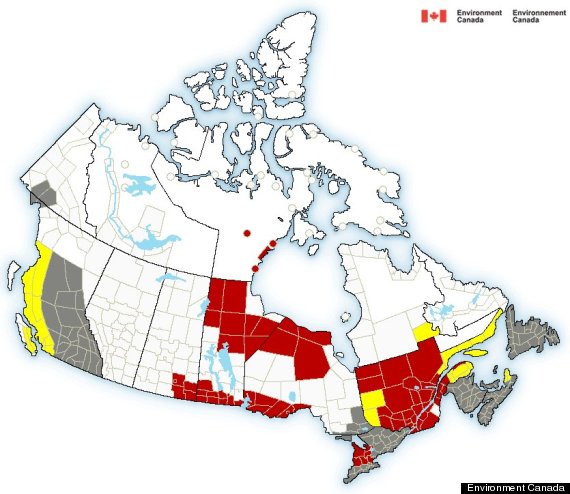 Southern Ontario is set to see a "significant winter storm" with snow falling Saturday afternoon and likely turning to rain by Sunday.
Conditions in the region could become miserable again Sunday night, with temperatures falling below the freezing level, while a cold front ushers in heavy wind and possible flurries.
Southwestern Quebec is expected to see lousy weather as a low pressure system travels north from the United States, bringing freezing rain Saturday and possibly continuing Sunday.
Snow is forecast for the Halifax area this weekend; it's projected to start in the early hours of Sunday morning before turning into ice pellets (maybe freezing rain) and then normal rainfall.
Snow is anticipated for southern Manitoba as a storm system moves across southwestern Saskatchewan to North Dakota. Environment Canada forecasts around one to three centimetres per hour on Friday night before the system passes over on Saturday, as the storm heads for Minnesota.
Meanwhile, southeastern Saskatchewan is forecast to see 10 to 15 centimetres of snow Friday night, with cold air dipping to the minus-20 range and windchill to as low as the minus-30s on Saturday.
Even the West Coast is set to share in Canada's wintry misery this weekend.
An arctic airmass is projected to travel from the Yukon down into B.C.'s Interior region Saturday morning, while a warm front coming in off the Pacific Ocean is expected to bring light snow.
Vancouver Island and the South Coast could see snow and rain both Saturday and Sunday, with as much as 10 to 20 centimetres falling on "higher terrain and into the inland areas." There could also be plenty of snow in communities resting at sea level.
There could also be freezing rain as arctic air blows into the Interior.
The snow, however, may not last long — Environment Canada expects to see temperatures rise high enough to bring more rain on Monday.
Like Us On Facebook

Follow Us On Twitter

ALSO ON HUFFPOST: